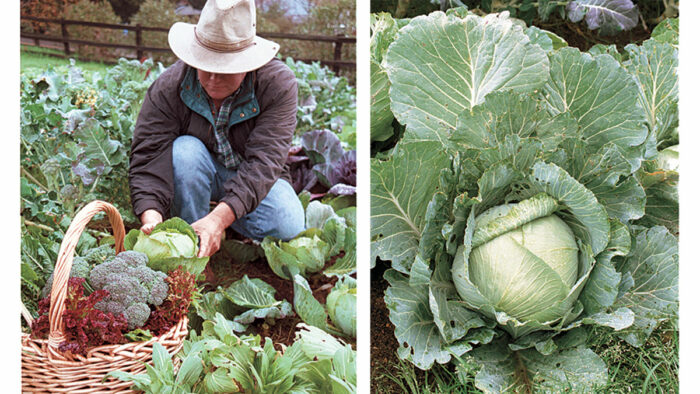 For years, I had a May to September relationship with my garden. I would plant in spring, harvest in summer and fall, and do nothing during the winter months but wait and plan for spring again. Last year I decided to keep my garden growing year-round. I was motivated by my love of  broccoli, although I also wanted to grow other cool-weather crops that just couldn't take the heat of the hot summer months: peas, spinach, cauliflower, and cabbage, as well as lettuce and other salad greens. I found that, given a good strategy, a winter garden is easier to manage than a summer garden, and I feasted on greens through the months when I usually long for the flavor of freshly harvested vegetables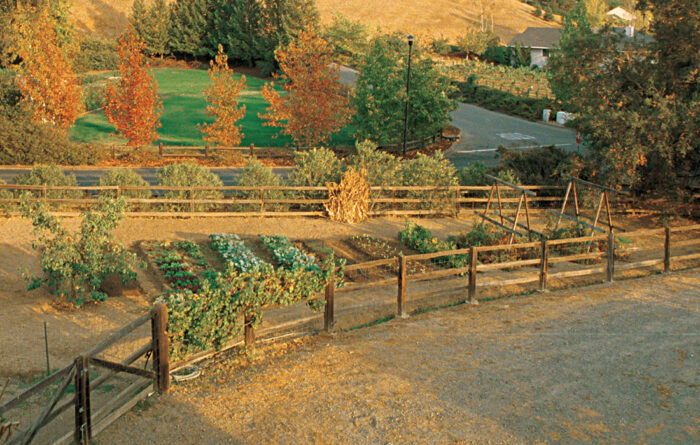 I am fortunate to garden in an area of northern California with an agreeable climate. Although we typically have several months of intense winter rains, it never snows, and only occasionally do we have a killing frost. The usual summer crops of corn, tomatoes, peppers, beans, squash, and melons would never grow during the winter, but many other vegetables thrive in the cool, even cold, weather of October to April. Granted, my climate makes it fairly easy to grow vegetables year-round. Without hot beds and hoop houses, winter gardening is impossible in areas where temperatures routinely drop below 25°F. But kitchen gardeners in other regions can enjoy a longer growing season even if the mercury dips to freezing levels. What it takes is a bit of planning and some useful season extenders, like floating row covers, cold frames, or small, plastic-covered hoop tunnels.
The garden at its winter peak is abundant. A lettuce bed is draped with floating row cover to protect it from a freeze.
Planning ahead is key
Forethought is essential to getting your winter garden off to a good start. Even though many vegetables will mature and keep well during cold weather, most need warm soil temperatures to germinate and grow to a sufficient size before cold weather sets in. Of course, you can start seedlings indoors and nurture them there until they need to be hardened off and transplanted out. If you want to start some vegetables from seed to transplant later, sow your seeds in August, when soil and air temperatures are conducive to germination and strong growth. Be prepared to transplant by Labor Day, so your seedlings can take advantage of Indian summer's mild weather.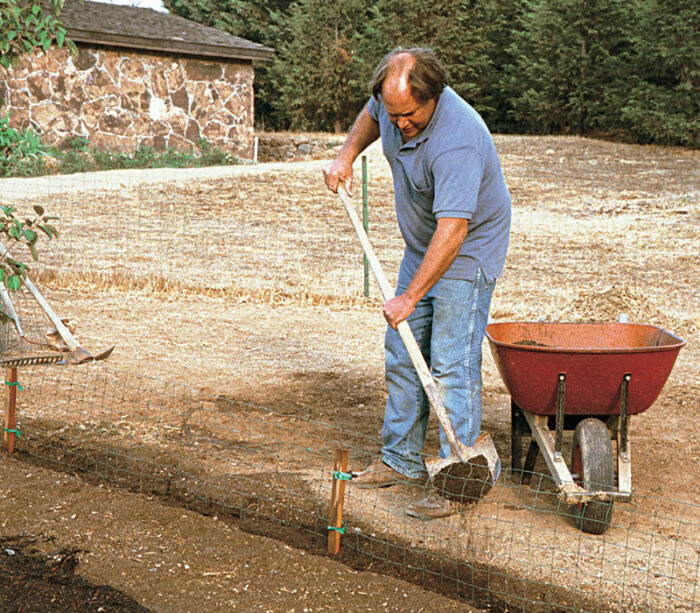 There are no hard-and-fast rules for when specific crops should be planted, but, in general, the earlier the better. Optimally, seeds should be started in late summer, but nursery seedlings transplanted in early fall will still do well.
Some plants, such as onions, leeks, and cole crops, take a while to become established. Plant these early in August. Peas, carrots, beets, spinach, and lettuce can be direct-seeded and planted in succession for an extended harvest, but start planting in early August. Start peas, carrots, and beets between August 1 and 15; direct seed spinach around August 1.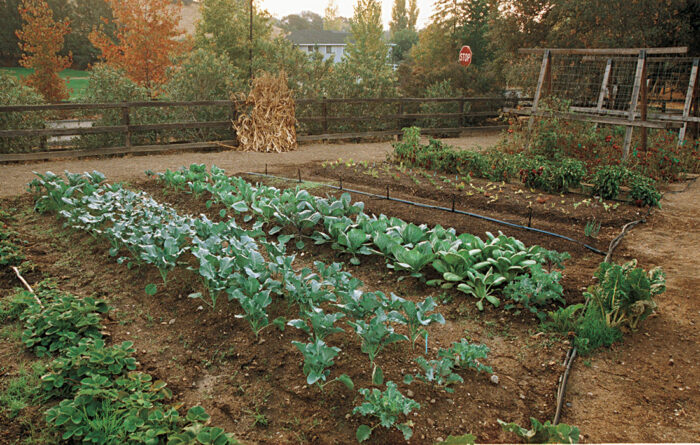 All of these dates are applicable to my gardening zone and will change depending on your zone and microclimate. It may make more sense to determine how many days until a crop can be harvested, then count back to estimate when to plant. For instance, carrots can be harvested approximately 60 days after planting. Count back from a November harvest to a late August sowing.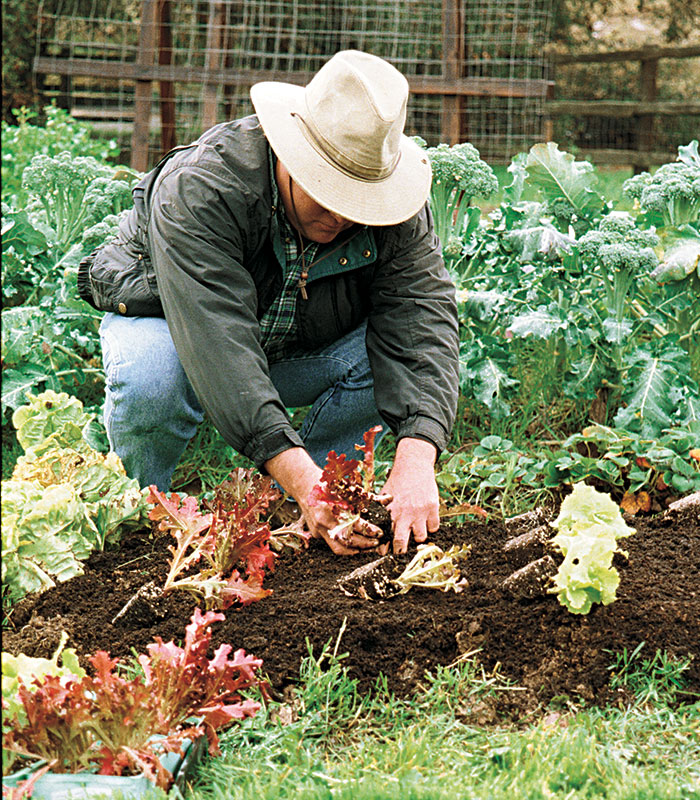 When choosing varieties, you can pick your favorites, as I did, with an eye to staggered harvest dates. Or, if you have colder temperatures than my region has, choose cold-tolerant or short-season varieties. In addition to determining when to start specific plants, you also need to have some of your garden beds emptied of the summer crops and the soil prepped and ready for the winter crops.
Getting off to a good start
I plant in established raised beds from which I've already harvested a summer crop, so I don't have to do any more digging or tilling. My beds were previously double dug and well nourished with organic matter, so after removing the old vegetation, I just add a few inches of compost and other soil amendments as needed to supply the incoming plants with fresh nutrients. Planting year-round requires close attention to soil fertility, or your garden won't flourish.
I use aged compost, which has had time for excess salts that might harm crops to have leached out. My choice of amendment is mushroom compost, a medium used to grow mushrooms. It contains straw, horse manure, chicken manure, gypsum, peat moss, lime, molasses, and cottonseed meal, to which I sometimes add grape pumice and rice hulls.
If you don't have raised beds, soil preparation is even more important, to create good drainage. Heavy winter rains make good drainage essential in my garden.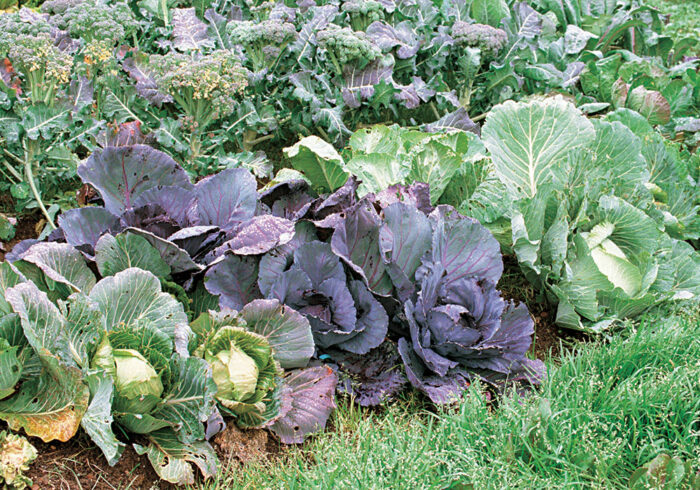 You'll probably need much less space for your winter garden than for your summer garden, since winter vegetables are more compact than tomatoes, melons, and squash. I use three raised beds, approximately 4 feet by 20 feet each, along with a 20-foot row for snap peas and snow peas, which provides family and friends with ample produce all winter long. I recommend planting one bed in root crops (carrots, beets, and onions), another in cole crops (broccoli, cabbage, cauliflower, Brussels sprouts, and bok choy), and another in salad greens (lettuces, mesclun, spinach, and chard). I plant winter crops closer together to prevent erosion from hard winter rains.
Plant at the right time
Since most vegetables come in many varieties, with different maturation rates, you can plant your winter garden all at once and still be able to harvest over several months. For instance, plant 6 or 12 plants of three different kinds of broccoli and cabbage, with maturity dates of 60, 80, and 100 days. For beets, onions, and carrots, you can plant the same variety of each (preferably one suited for over-wintering) and harvest them at different stages of growth, as needed. Chard, spinach, lettuce, and salad greens are also suited for an extended harvest if you take just the outer leaves and let the plant continue to grow. Since lettuce and most greens tend to mature quickly and germinate well in cool temperatures—they are the exception to the rule that warm conditions are required for germination—you can sow or plant out new transplants every three or four weeks throughout the winter. However, since lettuce won't bolt in cold weather, you might opt for the easy way: Plant everything at once, and be done with it.
Plant bare beds with a cover crop

My winter garden was about a quarter the size of my summer garden, and I wanted to put that open space to good use. So I planted a green manure crop between the winter beds and the perimeter fences and in a few of the beds I wasn't using. I used a mix from my local nursery consisting of 50 percent bell beans, 30 percent Austrian field peas, and 20 percent common vetch. All are legumes, which fix atmospheric nitrogen into the soil and add organic matter when turned under. The field peas cover the ground, while the vetch climbs up the taller bell beans.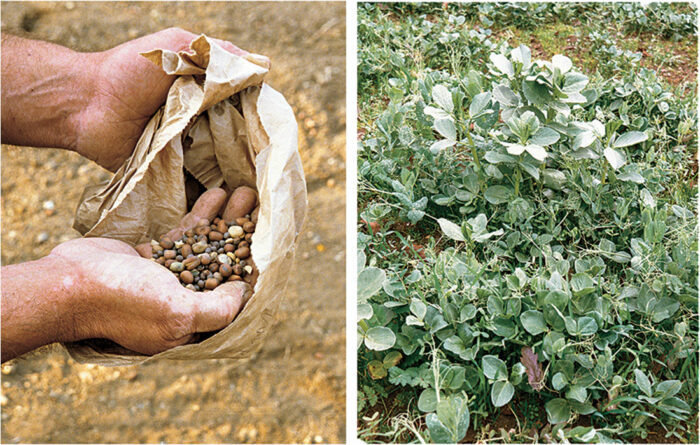 For your own garden, you'll want to seek local advice about the best cover crops or mixes for your area. Till or rake open areas and empty beds to about 2 inches deep, then broadcast the seed and rake in to cover. There's no need to water if you plant just before the fall rains. Three to four weeks before you plant your summer crops, chop down the cover crop, either with a machete or a mulching mower, and till it into the soil. This will allow the organic matter to begin rotting and releasing nutrients for your crop. Non-legumes such as barley, rye, and oats can also be planted as a winter cover crop; they won't provide as much nitrogen as legumes, but they will add large amounts of organic matter and help choke out weeds.
Seeing the garden through

Maintaining my winter garden was remarkably easy. I had to water regularly during August, September, and October, but once temperatures cooled off and the winter rains came, I didn't water at all. Weeds don't grow fast in fall and winter; most of my weeds were wild grasses, which I just cut short with grass clippers. It's actually best not to pull weeds, because when the soil is soggy, you risk harming your vegetables' root systems. And the roots of the weeds keep the soil in your raised beds from washing away.
Insects aren't generally a problem in colder weather, and although snails and slugs can proliferate, I had enough vegetables planted in my garden to ensure there was plenty left over for me. All of my crops were hardy enough to withstand frost, except for my lettuces and salad greens. Whenever frost was forecast, I covered that bed with a floating row cover.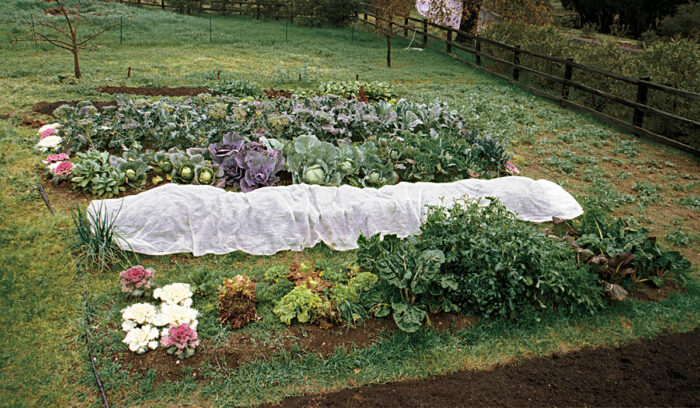 In other parts of the country, weather may be capricious. Have floating row covers ready to protect plants from sudden freezes. Quick changes in temperature are more damaging to plants than gradual changes.
In retrospect, my winter garden took much less effort than my usual summer garden. Once planted, my vegetables seemed to grow well by themselves with little intervention. The major effort on my part was venturing out into the rain to harvest whatever I felt like eating or cooking. But it was well worth it: fresh steamed broccoli and cauliflower, homemade coleslaw, sweet garden peas, borscht made with my own cabbage, beets, and carrots, and of course, incomparable salads. If only I could grow tomatoes in winter to top them off.
—A former fair-weather gardener, James Kerr now gardens year-round in Healdsburg, California.
October 2000
Photos except where noted: Marc Vassallo.
From Kitchen Gardening #29