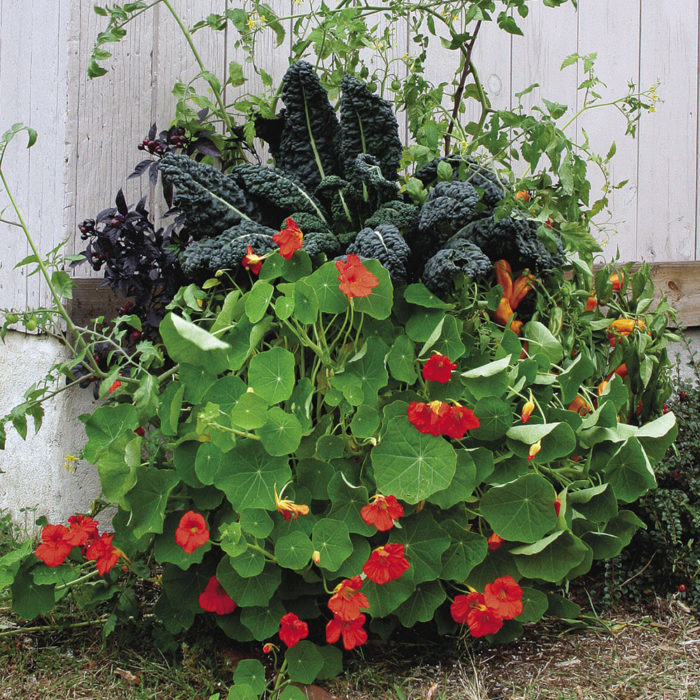 Once upon a time, not so very long ago, I lived in a studio apartment. It was slightly larger than a shoe box, but it did have one redeeming trait: a small patio that enabled me to grow vegetables in pots. My neighbors thought I was crazy, claiming that their containers filled with impatiens and vinca vines were a far more beautiful and traditional choice. But after just a few weeks, my pots of assorted edibles put their ornamental containers to shame. My pots, in fact, were superior, not only because they looked good but also because my neighbors couldn't eat their impatiens.
My neighbors weren't alone in thinking that the only reason to grow vegetables in containers is for practical reasons. When it comes to edibles in containers, most books, magazines, and nurseries don't go further than the idea of growing a single tomato plant in a single pot. But by combining vegetables, herbs, and some edible flowers in a design, the results are enormously more attractive. And this approach also gives you more variety in the kitchen.
I'm still creating edible container combinations today because they're gorgeous and they allow me to conserve my valuable bed space for perennials and shrubs. These movable feasts can go where no garden bed can: on a patio or deck; tucked into a sunny corner of the side yard; or even, if needed, in the driveway. I may have a bigger chunk of real estate now, but my veggies still look just as good in pots as they did when all I had was a shoe box to my name.
An early-spring medley can be elegant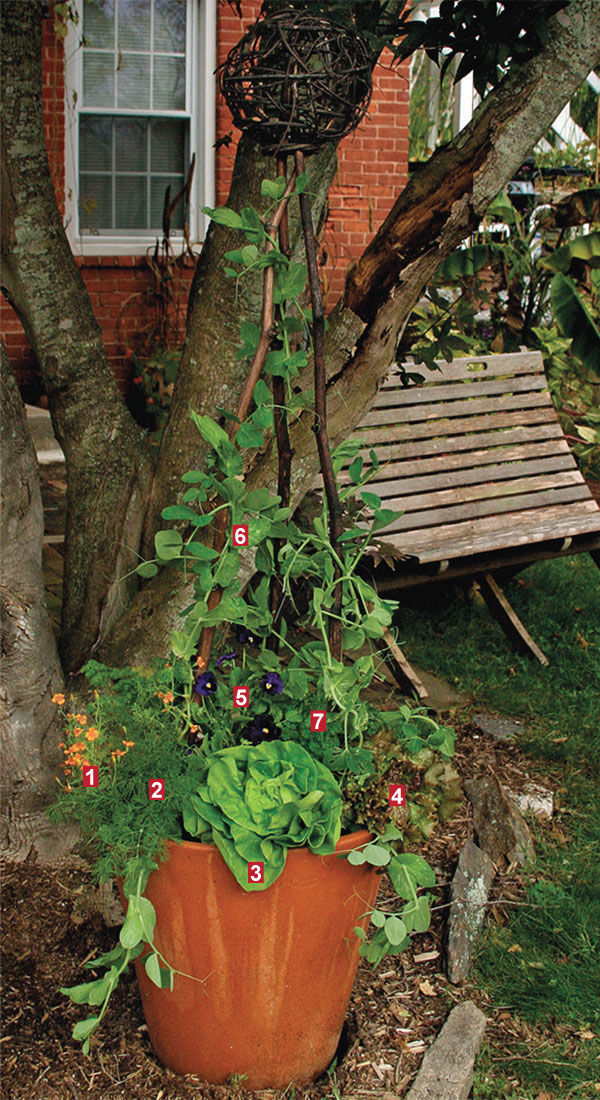 I love growing peas in containers because they provide a unique vertical accent. In this design, a trellis (three branches and a grapevine-ball finial) provides an attractive support for the peas. Leafy lettuce cover the bare feet at the base of the tepee, while mini-marigolds and purple pansies add floral accents. The fluffy texture of dwarf 'Fernleaf' dill stands out among the broad leaves. This container reaches its peak in midspring, then I yank out the contents and replant it with some late-season veggies.
1. 'Tangerine Gem' marigold (Tagetes tenuifolia 'Tangerine Gem')
2. 'Fernleaf' dill (Anethum graveolens 'Fernleaf')
3. 'Buttercrunch' lettuce (Lactuca sativa 'Buttercrunch')
4. 'Red Sails' lettuce (Lactuca sativa 'Red Sails')
5. Matrix™ Deep Blue Blotch pansy (Viola × wittrockiana Matrix™ Deep Blue Blotch)
6. 'Super Sugar Snap' pea (Pisum sativum 'Super Sugar Snap')
7. Curly parsley (Petroselinum crispum cv.)
Flavor fact: Pansies taste like cucumbers, while marigolds have a subtle lemon flavor.
Let the container give you a clue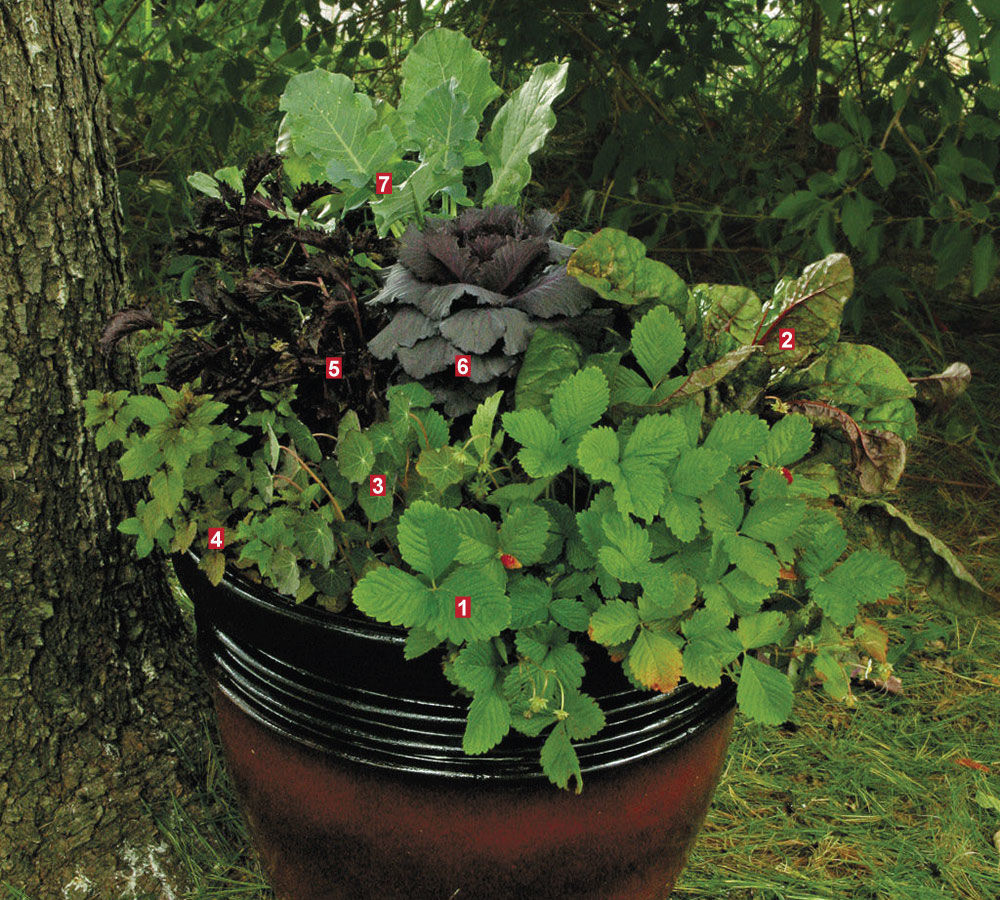 This burgundy pot inspired me to pick edibles that had a similar hue. It was also self-watering, so I knew that thirsty veggies, like broccoli, would do best in this design. Red-stemmed chard, scarlet-flowered nasturtiums, and an assortment of purple foliage (provided by the cabbage, basil, and mint) highlight the rich pot color. The alpine strawberries in this design are a perfect addition because, although they produce smaller fruit, they bear all season long and don't send out runners.
1. Alpine strawberry (Fragaria vesca)
2. 'Rainbow Mix' chard (Beta vulgaris 'Rainbow Mix')
3. 'Empress of India' nasturtium (Tropaeolum majus 'Empress of India')
4. Chocolate mint (Mentha × piperita f. citrata 'Chocolate')
5. 'Purple Ruffles' basil (Ocimum basilicum 'Purple Ruffles')
6. Purple ornamental cabbage (Brassica oleracea cv.)
7. 'Calabrese' broccoli (Brassica oleracea 'Calabrese')
Flavor fact: Ornamental cabbage, although usually grown for its beauty, is edible. It is slightly milder than regular cabbage but does not hold its brilliant color once cooked.
Growing Tip: 

"Doctor up" Your Mix

You'll need to amend your potting soil with compost and other nutrients because edibles are heavy feeders. A standard potting mix doesn't contain enough nutrients to sustain a container full of veggies all season long, and dousing your pots with liquid synthetic fertilizers isn't ideal because you're going to eat the contents. Here's a quick-fix recipe that will ensure success, with an occasional dose of liquid organic fertilizer:

3 parts traditional potting soil

1 part compost

1 part peat moss

A spadeful of leaf mulch
A simple color palette fits in anywhere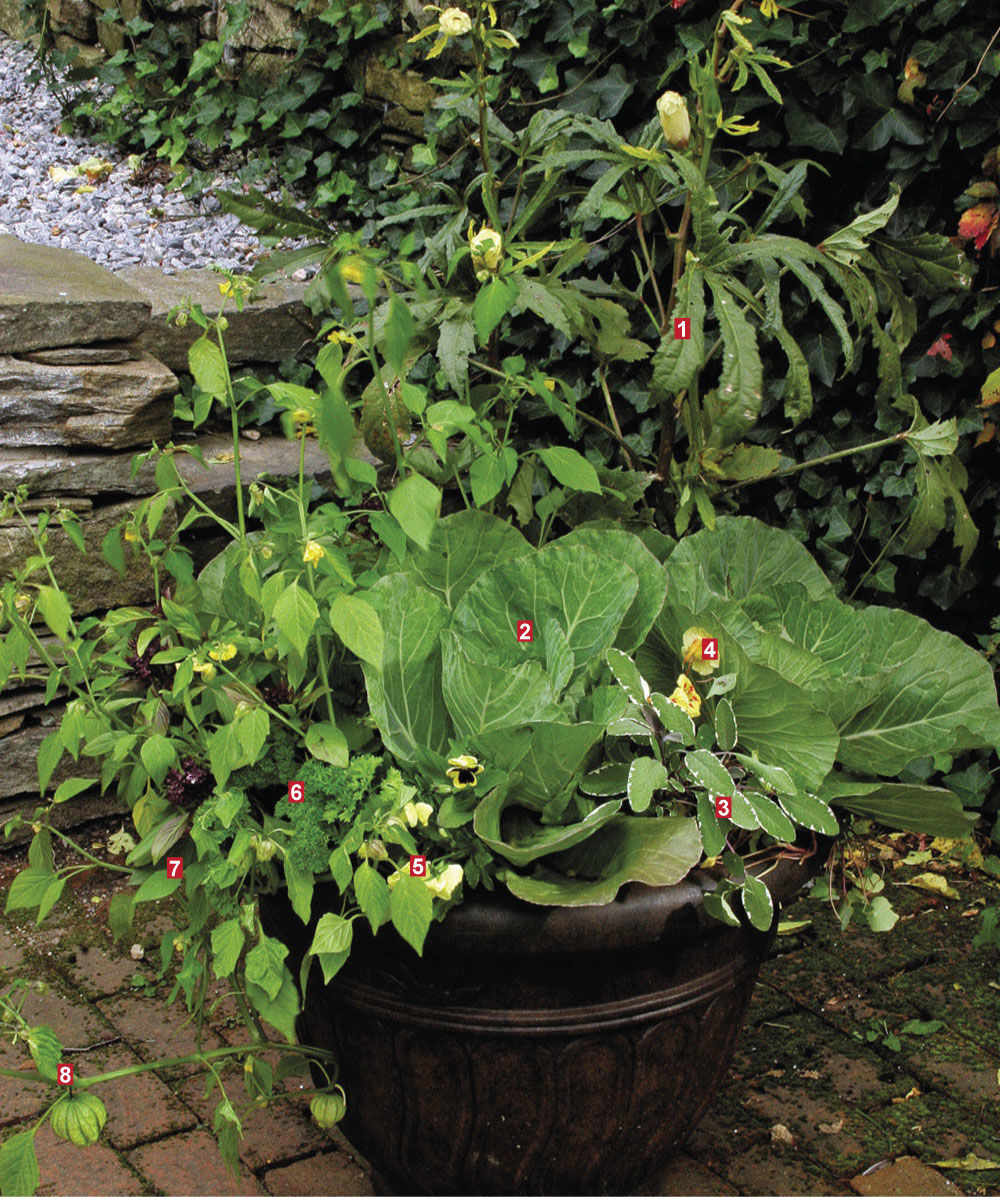 If the thought of bright orange peppers and hot red tomatoes makes you cringe, try using vegetables with softer hues. This container sticks mostly to a green-and-yellow theme but isn't boring. The hibiscus-like flowers of okra tower over other yellow-flowered companions, like the 'Banana Split' nasturtium and Matrix™ Yellow pansy. Even the tomatillo has sunshine-colored blooms. A splash of purple provided by the sage and basil breaks up the color monotony, while the fleshy leaves of the cabbage add some textural interest.
1. 'Clemson Spineless' okra (Abelmoschus esculentus 'Clemson Spineless')
2. 'Early Jersey Wakefield' cabbage (Brassica oleracea 'Early Jersey Wakefield')
3. 'Tricolor' sage (Salvia officinalis 'Tricolor')
4. 'Banana Split' nasturtium (Tropaeolum majus 'Banana Split')
5. Matrix™ Yellow pansy (Viola × wittrockiana Matrix™ Yellow)
6. Curly parsley (Petroselinum crispum cv.)
7. Thai basil (Ocimum basilicum var. thyrsiflora)
8. Tomatillo (Physalis ixocarpa cv.)
Flavor fact: Thai basil has a mild anise flavor with a minty aftertaste.
Bold plants need a big pot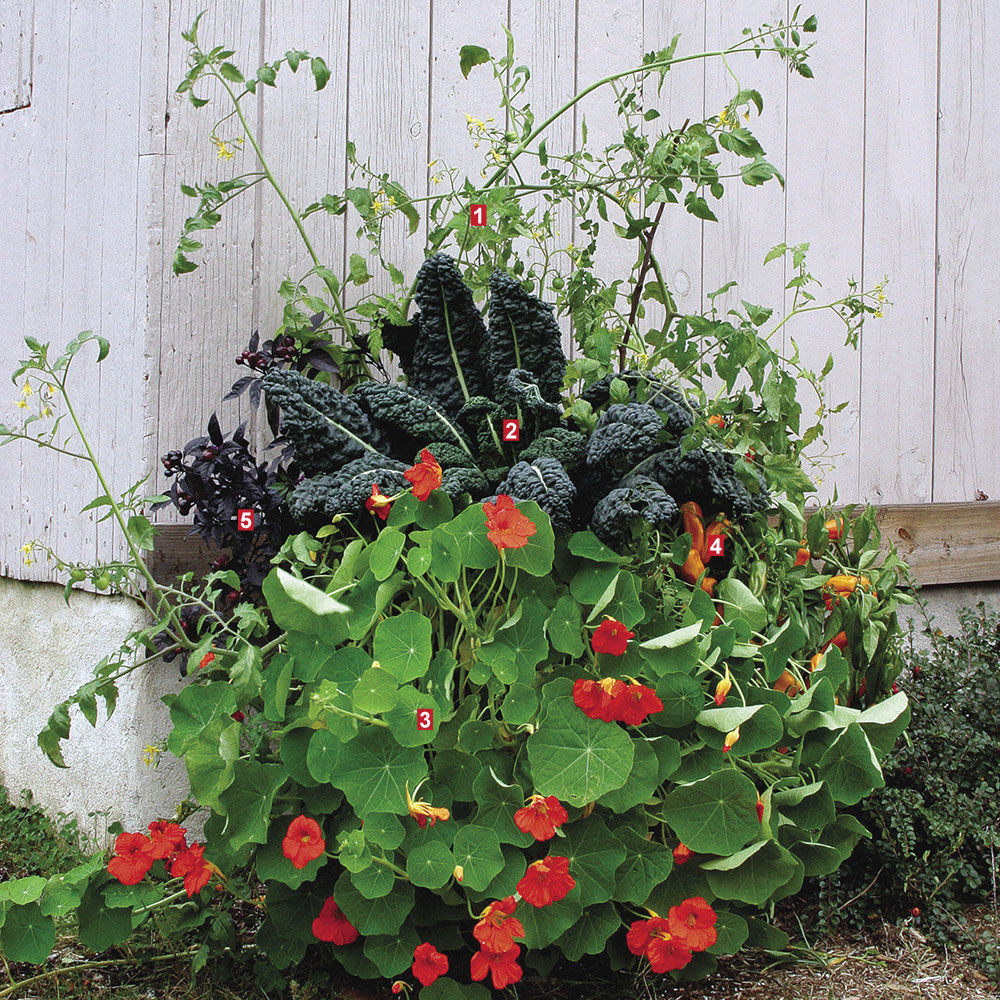 A half whiskey barrel, which is barely visible, provides enough space to plant large vegetables, like dinosaur kale and hot peppers. The tall, sprawling grape tomato at the back gives the combination height to balance out the container's girth, while the enormous nasturtium fills in all the gaps and adds a vibrant punch of color. Big vege­table varieties give a container a big visual impact. In this design, a large pot makes it possible to squeeze in not just one but several bold stars.
1. 'Juliet' grape tomato (Lycopersicon esculentum 'Juliet')
2. Dinosaur kale (Brassica oleracea 'Lacinato')
3. Nasturtium (Tropaeolum majus cv.)
4. 'Petit Marseillais' pepper (Capsicum annuum 'Petit Marseillais')
5. 'Black Pearl' pepper (Capsicum annuum 'Black Pearl')
Flavor fact: 'Juliet' tomatoes are excellent for canning and make a superb, sweet sauce.
---
Cramped Quarters? Not a Problem
Not all edibles will thrive in tight spaces. When choosing veggies for your pots, try to find bush varieties that won't take up a lot of space but will give you good yields. Also, determinate tomatoes are usually better for containers because they don't get huge and unwieldy. Here are some veggies that are perfect for pots.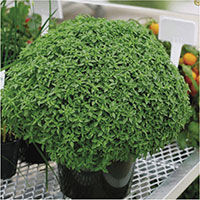 A basketball-size basil
'Aristotle' (Ocimum basilicum 'Aristotle') is an ultracompact Greek basil variety. It has a neat, rounded habit (12 to 14 inches tall and wide) that requires no pruning to maintain its shape. The form may be unique, but 'Aristotle' still maintains a pungent, classic flavor.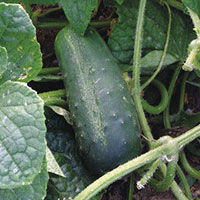 This cucumber won't take over
'Bush Pickle' (Cucumis sativus 'Bush Pickle') has short, contained vines, so it won't engulf your entire pot. Expect a large harvest of sweet minicukes.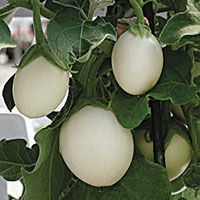 Big eggplant flavor in a small package
For those who love white eggplant's smooth, mild taste, you'll love the variety 'Ivory' (Solanum melongena 'Ivory') because of its dense habit and high yield. The fruit are roughly the size of a baseball, making them perfect for cooking.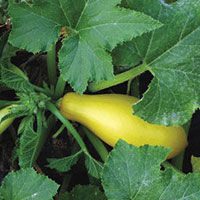 It's easy to squeeze in this squash
'Saffron' summer squash (Cucurbita pepo 'Saffron') has the creamiest, most delicious flesh you'll ever taste. Compact plants produce prolifically and are extremely sturdy.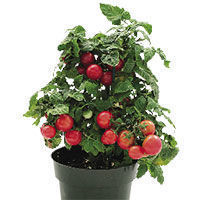 Tons of tomatoes in half the space
This dwarf, determinate tomato produces lots of sweet-tasting, small fruit. 'Sweet-n-Neat Cherry Red' (Lycopersicon esculentum 'Sweet-n-Neat Cherry Red') is the perfect tomato for containers because the plant reaches only 14 inches tall. It will need some staking, however, to support the heavy fruit load.
---
Danielle Sherry is an associate editor who never has enough space for vegetables.
Photos, except where noted: Danielle Sherry
The following mail-order plant sellers offer the widest selection of the edibles featured: