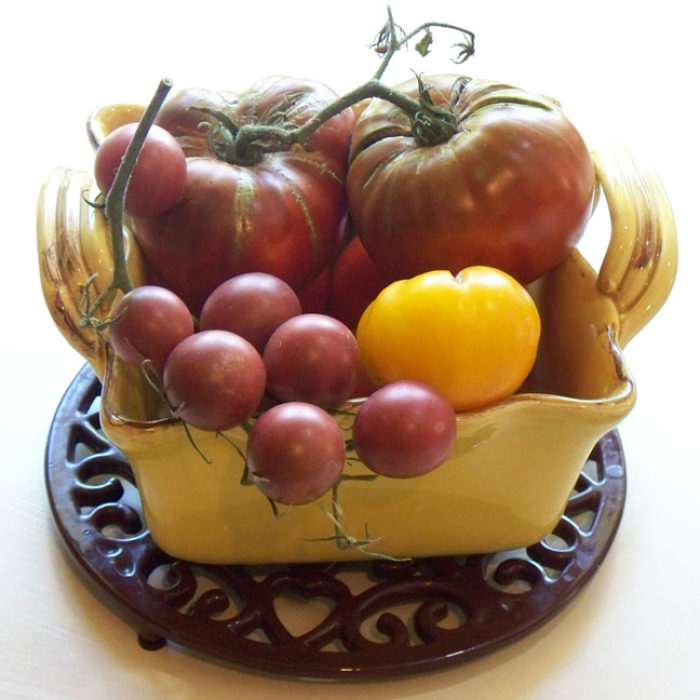 The Best Snacks on Earth
A major player in the potato chip biz boasts it "grows the best snacks on earth," but I have to disagree. The best snacks on earth are grown in my backyard.
Nothing can compare to a sun-ripened tomato, a crisp green bean or a sweet bell pepper plucked from the plant and savored in the garden. Down-to-earth snacks like these are not only easy to grow, they're more nutritious and less expensive than processed treats. The enjoyment also seems to improve when you know these finger foods weren't grown with the help of pesticides or other harmful chemicals.
Cultivate a Snack Garden
Growing your own snacks is a smart way to encourage kids to eat their vegetables and to try new varieties, especially when they're involved in planting and maintaining the garden. Snack gardens can be cultivated in a small bed or in containers situated in a sunny spot on the patio.
When selecting varieties for the snack garden, choose those that are naturally smaller in size or those that can be relished while still young and tender. Let their names guide you. Who could resist 'Jelly Bean' grape-tomatoes, 'Sugar Snap' peas or 'Super Sweet 100' cherry tomatoes?
In addition to these snack favorites, reliable producers like yellow pear tomatoes are low in acid and high in tomato taste. Lemon cucumbers produce small, round yellow fruits with a sweet cucumber taste.
To make sure these veggies are snack-ready, provide vertical supports for tomatoes, cucumbers and other vining plants to keep the fruit off the ground.
Filet beans, also known as haricots verts, are a delicious addition to the snack garden. These green beans are harvested when they're only 1/8" thick so they retain their tender-crisp flavor. Pick and eat while standing in the garden or steam and toss into a fresh garden salad.
Edamame Better than Beer Nuts
One of the most popular snack vegetables is as tasty as a peanut and first gained popularity in Japan as a savory accompaniment to a cold beer. Vegetable soybeans or edamame are as easy to grow as bush beans and are harvested when the seeds have matured and just before pods start to yellow.
For the best snacking, steam the pods until tender, drain, and sprinkle with Kosher salt. Then pop the beans straight from their pods into your mouth.
Plan A Snack Party
Because snacks are meant to be shared, invite friends and neighbors over for a casual garden party of light appetizers. Cut cherry tomatoes in half and stuff with an herbed cheese spread and fill seeded lemon cucumbers with a chunky tuna salad.
You can also create a tasteful party tray with a colorful assortment of fresh veggies, crackers and this chive mayonnaise dip from A Thyme For Cooking cookbook, published by the Pueblo, Colo., Herb Society in 1994:
Chive Mayo Dip Ingredients:
1 cup finely chopped chives
½ cup plain, non-fat yogurt
½ cup regular or low-fat mayonnaise
Salt
In a blender or food processor, combine chives, yogurt and mayonnaise. Whirl until smoothly blended. Add salt to taste. Cover and chill up to one day. Makes 1 ¼ cup dip or a tangy sandwich spread.