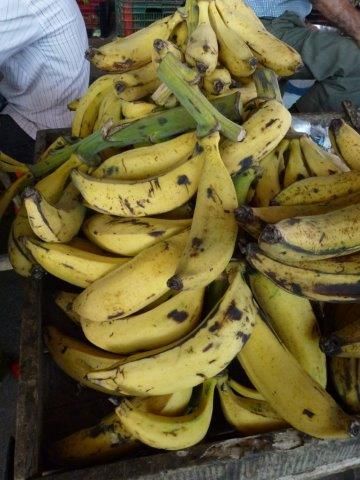 Rice and beans are a staple winter meal. Keep cabin fever at bay by adding tropical flavor to your everyday fare–plantains are easy to cook and fun to eat.
A traditional Costa Rican plate, Tico-style, is called Casados-you can get it Vegetarianos, con carne (meat) or pescado (fish). Rice and beans are the main stay, with good-sized portions; the beans might be black or red. There is always some kind of salad-it might be lettuces with slices of avocado or chopped tomatoes, onion and cucumber. Sometimes there is little bit of sautéed squash or other vegetables. And then there are the fried plantains, which complete the plate. This is a very satisfying meal, usually very filling and reasonable in price.
Generally, plantains (Musa spp.) have less sugar though more starch than our common grocery-store bananas and are usually cooked rather than eaten raw. In the green state, they are cooked or fried. Green plantains are hard to peel and usually the job has to be done with a knife. A ripe plantain is a bit easier to peel, though you might still need a knife. The skins of mature fruits turn black when ripe (and if they were a banana you'd think it was rotten and throw it out) and taste more like a ripe banana, since most of the starch converts to sugar. In the ripe stage, they can be eaten raw, though they are more often cooked. They can be boiled or steamed and mashed, grilled or baked (with or without skin) or fried-usually in palm oil, though I prefer coconut oil.
Plantains contain potassium, have a good bit of fiber, and are about 200 calories. They are a staple food in many tropical parts of the world. Since they produce fruit year round, they are a reliable crop for all seasons in many tropical countries from Central and South America to the Caribbean Islands and much of Africa. Try the following recipe, which is easy and will add a delectable tropical twist to your ordinary rice and beans: Plantanos Fritos–Fried Plantains.