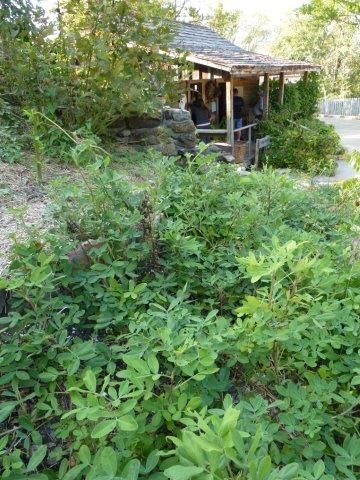 I arrived here in the Ozarks last week, to get ready for the annual Herb Harvest Fall Festival, which starts this Thursday, October 3, and goes through Saturday the 5th. Every year, we gather to celebrate the harvest season as well as different countries during the festival and this year the countries of coastal Africa will be featured. Therefore, the gardeners at The Heritage Herb Garden planted indigienous African crops and also crops that were brought to Africa and are now grown there in large quantities for consumption as well as export. So here at the OFC there are okra, peanuts, and sweet potatoes growing on the root cellar hill. Peanuts are not really a nut which grows on a tree, rather a legume, which grows in the soil. They have an odd growing habit in that they flower aboveground and grow underground. After the bright yellow-orange flowers bloom, they wither and send out a peg which curves and grows downwards. The peg penetrates the earth and grows peanuts in a pod. They need 120 to 140 days growing season. Another crop grown both in the U.S. and Africa is sorghum. It is being harvested locally and there is even a sorghum pressing going on right down the road in Big Flat, Arkansas, all this week.
On Thursday night, there will be a sumptuous herbal supper, Nigerian-style, prepared by Dr. Charles Ogbeide, who is a professor in Fayetteville. The supper will be preceded by an outdoor reception in the gardens, where Herb Society members will serve appetizers and there will a large circle of drummers gathered for entertainment. There are programs all day on Friday and Saturday, with delicious luncheons each day at the Skillet Restaurant featuring the foods of Africa and our Southern United States. See www.ozarkfolkcenter.com under Herbal Events to review all of the great speakers and the schedule. Friday's lunch is a Good Ole' Southern Meal serving Oven-Baked Fish with Lemon Herbs; Southern-style Greens; Pinto Beans; Home-Fried Potatoes; Hot-Water Cornbread; Herbed Biscuits and Sweet Potato Pone for dessert.
I will be presenting a program on The African Influence of the Southern U.S. and demonstrating a Peanut and Sweet Potato Soup with Coconut Milk; Spicy Okra Stew with Cheesy Whole-grain Grits; Plantains fried in Coconut Oil; and Benne Seed Wafers served with watermelon wedges, which will be the menu for lunch on Saturday.  
John Ghana, who owns Treaures of Africa, will be bringing African products from his shop and setting up a tent where he will sell spices and herbs, shea butter, black soap, clothing, baskets, drums and more. He will be presenting The Medicinal Herbs and Plant Oils of Ghana. There will be herb plants grown here at the OFC for sale, as well as dried herbs and the HSA will be selling herbal goodies. Come experience fall in the Ozarks!
I will post the recipe for the Spicy Stewed Okra tomorrow… so stay tuned… and Happy October!
Click here for Spicy Stewed Okra–a simple yet very tasty dish.