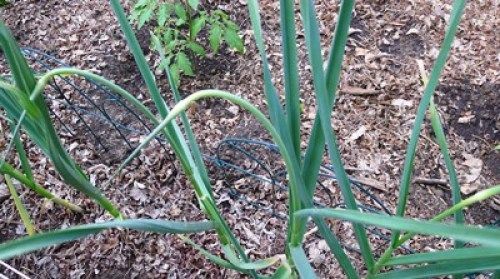 The garlic bulbs I planted in October are signaling it won't be long until it's garlic harvesting time. 
The long line of bulbs in the vegetable garden now sports tall leaves on sturdy stalks, giving a hint to what lies beneath the rich soil. When the leaves start to turn yellow, I know it will soon be time to harvest the garlic by carefully digging up the plant.
Last week I noticed the bulbs of the hard neck varieties have sent up their flower stalks. The stalks, called scapes, shoot up from the center of the plant and will keep growing to eventually curl above the plant and go to seed. It's best to cut the scapes from the plant, so all of the growing power goes into forming larger bulbs. Cut the scape as close as possible, to prevent it from growing back.
The scapes are a delicious little reward for planting garlic. I've used garlic scapes in many different recipes because the tender flower stalks add a light garlicky taste. They can be chopped and tossed raw into green salads, sautéed in stir-fry dishes, blended into pesto or simmered into a simple pasta sauce.
Another way to cook with garlic scapes is to toss them on the grill and use them as a fresh green vegetable to accompany a summer meal. Grilling gives the scapes a nice sweet flavor, similar to the taste of roasted garlic, with the texture of tender green beans.
Grilled Garlic Scapes
Instructions 
Rinse garlic scapes and trim the tough ends.
Place scapes in a large bowl and drizzle with olive oil; sprinkle with coarse salt.
Preheat grill (either gas or charcoal).
Place scapes on grill; separate with tongs so they have room to cook.
Grill over a hot flame or coals for 5 minutes or until they're lightly browned on one side.
Turn scapes with tongs and cook until soft, about 5 more minutes.
Remove from grill and serve.
Do you have a favorite recipe for using the garlic scapes from your garden? Please add your ideas here.