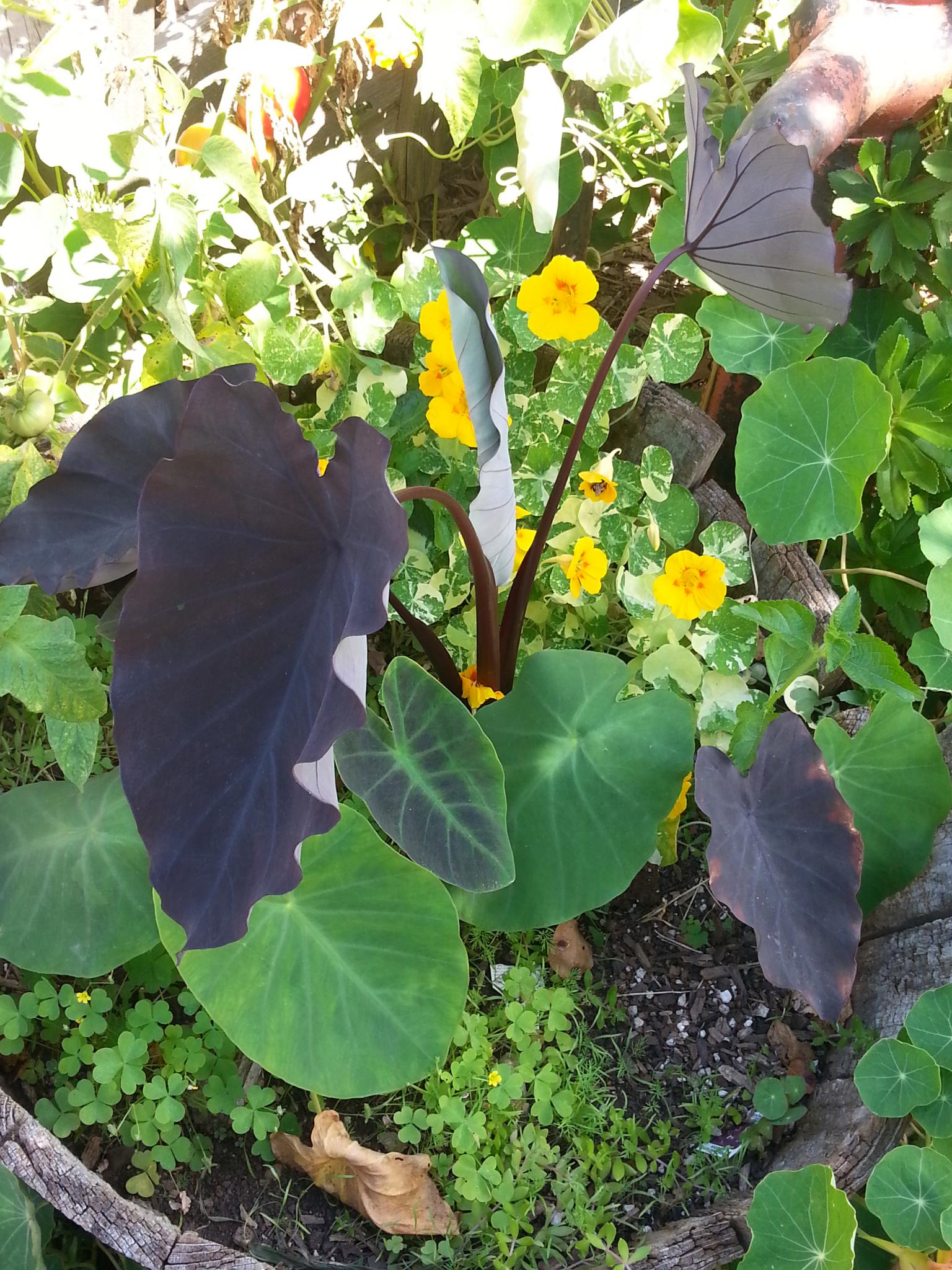 Today's photos are from Pat DeSocio, who says, "I moved from two acres in Locust Valley, New York, where I built and cultivated a variety of gardens (perennials, shade, flowering shrubs around a long rock wall, cutting, heather-around a windmill-winter flowering) for 20 years, to an apartment with a small backyard. My daughters left for college and I lost my house during the recession. I was selling real estate and my bills were the same, but nothing sold in 2008-2010. I was heartbroken, as my renovated house of 20 years had six sets of French
doors that opened to my gardens, which had grown and changed and evolved over 20 years like my children.
I brought some plants with me, inluding my Jack-in-the-pulpit, hardy hibiscus, a few scoops of cimicifuga, ginger, and some amazing hostas. I've started building gardens here. Although it is a rental, it is my home and the back yard is my sactuary. My shade garden is thriving, my caryopterous is abuzz with happy bees, my portulaca pops up everywhere in the cracks, my containers have nautia (like elephant ears) tubers from the grocery store and black taro from India via Ebay. We have an organic garden with everything and I share the abundance with my friends and neighbors.
I went back to my old house recently because I felt strong enough, but it looked overgrown and unkempt. I have recently beenfeeling blessed by the freedom I have come to appreciate. I am unburdened by the high property taxes and the expense and work involved in maintaining my house, gardens, and pool. I've realized that a garden is a living thing that you live and care for, and when you move, it moves with you. It is spiritual." Oh, wow, Pat. I love this post for so many reasons. I can tell this transition has been quite an emotional journey, and that you've survived it beautifully. Good luck with your new garden–I know I would love to see updates as it evolves! That Jack-in-the-pulpit, by the way, is ridiculously cool!!
Send me photos of YOUR garden! Email me at [email protected]
I'm scheduled to give another GPOD talk (A few of you will be getting emails in the next two weeks as I put together the slideshow…), and a number of people have emailed to say that they'll be at the show, and that they'd love to meet up with a bunch of fellow GPODers!
The RSVPs so far:
Glenda Curdy (Nurserynotnordstrom)
Tia Scarce
Jeanne Cronce (Greengenes)
Sheila Schultz
Nora
Shirley Graves
Chris Niblack (ChrisSeattle)
Kielian DeWitt (Annek)
Linda Skyler (Meelianthus)
Kathy Schuler
So…who else is going to be there?? Let us all know in the comments, and we can start planning an outing! Perhaps after-dinner drinks one night at the bar at the Sheraton? I'll repeat this announcement for the next week or so, at least, and keep a running list of who's coming….enticement for even more people to come. Oh, and when you comment to say you'll be there, give us your real name so that I can plan name tags that include both that and your screen name…
______________________________________________
Want to get the GPOD delivered to your inbox every morning? CLICK HERE!
Want us to feature YOUR garden, or a garden you've recently visited, in the Garden Photo of the Day? CLICK HERE!
Want to see every post ever published? CLICK HERE!
Want to search the GPOD by STATE? CLICK HERE!
And last but not least, Check out the GPOD Pinterest page, where you can browse all the post in categories…fun! CLICK HERE