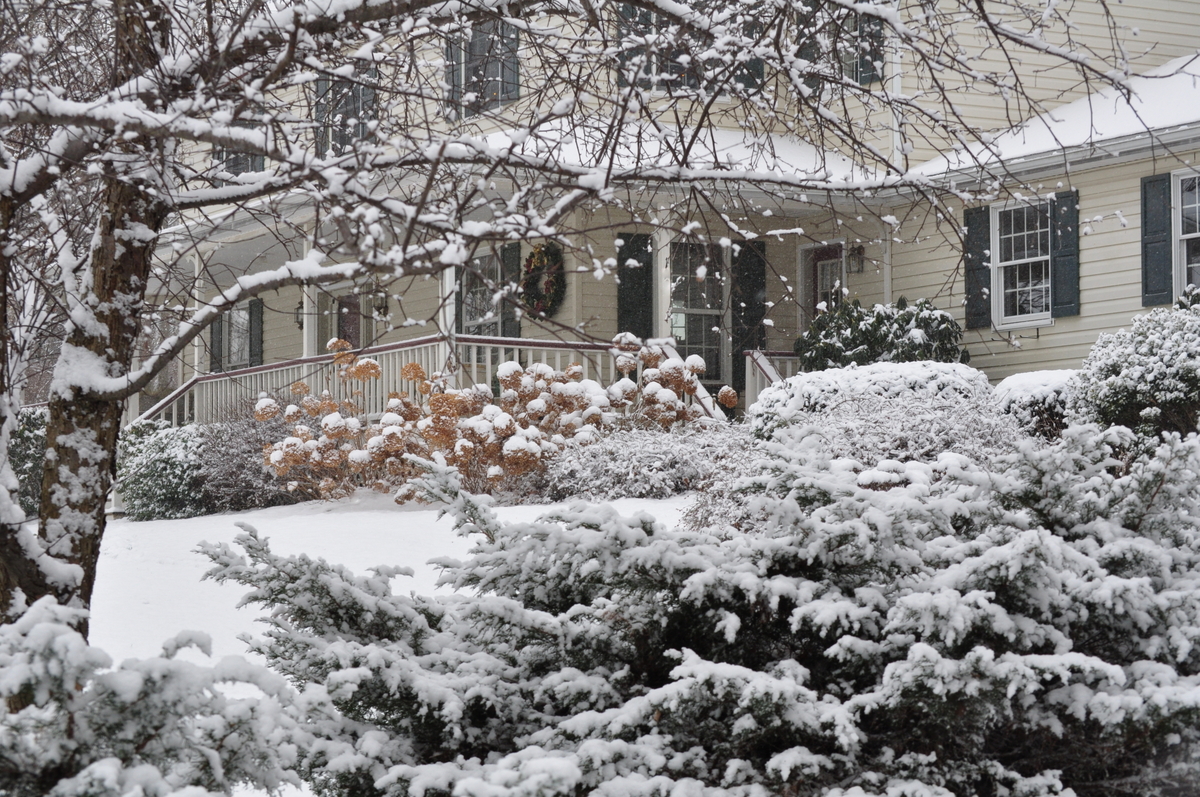 Surprise! We're back in Terie Rawn's garden today. We saw fall yesterday, and there was no way we could leave you hanging, so….. Today Terie says, "As the winter months pass by those busy Holidays, we settle into a routine and often forget to look for winter's beauty. Shoveling, stoking wood stoves, plowing a long driveway, and layering hoodies and scarves can become a bit monotonous. I find it helpful to have a couple focal points to view from inside. The gardens are positioned for that very reason. Both summer and winter hold interest from just inside our windows. For me, second only to gardening is birding. We place feeders at gardens' edge to view the flurry of activity from our living room and kitchen windows. Many perennials are left standing to benefit their appetites. I find very little problem with the potential of nuisance reseeding. Our feathered friends have it under control."
Send me photos of YOUR garden! Email me at [email protected]
I'm scheduled to give another GPOD talk (A few of you will be getting emails in the next two weeks as I put together the slideshow…), and a number of people have emailed to say that they'll be at the show, and that they'd love to meet up with a bunch of fellow GPODers!
The RSVPs so far:
Glenda Curdy (Nurserynotnordstrom)
Tia Scarce
Jeanne Cronce (Greengenes)
Sheila Schultz
Nora
Shirley Graves
Chris Niblack (ChrisSeattle)
Kielian DeWitt (Annek)
Linda Skyler (Meelianthus)
Kathy Schuler
So…who else is going to be there?? Let us all know in the comments, and we can start planning an outing! Perhaps after-dinner drinks one night at the bar at the Sheraton? I'll repeat this announcement for the next week or so, at least, and keep a running list of who's coming….enticement for even more people to come. Oh, and when you comment to say you'll be there, give us your real name so that I can plan name tags that include both that and your screen name…
______________________________________________
Want to get the GPOD delivered to your inbox every morning? CLICK HERE!
Want us to feature YOUR garden, or a garden you've recently visited, in the Garden Photo of the Day? CLICK HERE!
Want to see every post ever published? CLICK HERE!
Want to search the GPOD by STATE? CLICK HERE!
And last but not least, Check out the GPOD Pinterest page, where you can browse all the post in categories…fun! CLICK HERE