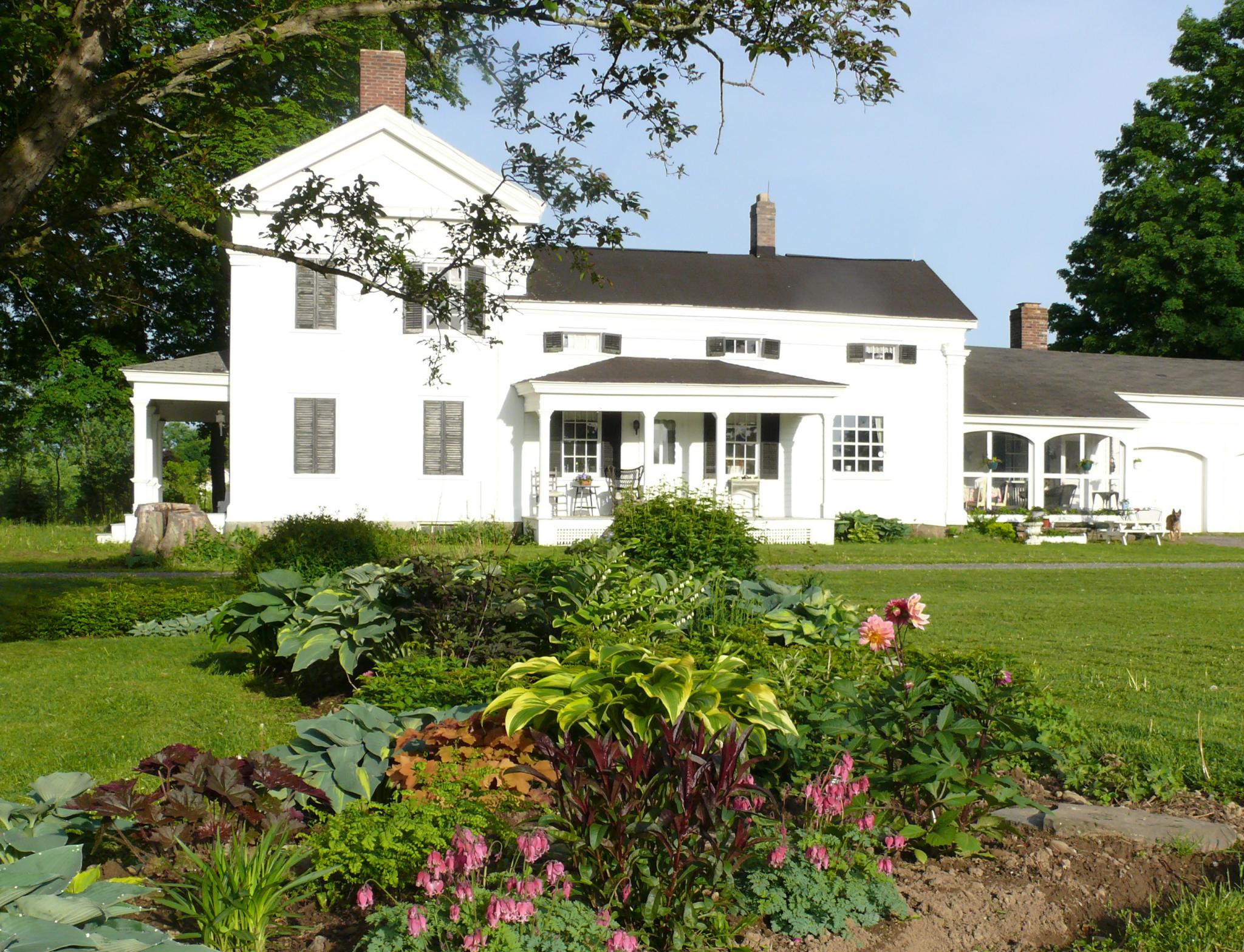 We're back in Emily's Charlton, New York, garden again today, learning a bit more about Emily and catching a few more glimpses of her gardens. She says, "I have a bachelor's in Agricultural Business from SUNY Cobleskill. I am currently the president and a 10 year member of the Charlton Garden Club, a small group of women from our historic rural town who share a love of all things gardens. I enjoy learning as much as possible about perennials, trying new plant combinations, and I have a growing love for shade gardening. Some of my favorite plants in my gardens include variegated solomon's seal, Aruncus, Japanese painted ferns, Oriental Lily 'Casa Blanca', Hosta 'Sagae', Geranium 'Rozanne', and Persicaria 'Firetail'. I enjoy a visual depth in my gardens, similar to a Walt Disney animation, where you see the focus but there is always more in the background. I want my gardens to take me somewhere visually, to feel like they don't end. That is very important to me as I design my gardens and photograph them – especially come January, when it is 12 degrees outside, anticipating a huge snowstorm, and I need to escape into some garden photographs! Matt and I planted 600 black walnut trees on our farm in 2001, and are expecting 500 Balsam Fir transplants this spring to begin the process of growing Christmas trees." I just know there's more to see, Emily, please do send more photos throughout the year!
Send me photos of YOUR garden! Email me at [email protected]
I'm scheduled to give another GPOD talk (A few of you will be getting emails in the next two weeks as I put together the slideshow…), and a number of people have emailed to say that they'll be at the show, and that they'd love to meet up with a bunch of fellow GPODers!
The RSVPs so far:
Glenda Curdy (Nurserynotnordstrom)
Tia Scarce
Jeanne Cronce (Greengenes)
Sheila Schultz
Nora
Shirley Graves
Chris Niblack (ChrisSeattle)
Kielian DeWitt (Annek)
Linda Skyler (Meelianthus)
Kathy Schuler
So…who else is going to be there?? Let us all know in the comments, and we can start planning an outing! Perhaps after-dinner drinks one night at the bar at the Sheraton? I'll repeat this announcement for the next week or so, at least, and keep a running list of who's coming….enticement for even more people to come. Oh, and when you comment to say you'll be there, give us your real name so that I can plan name tags that include both that and your screen name…
______________________________________________
Want to get the GPOD delivered to your inbox every morning? CLICK HERE!
Want us to feature YOUR garden, or a garden you've recently visited, in the Garden Photo of the Day? CLICK HERE!
Want to see every post ever published? CLICK HERE!
Want to search the GPOD by STATE? CLICK HERE!
And last but not least, Check out the GPOD Pinterest page, where you can browse all the post in categories…fun! CLICK HERE