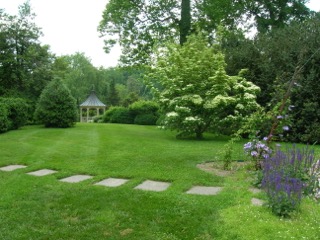 Today's photos are from Barbara Holdridge in Maryland, who says, "My reaction to Pat DeSocio's account of her loss of her former beloved garden was bittersweet. I, too, have downsized, but lost not one but two gardens precious to me. And there's a moral in my story.
Like Pat, I had to downsize, not only because of mounting maintenance costs, but because of wear and tear on me, after forty years of creating and tending a garden area of about six acres of my property, with a three-quarter acre pond, a Japanese-style garden, fountains, swans, and peacocks. There were garden tours and a garden award. When I downsized to a very pleasant condominium in a green setting, I still felt that need to dig my hands in the soil–-we all know the feeling–-and create something. Since there was a patch of ground outside my windows with only dead pines and unsightly bushes, I received written permission from the president of the condominium board to start a very small garden there.
My efforts were rewarded with an abundance of perennials, roses, dwarf conifers, and lots of birds, butterflies, and bees. Neighbors loved it, and I felt good cultivating my little garden as it grew, and watching the weather daily like the old gardener I was. The soil was terrible, so I amended it. The deer were all ears, noses, eyes, and teeth, but I fended them off with various sprays, which I alternated to keep them worried.
The end of the story? The condominium board suddenly sent laborers over early one morning, at the height of summer, to demolish the garden, toss my poor uprooted plants aside, and replace my garden with leggy echinaceas and unattractive itea shrubs. I sued for breach of contract and they settled in due course, but I am now gardenless. I have done the only thing I can-–put grow lights up in my sunroom, bought flowering tropical plants and a large potted lemon tree, and put all of my efforts into trying to make everything thrive.
And the moral? If you need to downsize, and you still have that gardening itch, land where there is positive assurance that you can garden–-and not only get everything in writing, but also executed by an attorney!" Oh Barbara, this is heartbreaking. But I'm so glad you're still growing and thriving. Wow.
***Want a guided tour through Barbara's former garden at Stemmer House? Check out THIS VIDEO.***
______________________________________________
Want to get the (G)arden (P)hoto (o)f the (D)ay delivered to your inbox every morning? CLICK HERE!
Want us to feature YOUR garden, or a garden you've recently visited, in the GPOD?

CLICK HERE!


Want to see every post ever published?

CLICK HERE!


Want to search the GPOD by STATE? CLICK HERE!
And last but not least, Check out the GPOD Pinterest page, where you can browse all the post in categories…fun! CLICK HERE