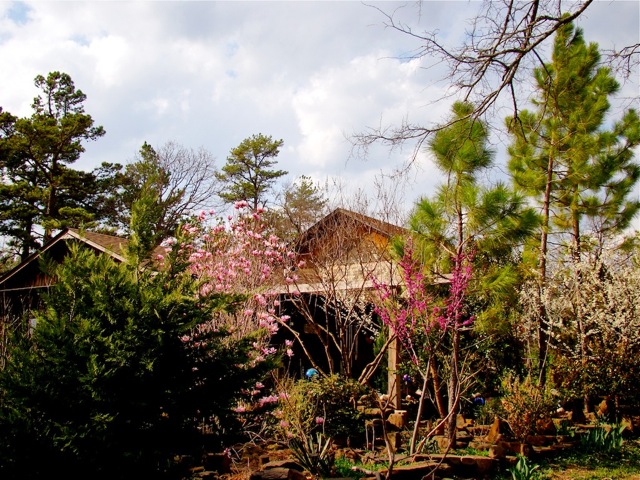 Jesse Rhode shares with us his Oklahoma gardens and adventures, laid out in a series of vibrant photos as well as descriptions.
"The story of my garden is actually two stories; and more to the point, two gardens:
One is of a garden which we recently had to leave. Due to greener pastures (pun intended) of a financial nature, we packed up house and garden and relocated. I was very saddened to leave such a special and unique place, as well as the friends and contacts we had established. But, it provided some materials and ideas for our second garden, which is still very young and most certainly a work in progress. We've a long way to go before our beds, borders and orchards are "done", and "finishing touches" are years away. I'll just label these efforts as "Job Security." (Now, if'n I could just get a paycheque for said efforts!!! 😉 I've also asked for a heavy dose prescription of Patience. )
Our first garden is one of mountainous challenges and vistas. Literally. Many don't realize that Oklahoma has mountains, but, we do indeed! In fact, geologically speculating, the tail end of the Appalachians do not peter out in Georgia/'Bama, but curves and resurfaces West of the Mississippi (I LOVE typing that name!!) in the Ozarks and Ouachitas of Arkansas, Missouri, and Oklahoma. The Mighty Mississippi river systems have cloven the miles and elevations between.  And, just like any good mountain story, this one has a log cabin at it's heart!!
When we first moved to the site just after the Y2K scare, there was the cabin, a very low stone wall, a surrounding bermuda weed lawn with a remnant of the native forest cradling the home site. The large pines which were there were harvested and used for the walls and frames of the cabin, just like in days of olde. We had three neighbours….two brothers who ranch cattle and therefore clear the forests, and the Ouachita National Forest was our third boundary. (Oh, and by the way, it's pronounced: (ah)-Watch-e-taw.)  For those readers and travelers who are familiar with this neck of the woods, we were less than a mile from the western terminus of the Talimena Scenic Drive, and our views where dominated by Winding Stair Mountain, where the drive summits and follows the ridge. I immediately began planting "the bones" of the future gardens with trees and shrubs, as well as the tempting perennials and bright annuals. Having just moved out of the DFW metroplex where I learned about container gardening while renting apartments, I was in Hawg Heaven by now having REAL soils in which to plant!"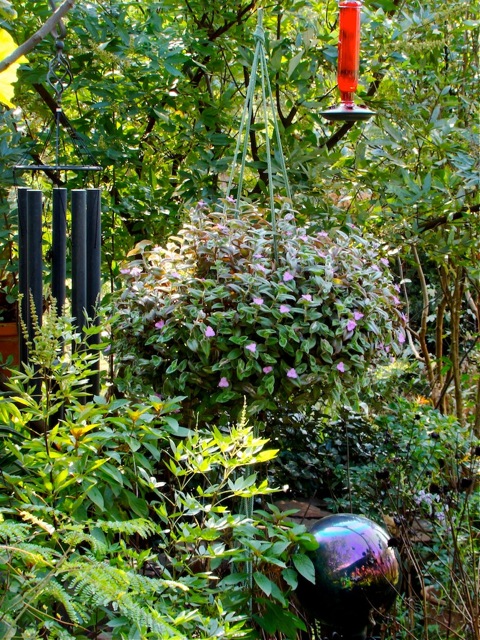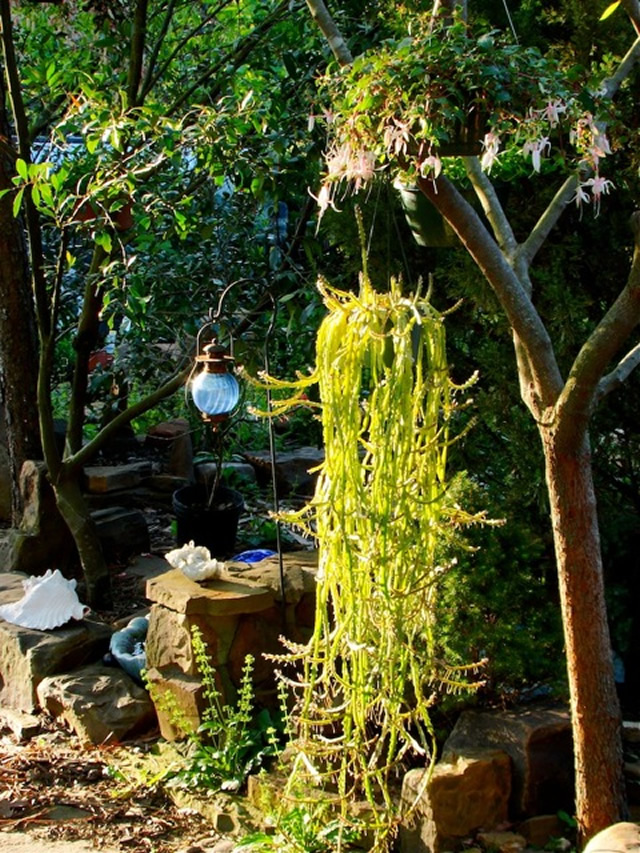 As the Bermuda weed was vanquished and exiled to ever further quarters of the realm, the bones grew and sheltered us from the angry summer sun and almost ever-constant zephyrs and gusts. (Remember, this is Oklahoma!! 😉 ) I used the strengthening bones' branches to hang and grow many basketed treasures. (Tradescantia sillamontana, aka: Gossamer Plant on the left in 3/4's sun; Lepismium cruciforme, one of the rainforest cacti, in 1/4 sun on the right.)
I've never shaken the "plants in containers" habit from my Big City years, and it took a separate truck load just to bring my Apartment Garden to this location from the Metroplex!So to harbour my precious children, I elected to bite the bullet and spring for a suitable and enjoyable enclosure against the sub freezing temperatures. *(Y'all can see the temporary and partial solution in the background..which worked…..kinda…..for a while…)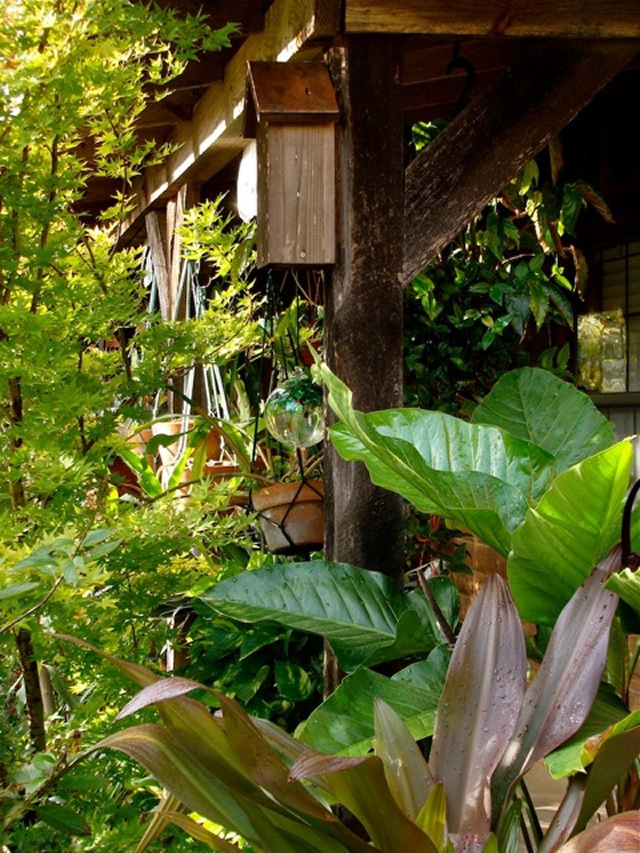 I Loved our wrap-around porch, and took full advantage of that feature to grow and showcase much of our massive container garden. We splurged one year and purchased a very large Coral Bark Japanese Maple for the front corner of the Porch. (Acer 'Sango Kaku'.) In this Indian Summer capture, it hasn't yet begun to turn either it's leaves nor its bark. The lush foliage in the foreground are Anthurium 'Lazarz' and Crinum 'Queen Emma' . Plants here thrived in the Morning Sun/Afternoon Shade conditions.Many of us plant for butterflies, hummers, and/or pollinators to lure their animated colours amongst our more static hues, and I arguably choose colours and nectars before most other criteria of acquisition.Integrating these selections into a co-hesive and even pleasing view is both the challenge and the fun!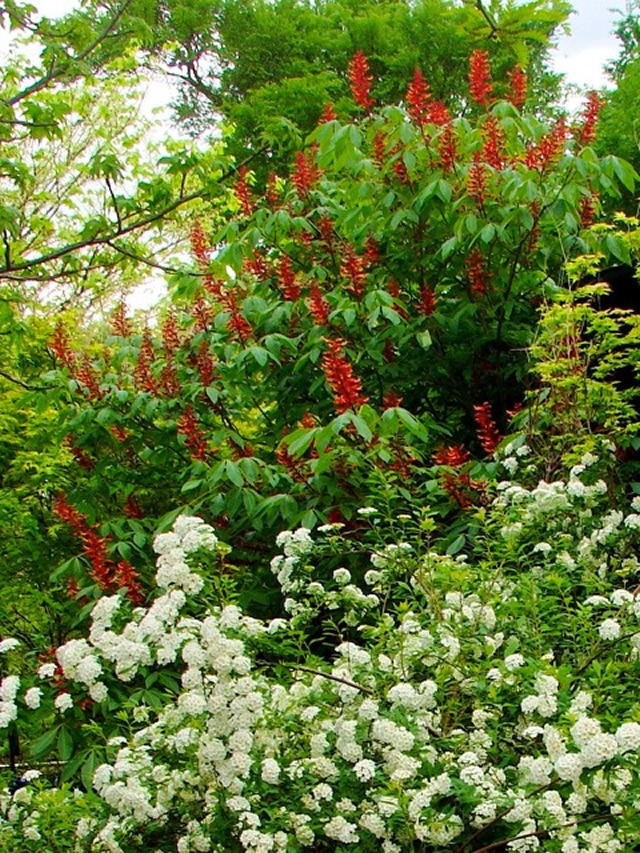 Just in front of that Japanese Maple is a simple, silly ole Bridal Wreathe Spirea. And, down the length of the front porch is an American native Red Buckeye. These Aesculus aren't seen all that much, and I don't know why although they're difficult to source. Although they're precocious with their floral display, they're painfully slow growing. This was one of the first "bones" I planted upon arrival and it's now as tall as the cabin's roof. It always comes into bloom just as the Hummers are returning from their Central American Winter Sabbaticals.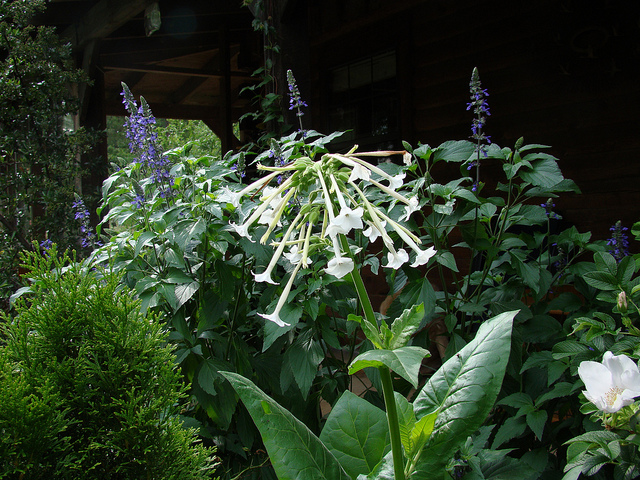 Off the side porch, Salvia 'Indigo Spires' begins it's late season blooming playing nicely with the flowering tobacco volunteer, which entertained our olfactory senses. The rose doing a photo-bomb is another delight for those who love natural perfumes: Rosa x 'Wild Spice'.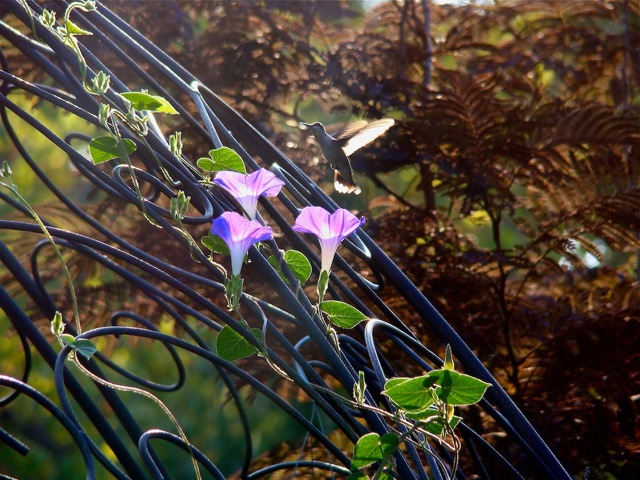 My Wife (and Best Friend and part time Boss…ok: Full Time Boss)  scored a very nice metal gazebo from a wholesale box store a few years ago….wish they'ld offer it again for that same price…we could use another! I grew fast shade on the structure. Morning Glory is a Hummer favourite, and this heirloom variety, 'Granda Ott' reseeded itself generously…I only had to plant it once. The background melody in this early morning and early season shot is my favourite Mimosa, 'Summer Chocolate'……expensive, but worth it!!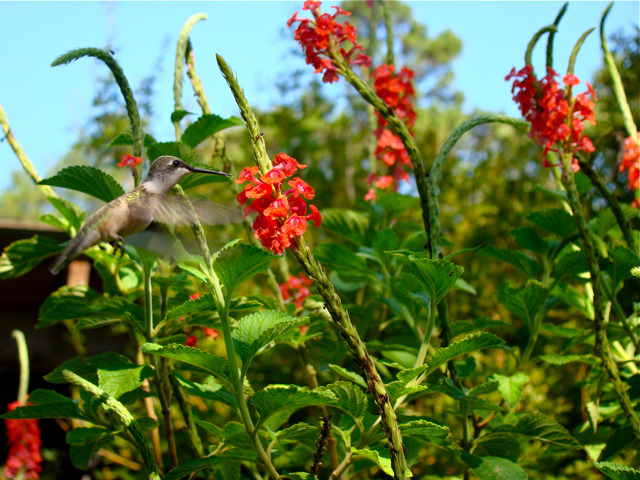 The Hummers fought over the Porterweed we placed out every summer…and carted in every Autumn. (Stachytarpheta spp.)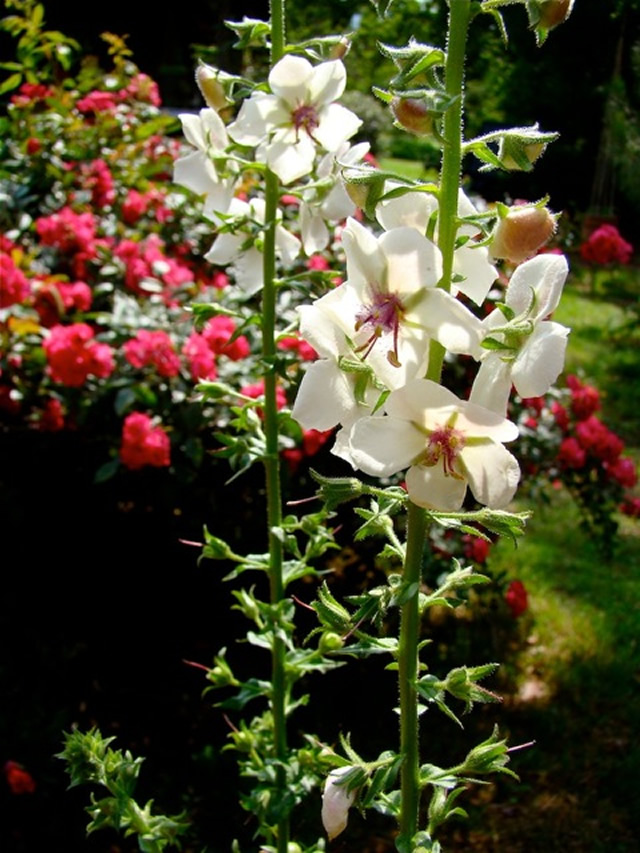 We relied upon self seeders, native wild flowers, and semi-aggresive perennials to colour between the lines and fill the spaces. I once thought the Moth Mullien, (Verbascum spp.) was a native, but recently found out that like many of our families, it was introduced from another continent and has naturalized here. We had both the White and the Yellow spires freely sprouting in our garden. The Rose in the background was a gift from a sister. It is NOT the variety of tree rose she purchased, but is the grafting rootstock which was used. The trunk and top perished for some reason, but the roots took over the show, albeit with a different presentation and colour. She elected not to take it with her when she moved, so she bequeathed it to us!! Thanx, Sis!!!
Have a garden you'd like to share? Email 5-10 photos and a brief story about your garden to [email protected]. Please include where you are located!
Have a mobile phone? Tag your photos on Instagram or Twitter with #FineGardening!
You don't have to be a professional garden photographer – check out our garden photography tips!
Do you receive the GPOD by email yet? Sign up here.
Follow us: @finegardening on Twitter | FineGardeningMagazine on Facebook | @finegardening on Instagram