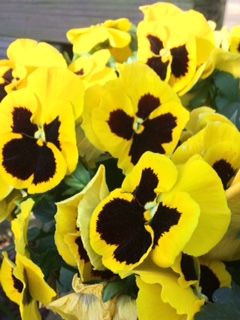 Pansies and Johnny-Jump-Ups
Pansy Viola xwittrockiana
Johnny-Jump-Up or Heartsease V. tricolor
These happy little faces are harbingers of spring and this year the National Gardening Bureau has announced that 2017 is Year of the Pansy. https://ngb.org/year-of-the-pansy/ They are used to garnish the May wine punch bowl and other beverages, desserts, tea sandwiches, salads, and in making jellies, butters, and fancy desserts.
The wild violets are separated from the Johnny-jump-ups and pansies, since they are generally found naturalized in the wild, as compared to cultivated perennials. While all of the lovely little blooms in this genus are safe to eat, the foliage of the wild violets is edible whereas the leaves of pansies and"johnnies" are not eaten.
Generally, all of the viola blooms taste like a mild salad green, some with a hint of perfume. Both pansies and Johnny jump-ups have a pleasing mild taste like a baby lettuce with a sweet flavor. Some of them have a slight, very mild flavor of wintergreen and a few bring bubblegum to mind. Smell and taste your blooms before using.
I love the faces and whiskers on these flowers and the huge variety of color combinations. Use them on salads–the whole bloom of Johnny-jump-ups-pansies can be used whole in some cases, otherwise pull the petals from the calyx and sprinkle them on salads or canapés. The colored petals are lovely in an herb butter, floating on a beverage or scattered on the frosting of cake or cupcakes. The flowers can be candied and use as a fancy edible garnish on desserts or as a confection. They are also quite lovely floating in a Mai Bowle with sweet woodruff or embedded in an ice ring.
Cultivation and propagation
All of the viola family grows best in a woodland-type environment. They favor shade to partial shade, though will perform well in a sunny, herbaceous border with proper moisture and organic matter. Plants don't get much larger than six to twelve inches tall.
Pansies and "johnnies" can be started from seed or plants are widely available at garden centers and nurseries. Pansies are biennials to short-lived perennials, most often treated as an annual; they come in many colors from white, yellow, orange, pink, lavender, and purple, to bi-colored blooms. The short-lived perennial Johnny-jump-ups, also known as heartease, are usually lavender, purple, white or yellow, or a combination thereof; their flowers are about the size of violets. The latter often self-sow, so they will reappear in your garden every spring, mine have even hopped over into the lawn.
Harvesting and preserving
Pick viola flowers and put their stems in water until ready to use. Pinch the flowers from the stems and use small flowers whole. Use pansies whole as a garnish, or separate the petals to scatter them. Violets and Johnny-jump-ups are ideal for candying–which is the best way to preserve the bloom for eating-although they do press well in a flower press for crafting.