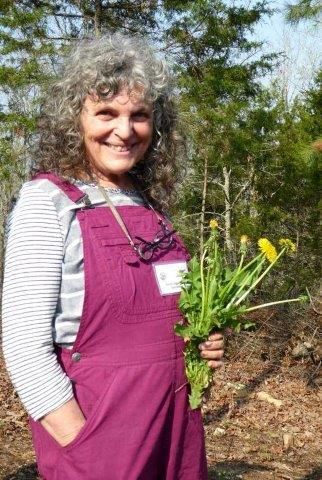 Last weekend was the annual Medicinal Herb Field Trip and Workshop at the Ozark Folk Center in Mountain View, Arkansas. It sure is springtime in the Ozarks–check out the photos–and you'll feel like you were out on the trail with us!
There is nothing better than a hike in the woods when the spring ephemerals are just popping out. In the upper woods they were appearing in the understory, though most were not in bloom–just here and there. Trees were leafing out, so we were able to identify them by their new, bright-green leaf growth. Those without leaves were easily I.D.ed by our trail guides Doug Elliott, Bo Brown, John Michael Kelley, Sasha Daucus, Tina Marie Wilcox and I.
It is of utmost importance, that we properly identify plants before harvesting and using them. That is why we have this hike every year–to hike with knowledgeable woodspeople and herbalists–to help us to identify and learn the plants. We like to use at least three field guides to help us be sure of the plants and their chracteristics.  Besides staying on the trail, or watching carefully where we walk, we are thoughtful about harvesting plants from the wild. We don't harvest plants at-risk or endangered. If we do harvest plant material, we never dig too much of a patch. Select plants to thin the patch and take small amounts–only what you will use.
As we progressed down the trail, more and more plants appeared and by the time we got down to walk alongside Whitewater Creek, plants like trout lilies, spring beauties, toothwort and spring anemones were in a riot of blooms. We heard lots of bird calls and tree frogs, which our guide Bo Brown, who has great ornithological skills, helped us to identify.
After lunch we broke into smaller groups and were able to have more hikes with teachers whose expertise we were most interested in. (Read schedule on www.ozarkfolkcenter.com). The following day we had an array of inspiring and interesting programs from "St. John's Wort: Nerve Healing Power Herb" and "The Magic of Fermentation: Why and How to Do It" to "More Stories, Songs and Lore" and a selection of concurrent sessions. I learned so much from the other teachers and had a blast hanging with all of the herbies!
Our lunch was "A Wild and Cultured Luncheon" featuring wild weeds and fermented foods prepared by the Skillet Restaurant chef, Barb Wilson, her staff and I. My next blog will highlight some of those recipes so stay tuned.
Meanwhile, get out there in the woods and commune with nature!