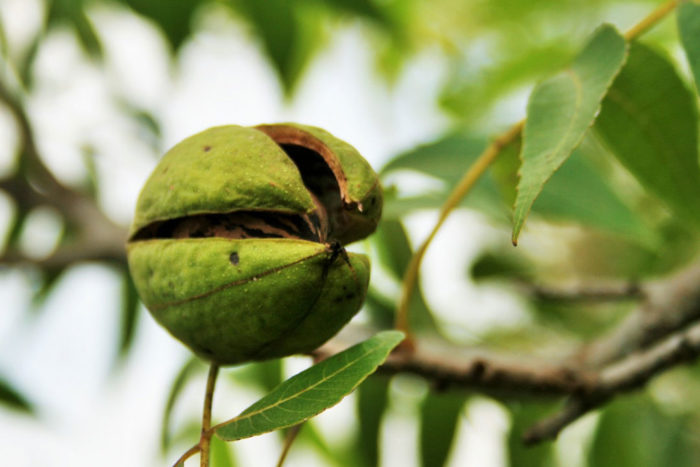 Compared to those living in more northern regions, we here in the Southern Plains are relatively limited in our selection of nut trees. Luckily for us, our best nut-bearing tree is the pecan (Carya illinoinensis, Zones 6–9), which I would put up against any other tree in a contest of tree appearance and nut flavor. It's a stalwart beauty, and there is a pecan variety for nearly every area throughout our region. We can also successfully grow black walnut (Juglans nigra, Zones 4–9) here, which is a delicious native species well adapted to our soils and climates. You can expect pecan trees and black walnut trees grown from seed to begin producing nuts at about eight years. This, of course, depends on a number of variables, including site conditions, weather, variety, and individual genetics.
Pecan
The pecan was an excellent choice for the official state tree of Texas. It is beautiful in the landscape, it bears delicious fruits, the wood is of high quality, and there are varieties suited to nearly all of Texas and the rest of the Southern Plains. It is a stately tree, regularly reaching heights of 70 to 100 feet, and it grows best in deep, well-drained soils. Varieties suited to the most northern parts of the Southern Plains include 'Caddo', 'Colby', and 'Giles', as they can tolerate the longer winters and colder temperatures of USDA Zone 6. 'Mount', 'Paruque', and 'Kanza' are excellent varieties for all of Oklahoma and the Texas panhandle. In Texas the success of different pecan varieties is divided by a line running north to south, based on soil types and disease resistance. Varieties that have poor resistance to pecan scab disease should be grown in drier western climates. These include 'Western', 'Sioux', and 'Wichita'. 'Wichita' is the most productive pecan grown in Texas and is ideal for the central and western parts of the state. 'Sioux' and 'Western' both make excellent yard trees because of their strong limbs and easy-to-train limb structure, while also producing delicious nuts. Other varieties thrive east of the dividing line where the soils are not calcareous. Eastern favorites are 'Desirable' and 'Kiowa'. 'Kiowa' makes attractive trees that bear large, good-quality pecans. 'Desirable' is the variety my family always sought out during pecan season. Introduced to the market in 1930, it is a very old commercial variety that is still highly prized due to its large, excellent pecans. A few varieties, such as 'Cheyenne' and 'Choctaw', do well in both the eastern and western regions, with 'Cheyenne' reaching a smaller size than most pecan trees.
Pecans ripen between mid-September and early December depending on the location and the variety. They are ready to harvest when the nuts begin falling to the ground and the outer husks, which start out green, begin to look striped with brown. Pecans are collected from the ground, which is as simple as tossing them into a paper bag or a bucket. Don't try to shell them right away; give them a week or two to cure. This is best done in mesh or paper bags or by spreading them out where their moisture content can stabilize. After that, you can shell them with a regular nutcracker.
Black walnut
The eastern American black walnut is the only species that can compete with the pecan for economic, historical, and cultural importance in our region. While not as huge as a pecan, the eastern American black walnut is still a large tree, regularly reaching heights and widths of 50 to 75 feet. Like the pecan, it prefers rich, well-drained soils, and it flourishes in bottomlands and along creek banks. The wood of this species is prized and was historically used for furniture and gunstocks. The tough black shells of the nuts was used as a dark dye in colonial times. The distinctive flavor of black walnuts, which people seem to love or hate, makes them worth the trouble of shelling them (their outer husks are notoriously hard to remove) for those who love their unique flavor. Keep in mind that walnut trees exude a chemical called juglone, which concentrates in the soil around the tree and prevents sensitive plants from growing within about 50 feet of the trunk. Therefore, choose your site carefully if you want to plant black walnut, especially in smaller landscapes.
Their tougher outer husks make black walnuts more difficult to shell than pecans, but the process is much the same. They come into maturity in September and October, when they can be picked up off the ground. Remove the tough outer husk with a knife or by crushing the husks underfoot. Then set the hard-shelled nut that remains on newspaper to dry out for several days. At that point you can crack the dried nuts with a nutcracker. Black walnuts stain your hands (and anything else!) so some folks like to wear gloves while processing them.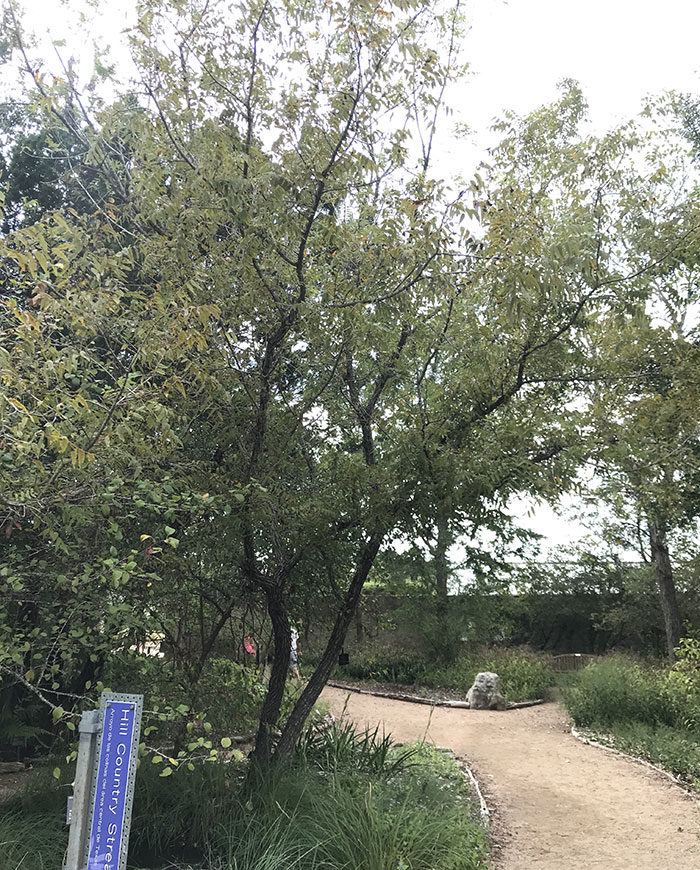 For folks who would like a nut tree in their yard but don't have the space or the soil depth required for a pecan or eastern American black walnut, the Texas black walnut (Juglans microcarpa, Zones 6–8) may be a better choice. It reaches a mature height of only about 20 feet with an attractive, smaller form. The walnuts themselves are smaller and are mostly made of shell, which makes them less appropriate for human consumption and makes the trees comparatively more valuable as smaller landscaping trees.
Nut trees have a valuable place in our edible landscapes. While the vast majority of our edible gardening species are tender annuals, nut trees such as pecan and walnut provide us with garden crops that can last for multiple generations. A well-placed pecan or walnut will provide many decades of shade, visual appeal, and food for their owners.
—Karen Beaty is a horticulturalist at the Lady Bird Johnson Wildflower Center in Austin, Texas.