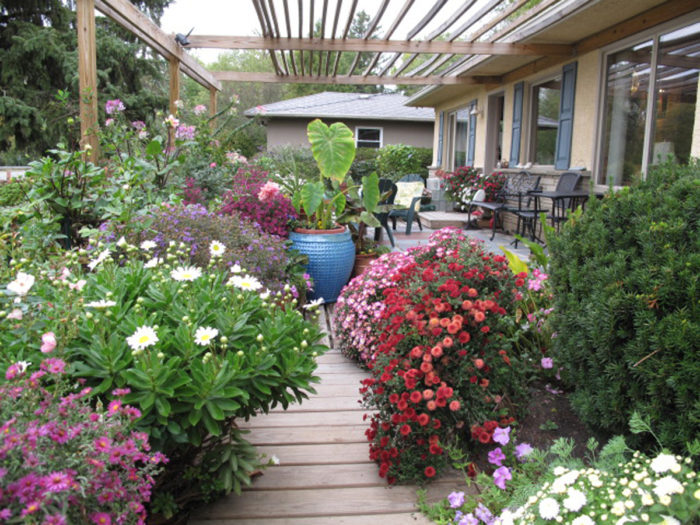 Welcome to day two in Nongnuch Inpanbutr's garden in Ohio. If you missed yesterday's post, here's what she had to say: "We live in Columbus, Ohio, across from the Scioto River and park with a spectacular view, every day and every season presenting a different look. This garden is an evolving garden–always in the PROCESS, just like LIFE itself–no constant. The goal of our garden is to create a place to inspire peacefulness and containment, to reflect and meditate, and a place for gatherings with friends and family, and to serve our lifestyle.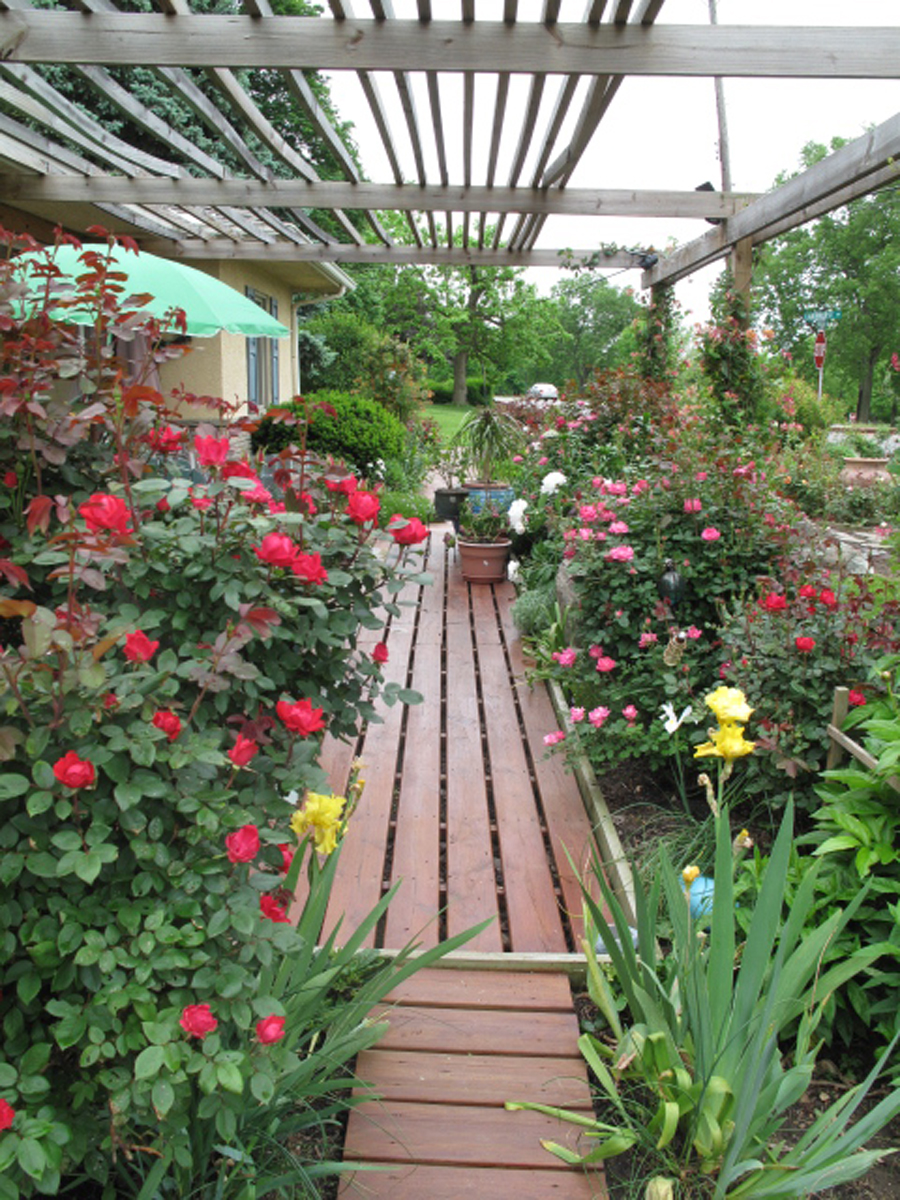 "I love to walk around in the garden early in the morning or just before sunset, and just look at the plants and everything. I take a stroll in my garden in the morning with coffee before going to work, and make one round the first thing when I get home from work, even before going into the house, all year round (with snow and rain–people driving by would see me with my umbrella inspecting my garden and probably think that I AM CRAZY.) We built a walking path to serve that habit (to stroll without getting mud on our shoes).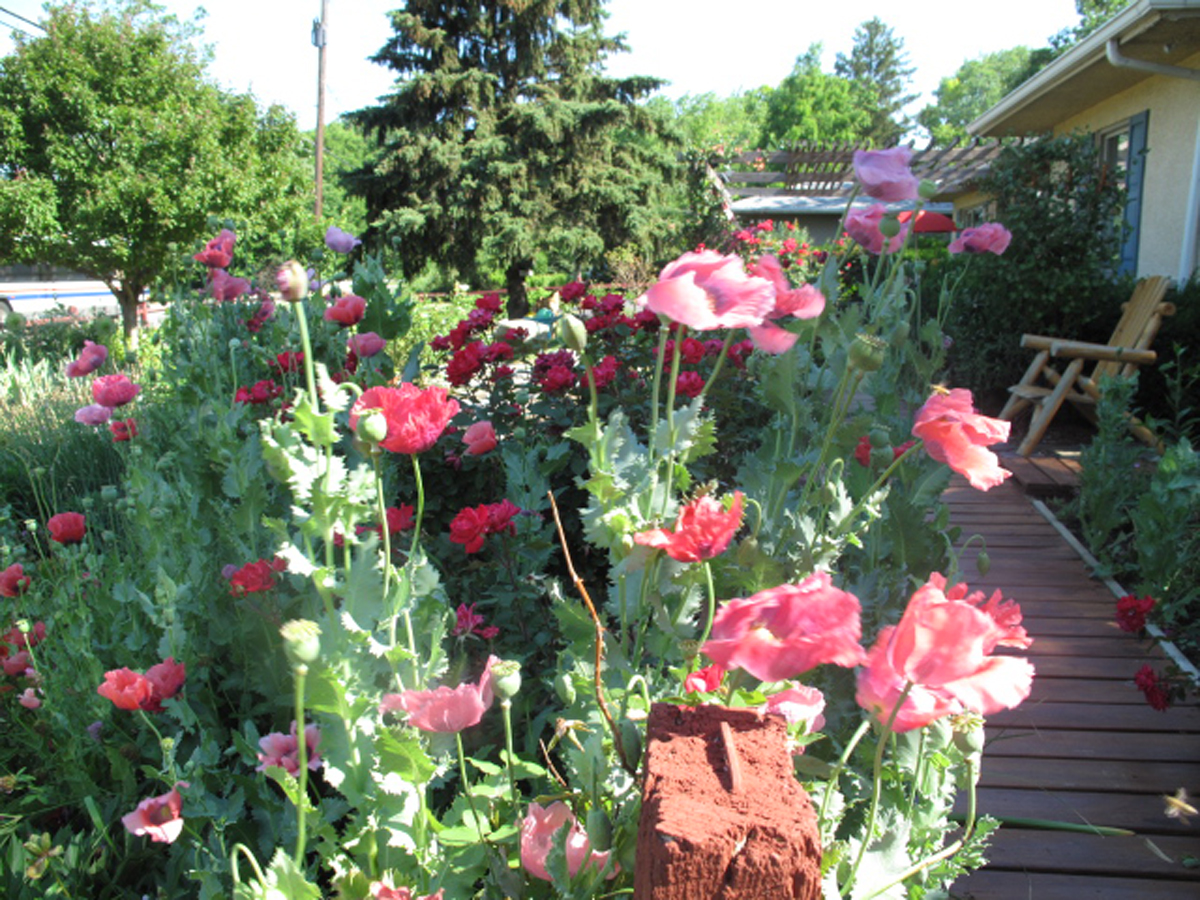 "When the weather is warm enough, we have breakfast in the rose garden. We entertain a lot at our patio with views of the river and different reflections of the water depending on the weather and time of the day (funny-my neighbor told me one of her friends asked her if my house is a night club, hearing music and seeing lights and people at the patio all the time). We would describe our garden as everything blending together to serve the eye and lifestyle. The main goal is to have lots of perennials blooming all season (March to November).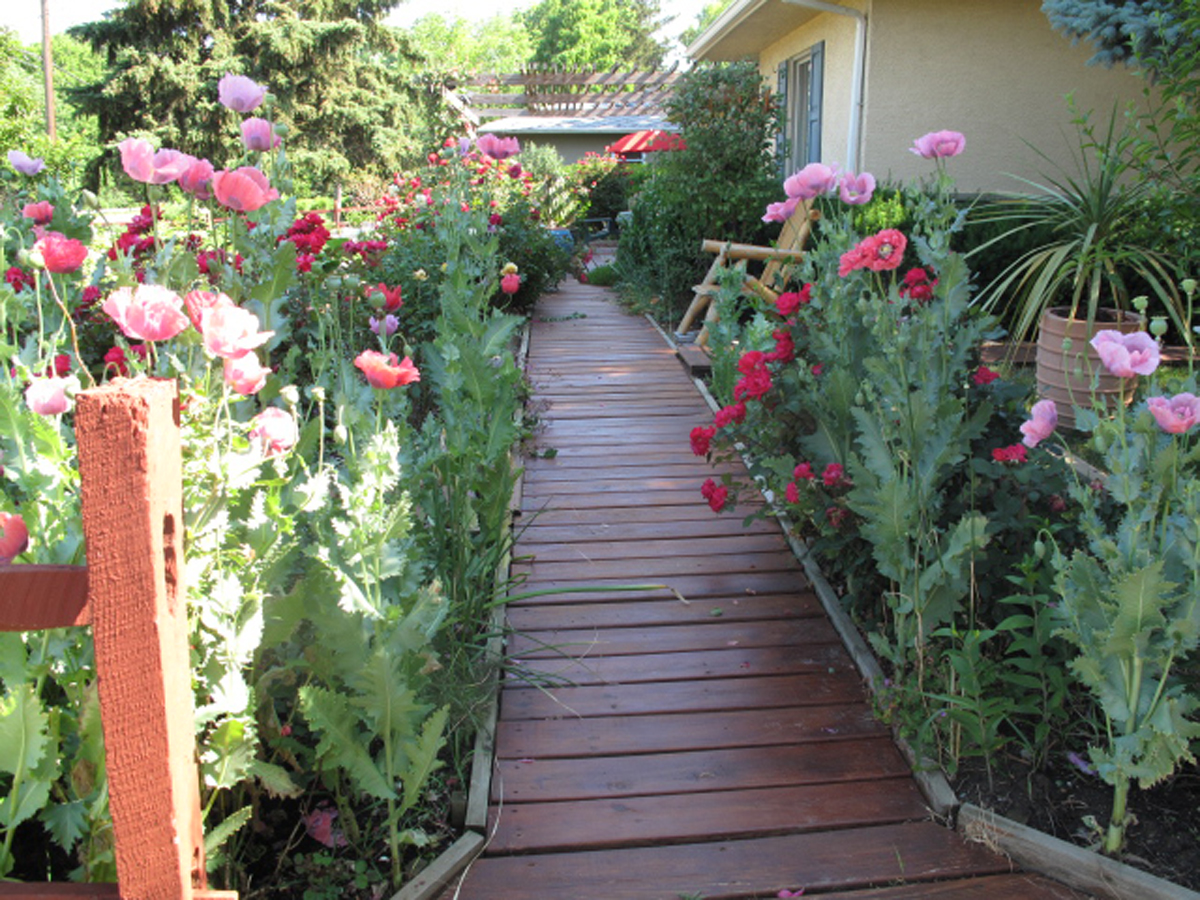 "We travel a lot, so the garden is the result of bits and pieces inspired by many places around the world. Starting as a Zen garden, then added/morphed with English Garden (roses–more than 36 bushes), Monet's influence (bridge, irises, tulips, maple), Keukenhof (tulips + other spring bulbs), and major part is lifestyle influence, and also eco/self sufficient garden. We use very little fertilizer or chemicals. Kids like our garden a lot. The front yard is mainly flowers and trees for the look, and the back yard is an edible garden with fruit trees and vegetables. This year in the fruit garden in the backyard I am planting arctic kiwis, grapes, and more apples.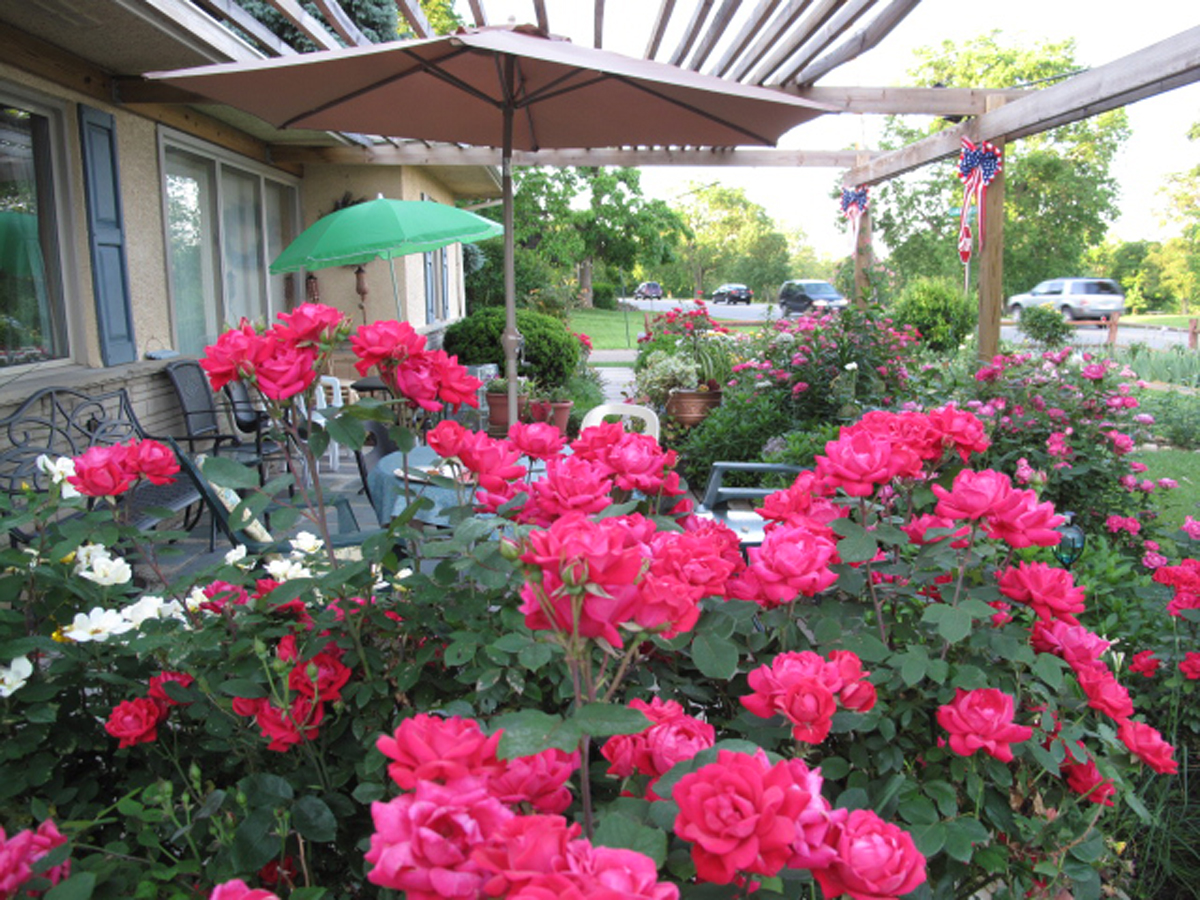 "I once read this quote (forgot the source), and it is so true about my garden: "It is good to have an end to journey toward, but it is the journey that matters in the end."
I'd love to be entertained on that patio, Nong. Sign me up! 😉 Thanks so much for sharing your garden with us.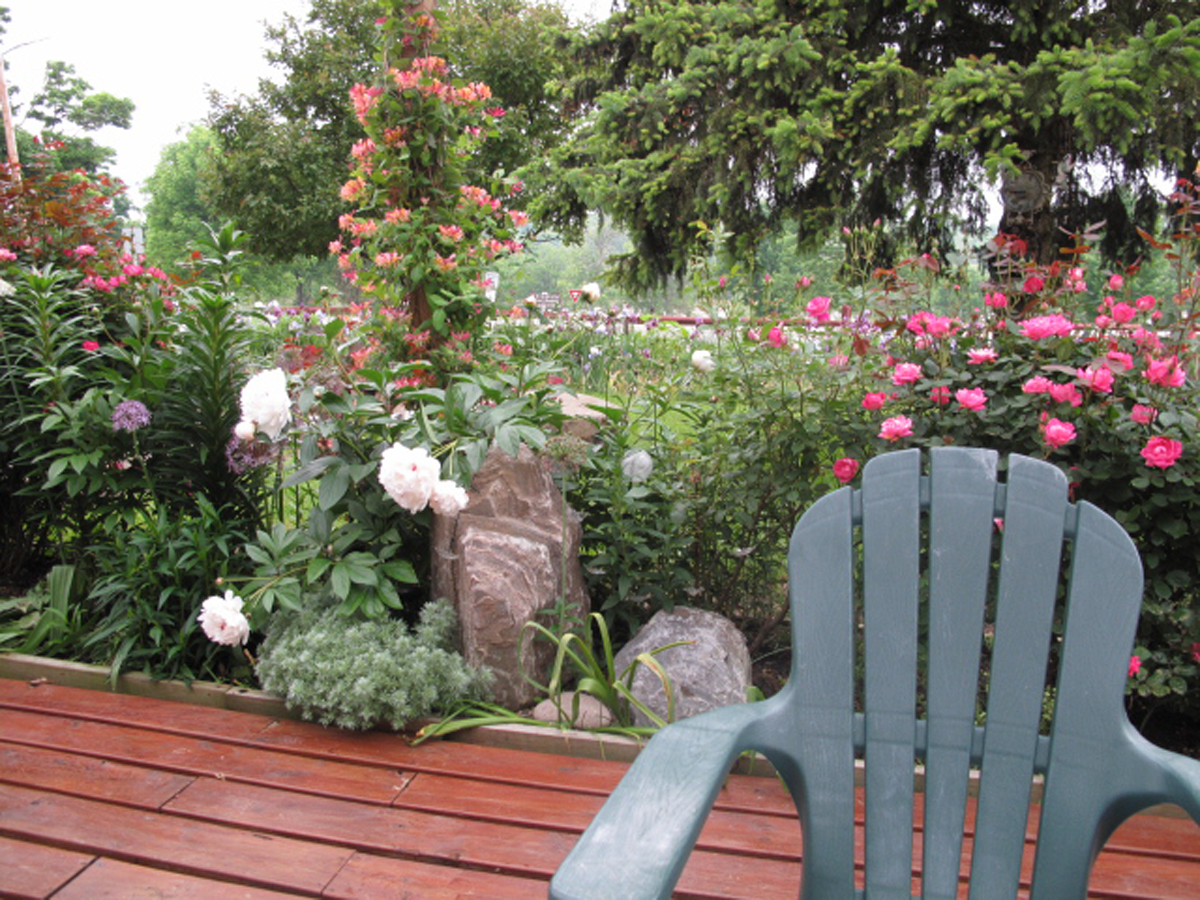 Want us to feature YOUR garden, or a garden you've recently visited, in the Garden Photo of the Day? CLICK HERE!
Want to see every post ever published? CLICK HERE!
Want to search the GPOD by STATE? CLICK HERE!
And last but not least, Check out the GPOD Pinterest page, where you can browse all the post in categories…fun! CLICK HERE!