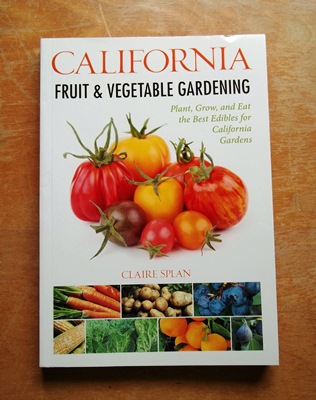 It's ironic to find a beautiful image of heirloom tomatoes on the cover of Claire Splan's new book about gardening in California. The thought of biting into a fresh, garden-grown tomato gives her the heebie-jeebies. She loves everything else about growing tomatoes, except for eating them.
That kind of candor is refreshing from an author and a nice feature of her book California Fruit & Vegetable Gardening (Cool Springs Press, 2012).
Like other gardeners across the country, I imagine it must be easy to grow a vegetable garden anywhere in California. After all, when I attended the National Heirloom Expo in Santa Rosa last September, I saw pumpkins stacked to the ceiling and tables overflowing with every kind of heirloom vegetable.
But as Claire explains in her book, "while gardening in California is in many ways a remarkably easy endeavor, it can be quite challenging to figure out what to do when."
California is a big state with at least a dozen different USDA horticultural zones, but Claire helps gardeners understand how to work with the climate in their zone.
A valuable discussion on zones and chill hours is especially helpful. For example, she explains how the number of chill hours in a location can determine "whether you can grow a 'Fuji' apple (600 hours) or if you should go with a lower-chill variety like 'Anna' (200 hours)."
About one-third of the book explains how to get started growing your own garden, from seeds to soil and watering. The chart on California's average last frost and first frost dates will give gardeners a better idea for when to plant in Bakersfield compared to San Francisco.
The rest of the book gives detailed how-to-grow information on more than 60 fruits, herbs, nuts, and vegetables. Claire starts with almonds and ends with turnips. She includes some of her thoughts about each one (including her favorite recipes) when to plant, where to plant, how to plant, and how to harvest. She also includes recommended varieties for best results.
Claire's writing style, along with her gardening experience, will help California gardeners understand the quirky nature of growing in the Golden State. Just like the book says, "It's the next best thing to having a master gardener as your neighbor."