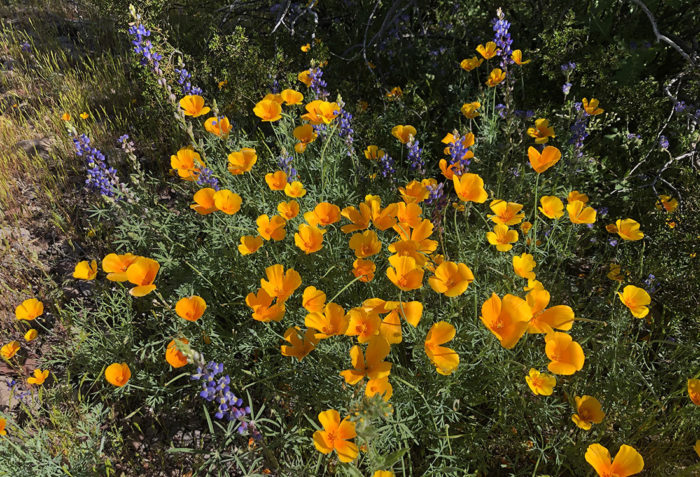 If you're lucky enough to live in the Southwest in early spring, not only will you enjoy amazing weather, but you'll see that wildflowers are popping up everywhere—yards, traffic medians, hillsides, and hiking trails. It's truly a sight to behold. Whether you like to keep a tidy or a naturalistic garden, you can always find ways to work in some native wildflowers.
Desert globe mallow
Recently we've been hitting the trails in absolute awe of the colors surrounding us in this desert landscape. One of our favorite Southwestern natives is desert globe mallow (Sphaeralcea ambigua, Zones 6–10). Not only does it grow like a weed, but its spectacular flowers never seem to stop blooming. The most common color we have seen is orange, but it can be found in red, pink, white, and purple as well. This sun-loving, drought-tolerant gem can be cut down to 6 to 12 inches when it finally does finish blooming to help prevent it from self-seeding.
California poppies (left) look very similar to one of their subspecies, Mexican gold poppies (right), but one visible difference lies in the leaf structure. Photos: Michelle Gervais (left), Laurel Startzel (right)
Mexican gold poppies
Mexican gold poppies (Eschscholzia californica ssp. mexicana, annual) are impossible not to fall in love with in early spring. When the wind blows, they move like the waves of an orange sea. Although they look delicate, they can have a huge impact on a large space. If these poppies don't bring a smile to your face, I'm not sure what will. Mexican gold poppies often get mixed up with the straight species California poppy (E. californica, annual). The difference can be found in the leaf structure. The first leaves on the seedlings of Mexican gold poppies are linear and undivided. California poppy seedling leaves are divided in a Y-shape.
Desert lupine (left) is often a darker blue, while Arizona lupine (right) blooms purple. Photos: Laurel Startzel (left), Wikimedia Commons (right)
Desert and Arizona lupine
Two more beauties in the Southwestern wilderness are desert lupine (Lupinus sparsiflorus, annual) and Arizona lupine (L. arizonicus, annual). These lupines, although very similar, do have some differences. The leaves of Arizona lupine are bright green, and the flowers tend to be shorter and more purple-pink in color. Desert lupine has pale blue–lilac flowers instead. The upper petals (banners) have yellow spots that change to red after pollination. There are 150 Lupinus species worldwide, and a whopping 25 of those species live here in Arizona. The pops of blue and purple against the green landscape are truly gorgeous.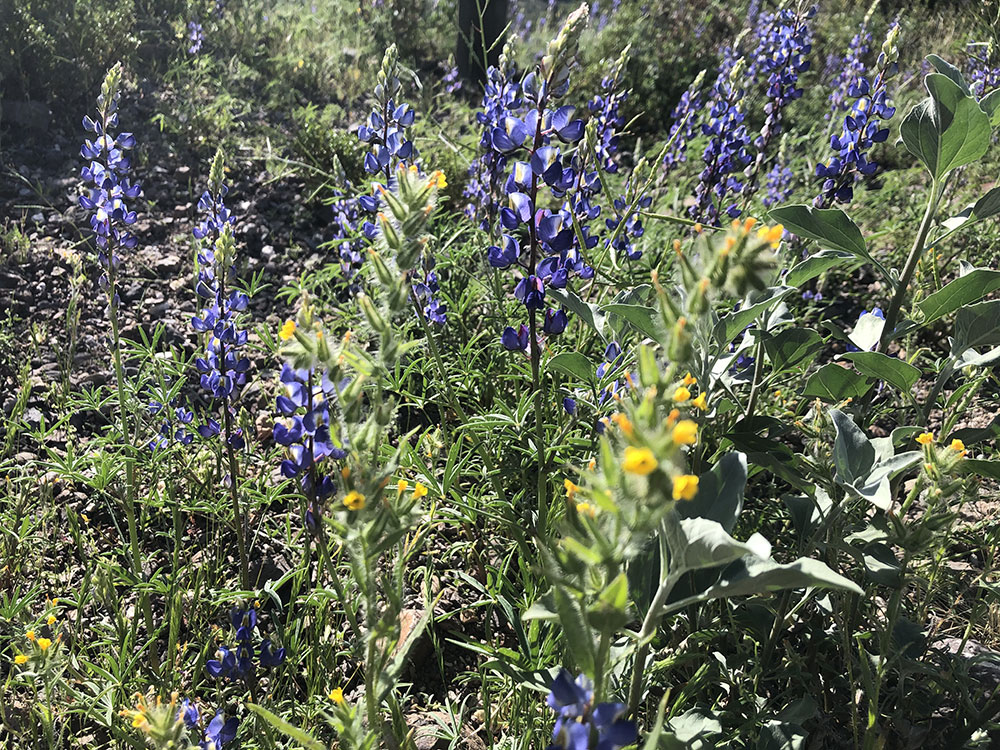 The joy of wildflowers is that whether you plant a few or a thousand, they will be sure to pack a punch. If you have a side yard that needs a little love or some containers that could use a little interest, toss a few seeds in. Have some fun with it, but most importantly, keep it native. A favorite local shop here in Tucson is called Native Seeds; if you're not a local, be sure to check out their website. They offer a huge inventory of seeds, and they also support local Native American families with free and discounted seed packets to help to continue the use of traditional arid-adapted crop seeds. They really are an amazing supporter of our Southwest community, and they have some of the best products available. We hope you enjoy the blooms of wildflowers this spring, because before we know it, the summer heat will be upon us.
—Sheila Schultz and Laurel Startzel are a mother-daughter duo who founded Denver Dirty Girls Container Gardening while living in Denver and have continued their business since moving to Tucson, Arizona.