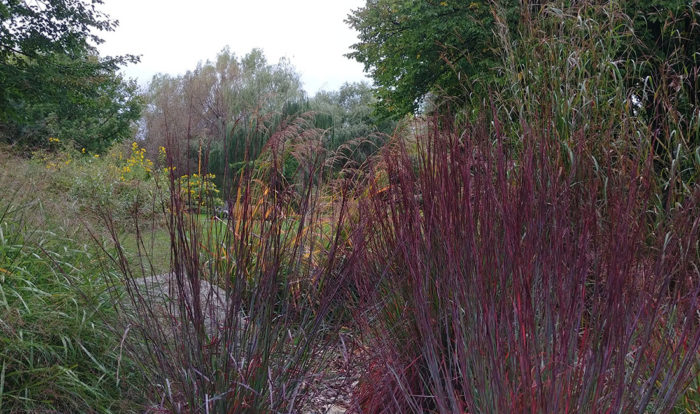 Native ornamental grasses have an important place in the prairie landscape of the Northern Plains, where at one time they formed the foundation of the North American Prairie. Capable of surviving years of drought and of floods, summers of extreme heat and winters of bitter cold, native grasses are adapted to our region, so you can rest assured that they will provide interest throughout the years with minimal maintenance. Consider adding one or more of these prairie native grasses to your garden, and let their unique textures and structures carry your landscape design well into fall and winter.
Big bluestem (Andropogon gerardii, Zones 4–10) is a native North American prairie grass that forms 4- to 7-foot-tall clumps of silvery-blue foliage followed by purplish flower spikes in August and September. Big bluestem is capable of substantial growth in moist, fertile soils, but is less apt to topple in dry, infertile soils. Establishment can be slow at first as the grass develops an extensive root system, but once established, it has excellent drought tolerance. With its prominent height, big bluestem can work in the landscape by providing structure and form.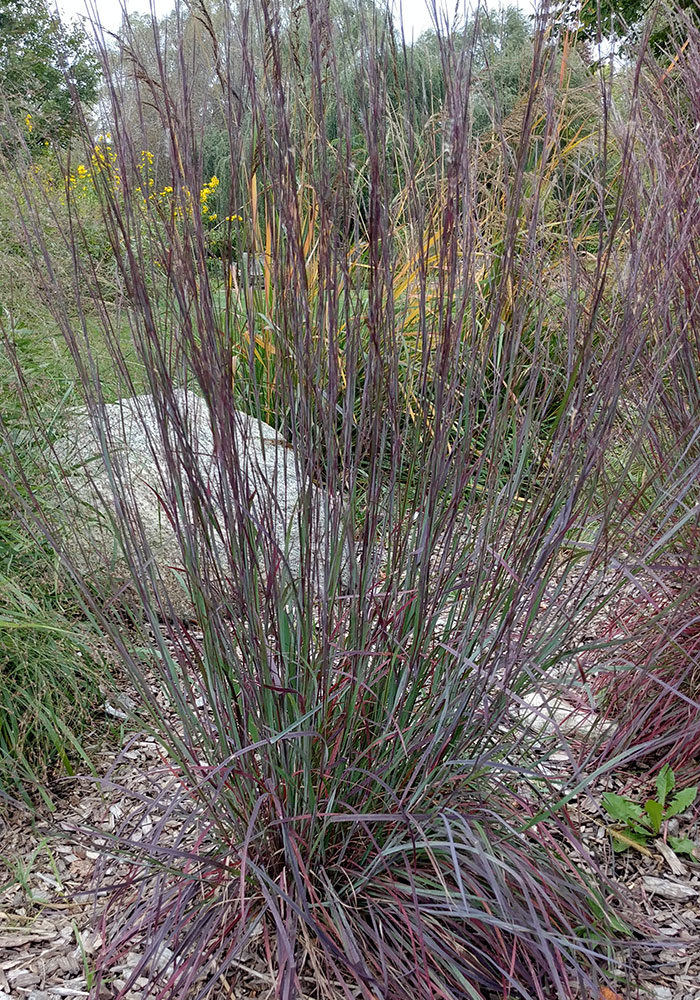 Little bluestem (Schizachyrium scoparium, Zones 3–10) is a great clump-forming native grass that typically reaches a height of 2 to 4 feet and can easily find a home in any landscape. Little bluestem performs well in poor soil and can tolerate high heat and humidity as well as drought conditions once established. Fall colors range from a tan and orange wheat color to a reddish purple depending on the cultivar. Blue Heaven™ little bluestem (Schizachyrium scoparium 'MinnblueA', Zones 3–9) is one of my favorites. The upright blue foliage is followed by shades of red, burgundy, and purple that really makes it stand out in the landscape.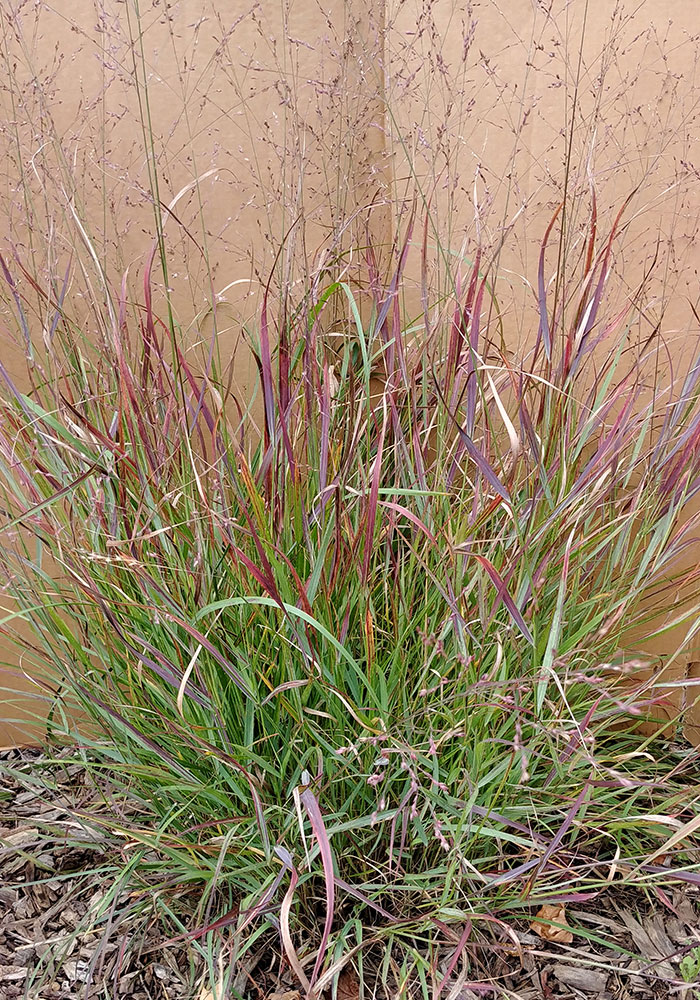 Switchgrass (Panicum virgatum, Zones 4–9) tolerates a wide range of soils, including dry ones, but prefers moist, sandy, or clay soils. Switchgrass can also tolerate occasional flooding; however, overly rich soils may cause the grass to flop. Several different cultivars have been developed of this clump-forming prairie native grass; they range in height from 3 to 6 feet and display varying shades of blue foliage that turns yellow and tan in fall with touches of red and burgundy. Prairie Winds® 'Cheyenne Sky' switchgrass (Panicum virgatum 'Cheyenne Sky', Zones 4–9) is a shorter cultivar that forms a tight vase shape that is perfect for adding to a fall container or placing in the middle or front edge of a border.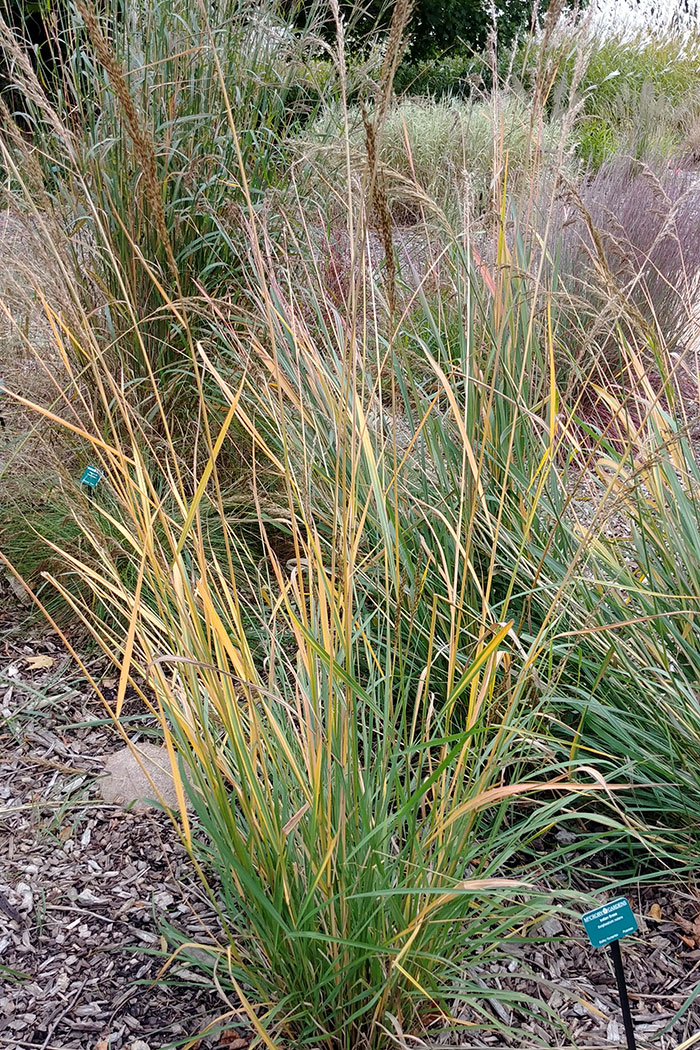 Indian grass (Sorghastrum nutans, Zones 3–9) is easily grown in average, dry to medium moist, well-drained soils. In addition, it is tolerant of a wide range of soils, including heavy clays. It can also do quite well in poor, dry, infertile soils and reach a height of 3 to 5 feet with slender, blue-green leaves that turn orange-yellow in fall. The feathery, light brown panicles that darken to a bronze chestnut brown as they mature are perfect for adding to a dried flower arrangement or simply enjoying in the winter landscape.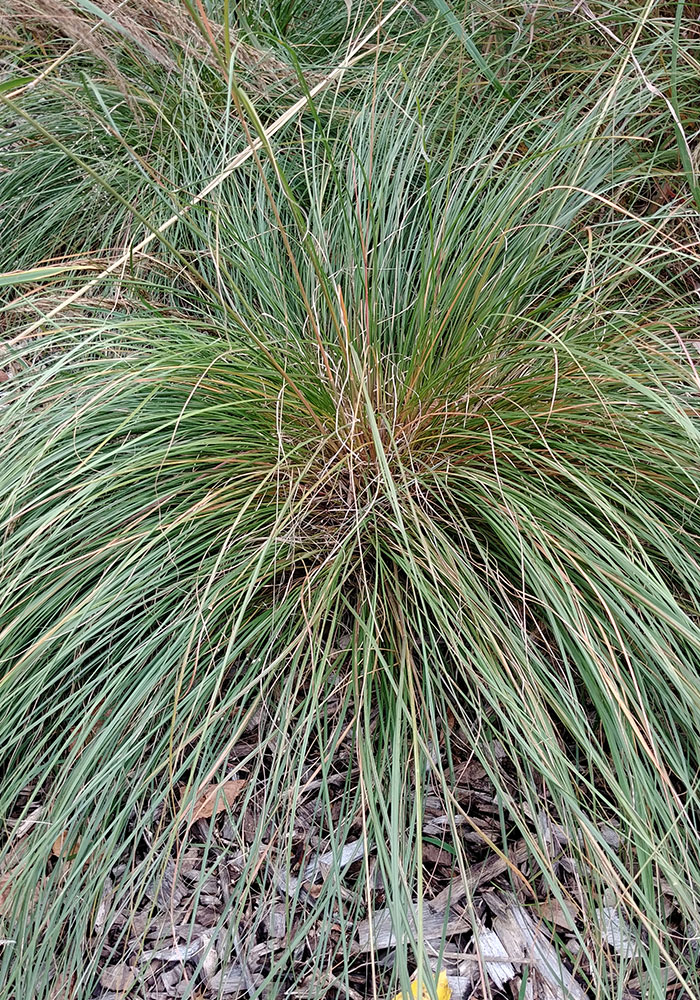 Prairie dropseed (Sporobolus heterolepis, Zones 3–9) is a drought-tolerant prairie native that prefers dry, rocky soils but also tolerates heavy clays. A slow-growing, heat- and drought-tolerant grass, prairie dropseed features beautiful, upright, arching emerald green foliage. This foliage reaches a height and width of 2 to 3 feet. The landscape appeal carries on with panicles that rise 2 to 3 feet above the foliage in August and turn golden yellow with orange hues in late fall before fading to light brown during winter.
These are all warm-season grasses that require minimal maintenance once established. Just give them a yearly haircut prior to new growth in late winter or early spring. These tried and true native grasses are great additions to feature in the landscape that reflect the beautiful prairie of the Northern Plains.
—Chris Schlenker is the head gardener of McCrory Gardens at South Dakota State University in Brookings, South Dakota.