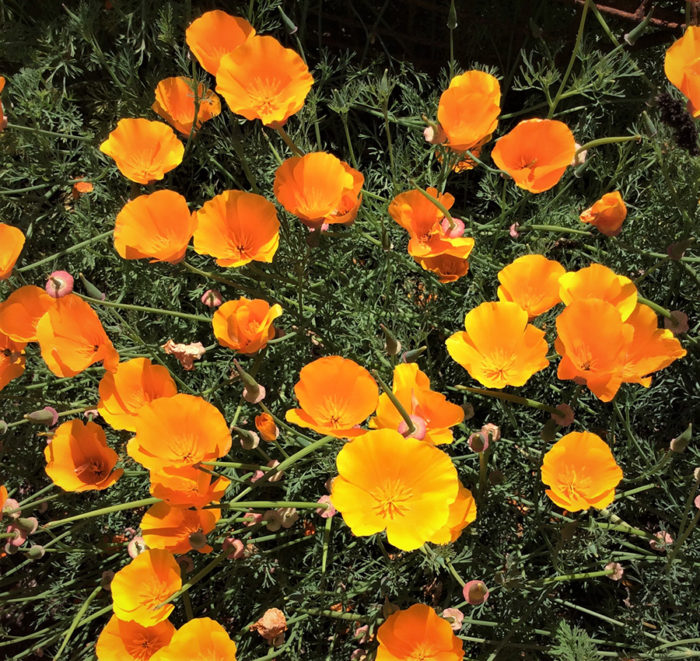 The relationship between pollinators and plants is an important one. Almost 80% of the world's crop plants (grown for both food and fuel production) require pollination, as do most of the planet's trees, vines, shrubs, and wildflowers. The survival of our planet's ecosystems depends on pollinators. With pollinators being negatively impacted by widespread habitat loss and the increasing use of pesticides, it is critical that we help support these vital creatures and revitalize native pollinator populations. Providing a nectar and pollen-rich pesticide-free sanctuary of native plants is one of the most significant and rewarding actions you can take to assist the recovery and survival of these remarkable creatures.
California is home to over 1,600 species of native bees and at least 200 species of butterflies, not to mention countless native wasps, flies, moths, and beeflies. Native bees such as mason bees and bumblebees are 200 times more efficient at pollinating than nonnative honeybees. They use nectar as their primary food source and need protein-dense pollen to nourish their young. Native plants and pollinators have co-evolved and benefit from each other, so planting California native plants that are well-adapted to local soils and climates provides the ultimate forage for local pollinators. Luckily, many California native plants are attractive, naturally pest resistant, easy to grow and maintain, and often require minimal summer irrigation. Why not add a pollinator patch to your ornamental landscape, or better yet, create your very own pollinator-friendly habitat garden?
Locate the following pollinator-attractors in full sun. Plant in multiples, as studies have shown that swathes of the same blooms are more attractive to pollinators than single specimens of the same plant scattered throughout the garden. Aim to grow a variety of plants attractive to a range of different species, but if space is an issue, even a large container filled with well-chosen plants can provide valuable food and shelter to struggling pollinators. Plan to have at least three different plant species in full flower during each bloom period and to grow plants with overlapping or sequential bloom flushes to ensure nectar and pollen availability from spring through fall.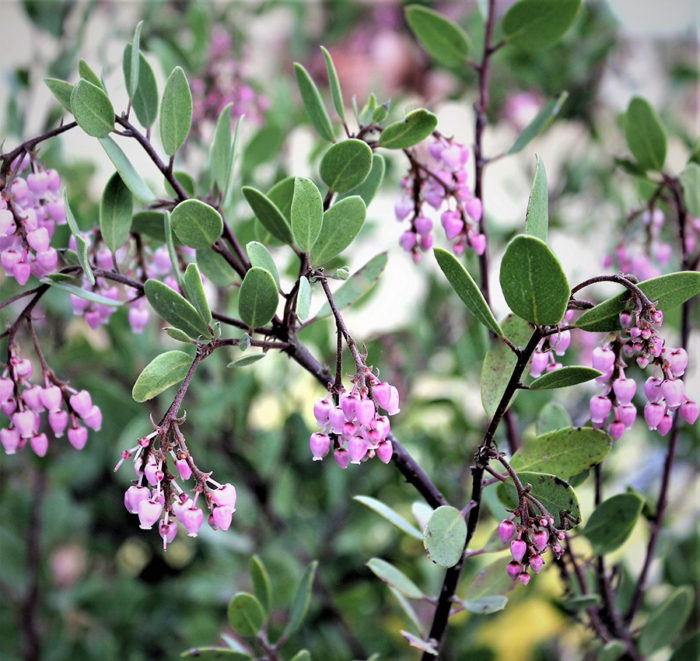 A spring-blooming border full of California poppies (Eschscholzia californica, Zones 6–10), baby blue eyes (Nemophila menziesii, Zones 2–11), and tidy tips (Layia platyglossa, Zones 6–10) is delightfully eye-catching and attracts a diversity of spring-foraging native bees. Scatter the seeds of these showy annuals in late fall, preferably before the fall rains begin, for spectacular results. 'Louis Edmunds' manzanita (Arctostaphylos bakeri 'Louis Edmunds', Zones 7–10) makes the perfect backdrop for your early season display.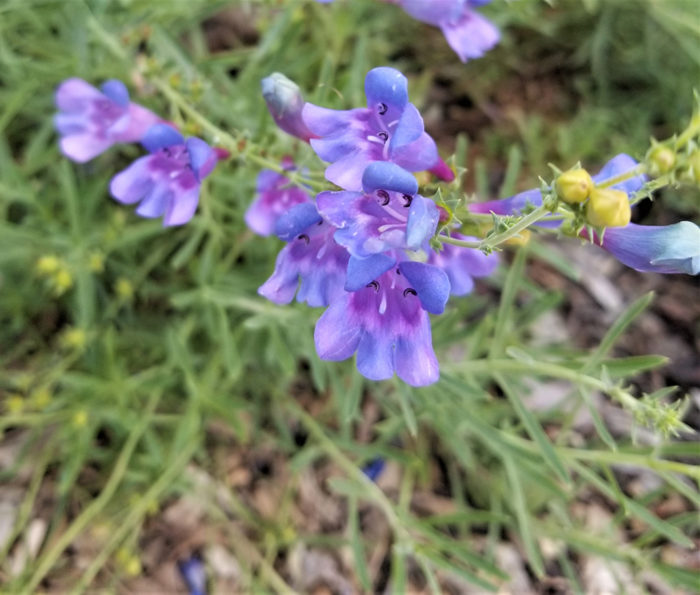 Be sure to include 'Electric Blue' foothill penstemon (Penstemon heterophylous 'Electric Blue', Zones 6–10) in your pollinator paradise. With its abundant spikes of iridescent blue flowers, this charming perennial attracts a diverse range of native bees and wasps and proves equally irresistible honeybees and hummingbirds foraging in late spring and summer. This long-blooming, drought-tolerant, dense, and compact midborder beauty reaches 1 to 2 feet tall and 2 to 3 feet wide. It prefers full sun (but can tolerate a little shade) and is easy to grow and maintain with minimal summer irrigation. Give a yearly, late winter trim to refresh and tidy it up.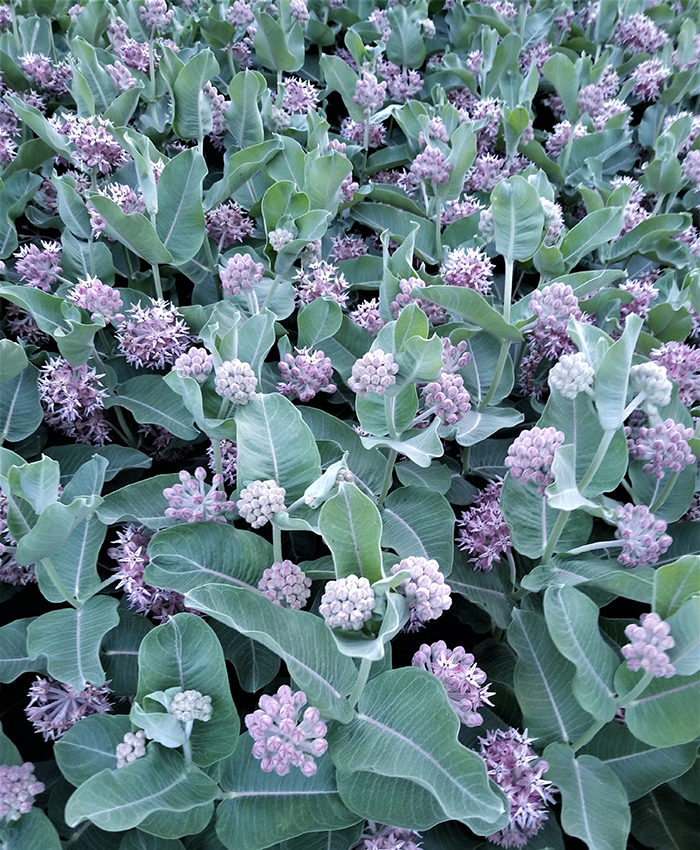 The statuesque, aptly named showy milkweed (Asclepias speciosa, Zones 3–9) is an ideal companion to 'Electric Blue' foothill penstemon in the summer-flowering section of your pollinator patch. Beautiful in full bloom, it attracts a wide range of species to its huge, showy clusters of velvety, star-shape, dusky pink and white flowers. Sturdy and upright, the downy stems of showy milkweed can reach an impressive 6 feet tall. It spreads gradually each year through its rhizomes, so be sure to allow this perennial room to grow. Butterflies, including the regal monarch, adore the nectar, as do many native bees and wasps. The velvety foliage serves as a valuable larval food source for many Northern California butterflies. Showy milkweed goes dormant in late summer, so some cleanup will be required, but it returns bigger and better late in the following spring.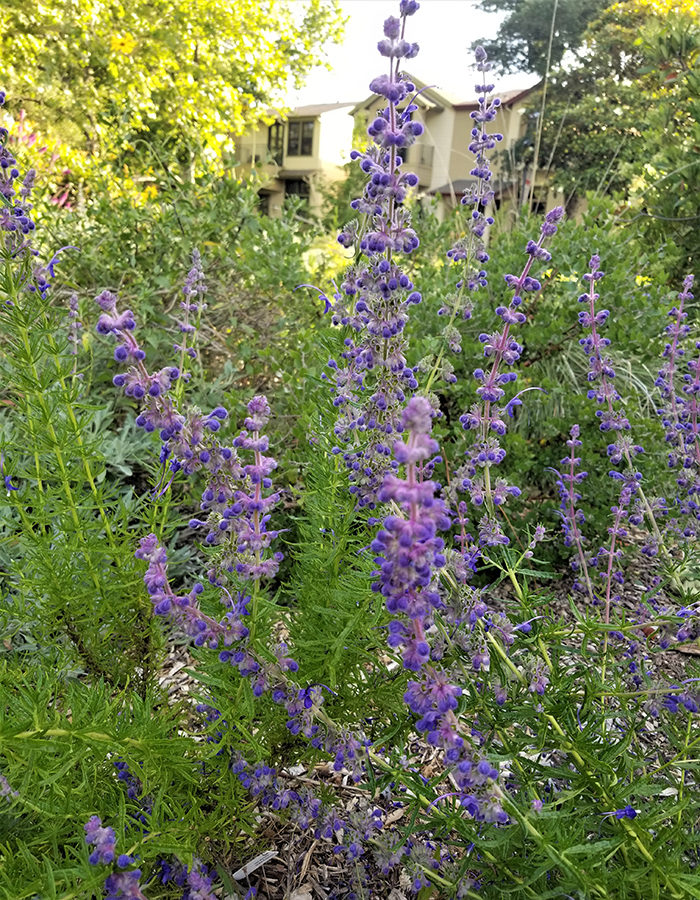 Fall-blooming California natives such as the attractive, deliciously fragrant woolly blue curls (Trichostema lanatum, Zones 7–10) and the vividly hued California fuchsia (Epilobium canum, Zones 8–10) are excellent additions to the habitat garden, providing late-season forage to pollinators who are building up their resources for the long winter ahead. Tough and easy to grow, this midborder, bushy, silvery-hued perennial grows to 2½ feet tall and 3 feet wide and bears masses of brilliant scarlet, tubular blooms beloved by hummingbirds and bees. California fuchsia requires full sun, no summer water, and minimal care. It also performs best if cut back to the ground in late winter.
One final note: Even if you can't plant a pollinator patch, you can truly help by avoiding the use of insecticides in your garden, employing alternative pest-control methods such as manual removal, traps, beneficial insects, or even simply spraying a jet of water at the offenders when the pest pressure becomes too great. Since most pesticides are indiscriminate, beneficial insects become secondary targets in the fight against pests, so I don't advise using pesticides at all in a pollinator garden. The main "pest" concern a pollinator-patch gardener might come across is foliage having been eaten, but this usually turns out to be the work of the caterpillar larvae of the very butterfly you're hoping to attract! The less pesticide a gardener uses, the more natural balance the garden's ecosystem achieves on its own, with pests diminishing as predator numbers (insects, lizards, frogs, birds) increase. A clean, healthy, and safe environment full of buzzing and fluttering pollinators will be your greatest reward.
Fionuala Campion is the owner and manager of Cottage Gardens of Petaluma in Petaluma, California.