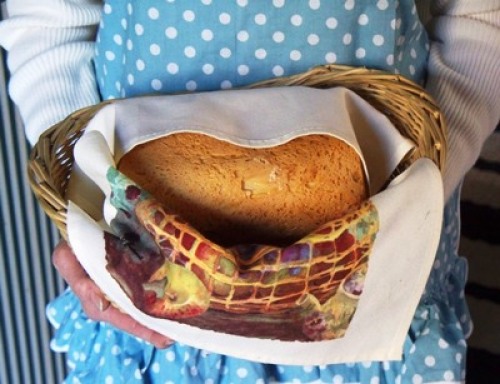 Would you like to put the "thanks" back into Thanksgiving?
All you have to do is tie one (apron) on.
National Tie One On Day is a special holiday that's celebrated the Wednesday before Thanksgiving. This annual event, recognized by Chase's Calendar, began in 2006 as a simple way to help harried cooks slow down during Thanksgiving preparations and think about others.
Thousands of apron-wearers across the country take time on Thanksgiving eve to wrap a loaf of bread in an apron, write a short note to slip into the apron pocket and deliver the bundle to someone who needs a little extra TLC.
Perhaps you know a fellow gardener who is struggling with an illness, a neighbor who's out of work, a friend taking care of an elderly parent or someone spending the holiday alone. Maybe you'd like to thank the person who made a difference in your life this year.
EllynAnne Geisel, founder of Apron Memories, and best-selling author of The Apron Book, Apronisms, and The Kitchen Linens Book, started National Tie One On Day to celebrate the humble apron and everything it represents.
"Women clad in aprons have traditionally prepared the Thanksgiving meal, and it is within our historical linkage to share our bounty," is one maxim for the holiday. 
You can join the celebration by baking a loaf of bread or plate of muffins, wrapping the goodies in an apron (kitchen towel or linen napkin), and delivering the gift the Wednesday before Thanksgiving.
To help you get started, VegetableGardener.com offers four delicious harvest bread recipes that are perfect for baking and taking. These include Potato and Onion Focaccia with herbs, Harvest Muffins, Golden Squash Cornbread and Sweet Potato Sugar Bread. 
Even if there's no time to bake a loaf of bread, you can buy a baked item from the grocery store. National Tie One On Day is simply about taking a moment from the traditional Thanksgiving preparations to show special appreciation to someone who needs it.