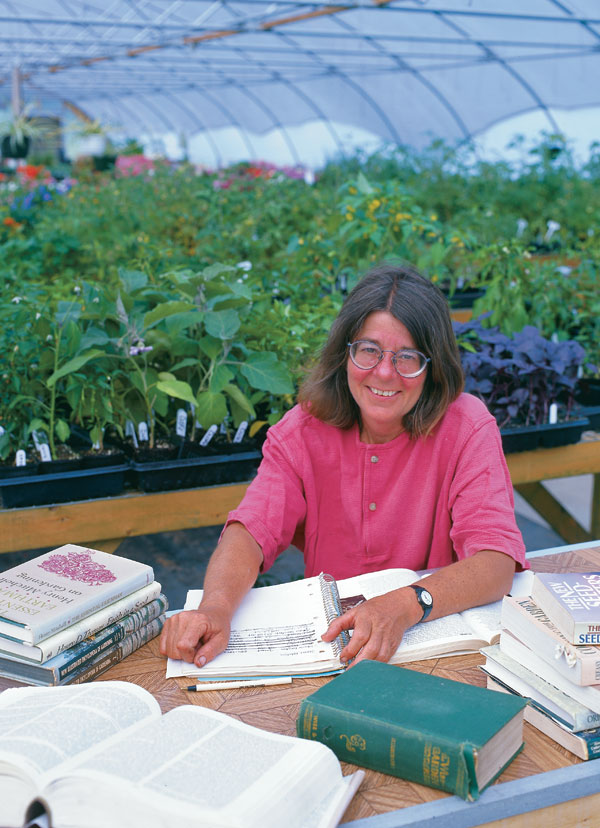 by Cass Peterson
December 1997
from issue #12
Growing up in Kansas, I gardened under the guidance of parents and grand­parents, planting radishes, beans, and other kid-friendly crops. My mentors are gone now, but with their sustaining influence and the help of the printed page, I cultivate 16 acres of vegetables, berries, fruits, herbs, and flowers.
A good gardening book is more than a reference. It's a friend. It always sits on an accessible shelf or on the nightstand, summer and winter. Like a favorite­ cookbook, it is dog-eared, broken of spine and stained with the evidence of hard use.
In 20 years of serious gardening, my stack of paper and hardback companions has grown to several hundred volumes, from simple illustrated wildflower guides to technical manuals on plant diseases.
Insights from past and present pages
A few of my books were purchased in garden shops or franchise bookstores. But most were acquired by humbler means. I unearthed my 1951 edition of The Wise Garden Encyclopedia from a pile of old National Geographics at a yard sale. My uncle gave me his 1960 set of the The New Illustrated Encyclopedia of Gardening when I was 26 and starting a garden in the back yard of my first house.
In terms of current garden culture and ethics, these books are dated. The New Illustrated Encyclopedia of Gardening (check used bookstores and yardsales for this) recommends ridding the lawn of "unsightly" earthworm castings by killing the worms with corrosive sublimate. I don't know exactly what that is, but I think it's used to clean the mortar off bricks and, in any case, is poisonous. And who would want to kill an earthworm, anyway?
But I love these venerable books. They have what is too often missing in modern gardening guides: soul. They speak of plants and gardens and growing with passion and an understanding that gardening involves a modicum of work and disappointment. No quick fixes, no easy answers, no work-free, care-free, plant-it-and-forget-it approaches.
Peter Henderson's Gardening for Profit, published in 1868, is still the classic work on extending the productive season. But there are modern books well worth having. Crockett's Victory Garden has gotten the heaviest workout in my library. It was written by the late James Crockett, first host of the popular gardening show produced by Boston public television station WGBH.
Under his gentle tutelage, I grew my first successful crop of leeks. The inspiration was a photograph of Crockett holding a leek the size of a baseball bat, but the real key was his month-by-month reminders about the time to hill, fertilize, and, finally, to harvest. The book is beautifully organized, with plenty of drawings and photos.
Crockett was a chemical gardener (a habit he largely abandoned later), but I can overlook the recommendations for captan and Diazinon. After 20 years, I still consult this book regularly for the sheer joy of reading his clear, reassuring, and loving prose.
For the same reason, I keep handy Henry Mitchell's The Essential Earthman, a collection of his essays for The Washington Post. Mitchell, who died in 1993, adored plants that I do not grow, like roses, dahlias, and lantanas. His vegetable repertoire consisted of a couple of 'Brandywine' tomatoes. But he understood gardens and gardeners as few other writers have or will. "There are no green thumbs or black thumbs. There are only gardeners and non-gardeners," he writes. "Gardeners are the ones who, ruin after ruin, get on with the high defiance of nature herself….It sounds very well to garden a 'natural way.' You may see the natural way in any desert, any swamp, any leech-filled laurel hell. Defiance, on the other hand, is what makes gardeners." Read guidebooks for technical assistance; read Mitchell for mental sustenance.
The best of the rest
Harrowsmith Country Life Book of Garden Secrets by Dorothy Hinshaw Patent and Diane E. Bilderback is an excellent botany primer, explaining the whys and wherefores of seed germination and plant development, as well as a good trouble-shooting guide. It's definitely the book to consult before embarking on advanced veggie crops like cauliflower and Brussels sprouts.
Learning the basics of gardening can seem like drudgery at first. The understanding you gain pays off over the long haul. The New Seed-Starters Handbook by Nancy Bubel is a good guide for the novice gardener starting plants from seed. After a few seasons, this will become second nature, but Bubel's charts and crop-by-crop explanations will get the beginner off to a good start.
My southern Pennsylvania climate isn't particularly good for lemongrass or ginger, but its long, benign autumns are made for brassicas, including all those Asian mustards and cabbages. Oriental Vegetables by Joy Larkcom is an excellent road map for sorting them out. Of course, Asians use lots of other vegetables, like eggplants, tomatoes, roots of all description, and wild plants, which the book also covers. The section on gardening techniques is excellent.
Despite the title and the many recipes, Cooking from the Garden by Rosalind Creasy is a gardening book, not a cookbook. There are lush photos; interesting profiles of people like seed-saver Kent Whealy and assorted chefs and cookbook authors; descriptions of ethnic gardens; and seed sources. It's a bit short on the nuts and bolts of growing, but is the perfect winter companion, when the garden has been tucked under, and a new one is starting to take shape in your mind.
With books, as with people, old friendships are the best friendships. When you find a gardening book you like, consult it often. It will grow dearer.