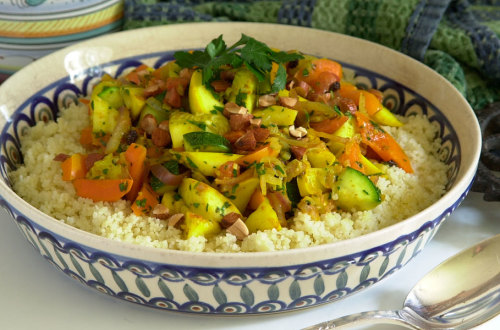 Ingredients:
1/4 tsp. coriander seeds
1/4 tsp. fennel seeds
1/4 tsp. caraway seeds
1/2 tsp. cumin seeds
1/2 tsp. ground turmeric
Pinch of cayenne or to taste
1 Tbs. olive oil
1 medium carrot, thinly sliced
1 medium red onion, quartered and thinly sliced crosswise
4 large garlic cloves, minced
1 medium red, orange, or yellow bell pepper, thinly sliced vertically, then cut into 1-1/2-inch sticks
2 cups sliced green or gold zucchini or other summer squash
1 medium tomato, peeled and thinly sliced vertically
2 Tbs. dried currants
1/2 tsp. salt, plus more to taste
2 Tbs. minced flat-leaf parsley
Freshly ground black pepper
2 Tbs. coarsely chopped toasted almonds
4 side servings, or 2 main-dish servings with rice or couscous
This colorful medley makes a quick, light meal served over couscous. You can start with powdered spices, of course, but grinding them by hand results in fresher flavor. Cut the squash and carrots in quarters lengthwise, then in thin slices. Slender pear slices are a good additional garnish.
With a mortar and pestle or spice grinder, grind together the coriander, fennel, caraway, and cumin seeds. Add the turmeric and cayenne and grind again.
Add the oil to a skillet or sauté pan over medium-high heat. Add the carrot and sauté for 2 to 3 minutes. Stir in the onion and garlic and continue to sauté, gradually adding the bell pepper and squash. When the vegetables are almost tender, add the spice mixture and sauté briefly. Add the tomato, currants, and 1/2 teaspoon salt. Continue to cook, stirring, for 2 to 3 minutes or until the tomato juices and the flavors have melded. Stir in the parsley and add black pepper and more salt to taste. Serve immediately, topped with the almonds.
Note: To peel the tomato easily, immerse it briefly in boiling water, then in cold water; the skin will slip off readily.
Recipe by Susan Jane Cheney
August 2000
from issue #28