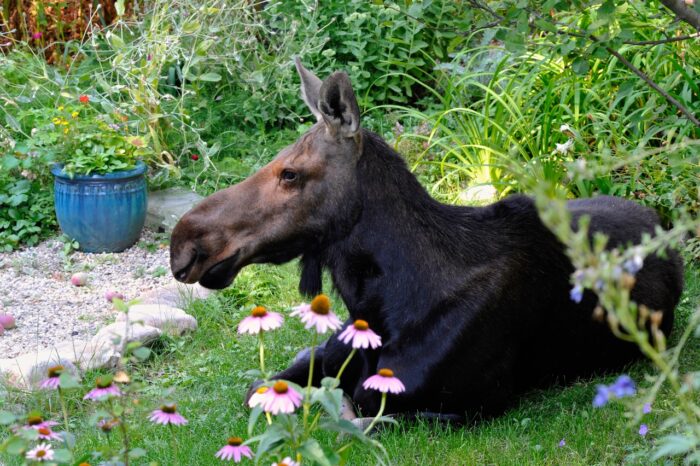 Cheryl shared today's photos of some unusual garden visitors.
In gathering garden wildlife photos of bees, hummingbirds, butterflies, and birds, I realized there was also a recurrent large brown presence among the trees and flowers. So these garden photos are a bit different from the usual exquisite GPOD views, but perhaps they are interesting as a certain kind of garden/nature interaction. Here in the northern Utah mountains, we are privileged to see many different bird species—also deer, raccoons, rabbits, and (ick) voles, etc. Rarely we see a pine marten, and even a mink once. But the most exciting visitors are the moose. We usually see them four or five times a year, led to the garden by a small creek flowing in front of our house. Generations of cows have brought their lovely babies to snack in our garden. They are far less destructive than deer and tread remarkably lightly without crushing plants. They generally only browse on twigs and leaves of young aspen, serviceberry, willows, redtwig dogwood, and also our two overgrown apple trees (moose-pruned!). Only the little calves munch on flowers, and they are welcome to do it any time! One of my best garden memories is seeing a baby moose leaping and cavorting in a sprinkler while Mom trimmed up some young aspens nearby.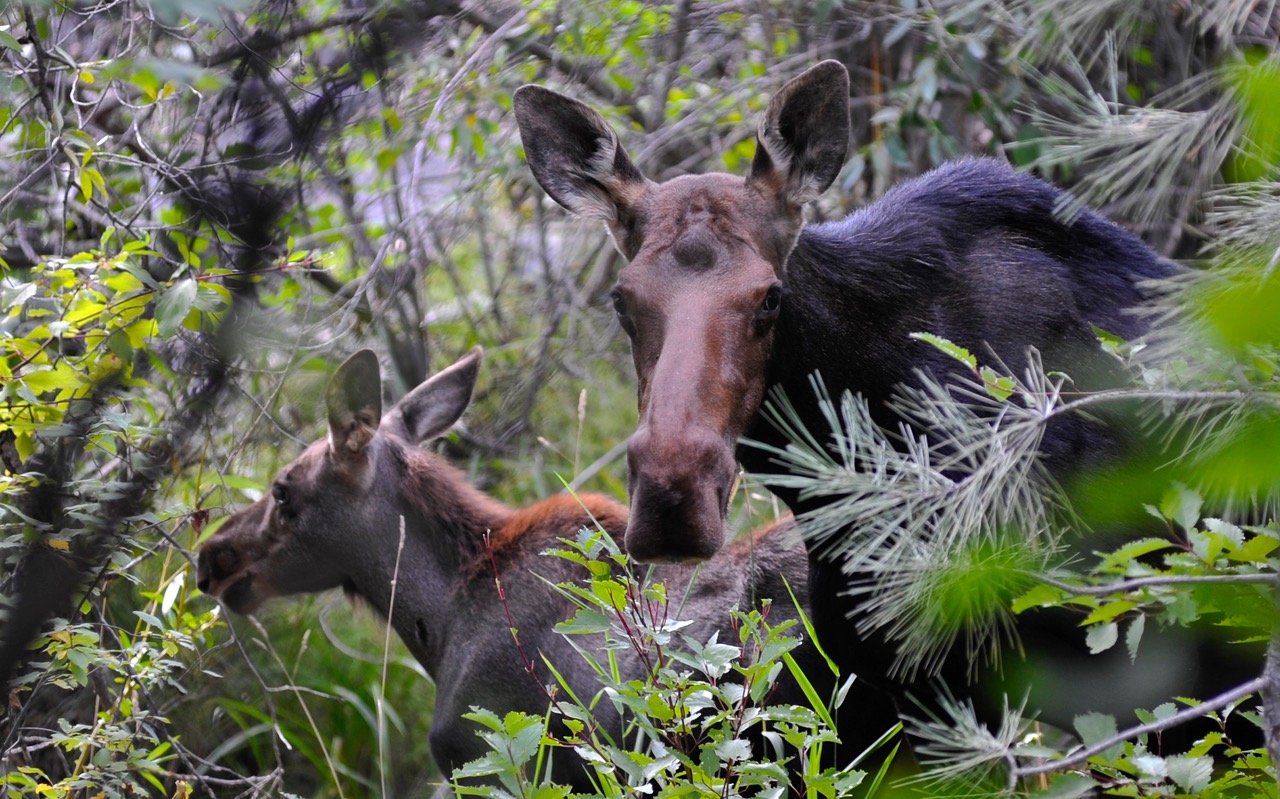 Mom and calf down in the wilder area along the creek. The redtwig dogwood doesn't mind their attention from year to year, which helps it bush out with bright red new growth.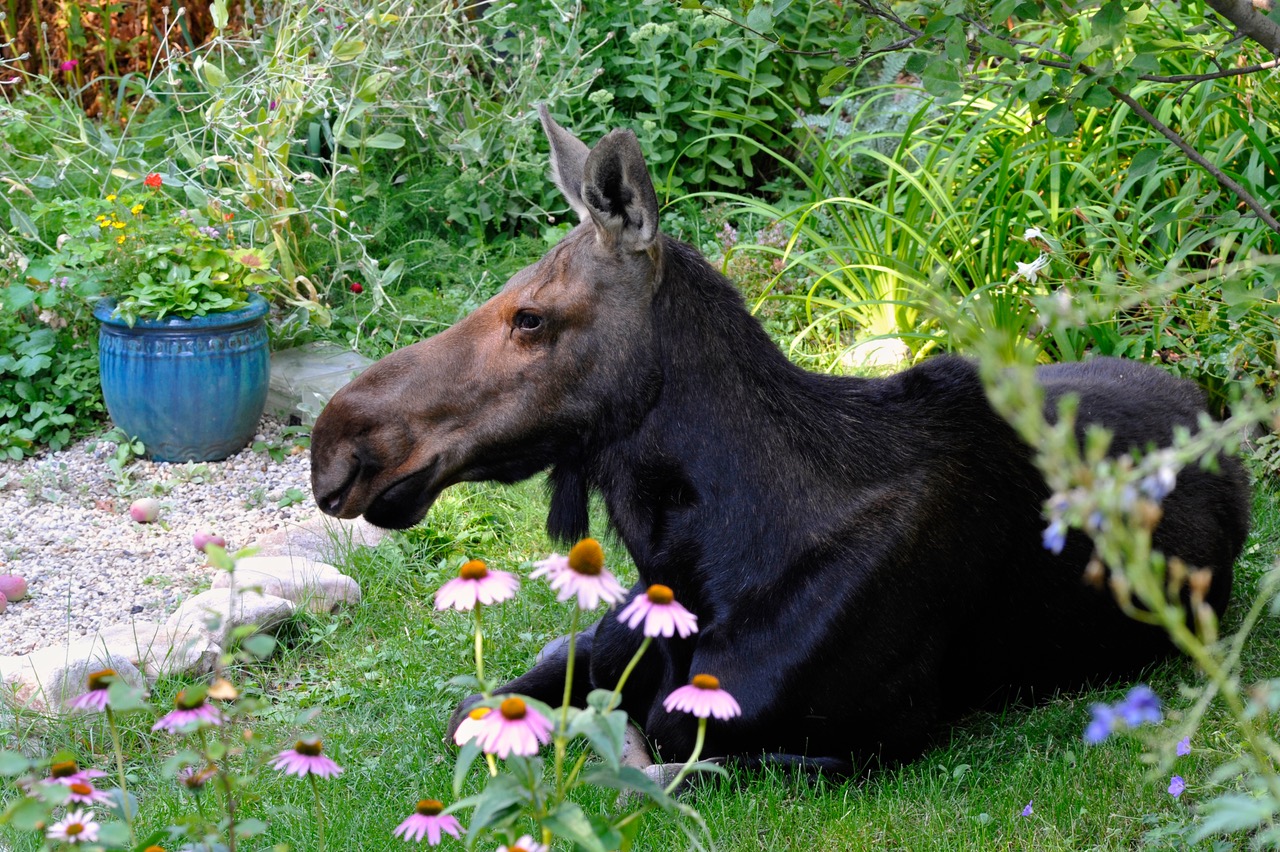 The moose enjoy resting, napping, and ruminating under the apple trees in the shade during summer visits. I will blame this one for the lack of weed whacking along the rocks and the collapsing spent delphiniums! I usually don't go out when they are present; this photo was taken from our bedroom window.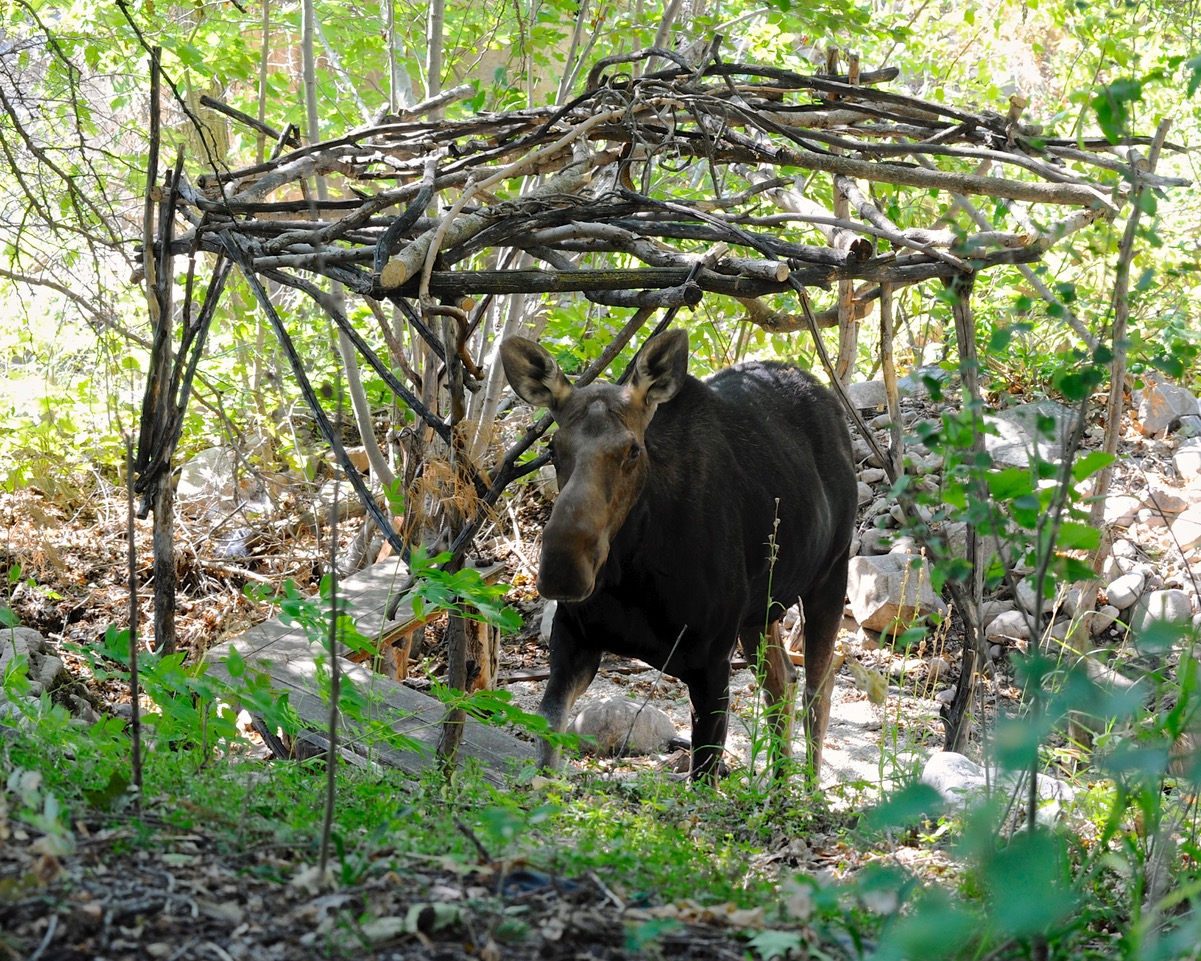 This cow checked out our exceedingly rustic "folly" with seating area and a little firepit down by the creek.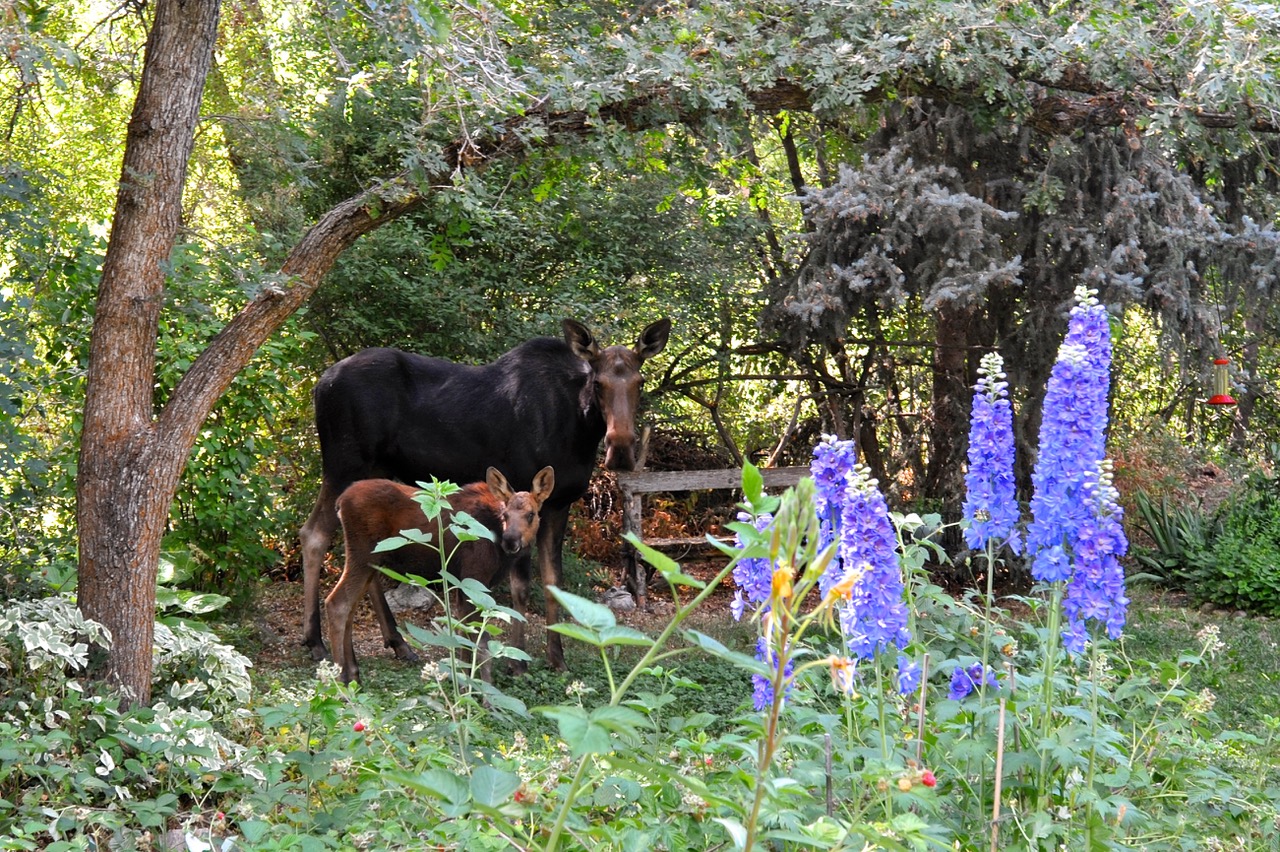 In this different year's visit, delphiniums (Delphinium elatum, Zones 3–7) were still blooming. Moms usually have one baby but sometimes two. A second one was munching some serviceberry to the left of this frame. A few red raspberries show in the foreground. I've always thought they should be moose-munched but they never are except for a few leaves in the fall.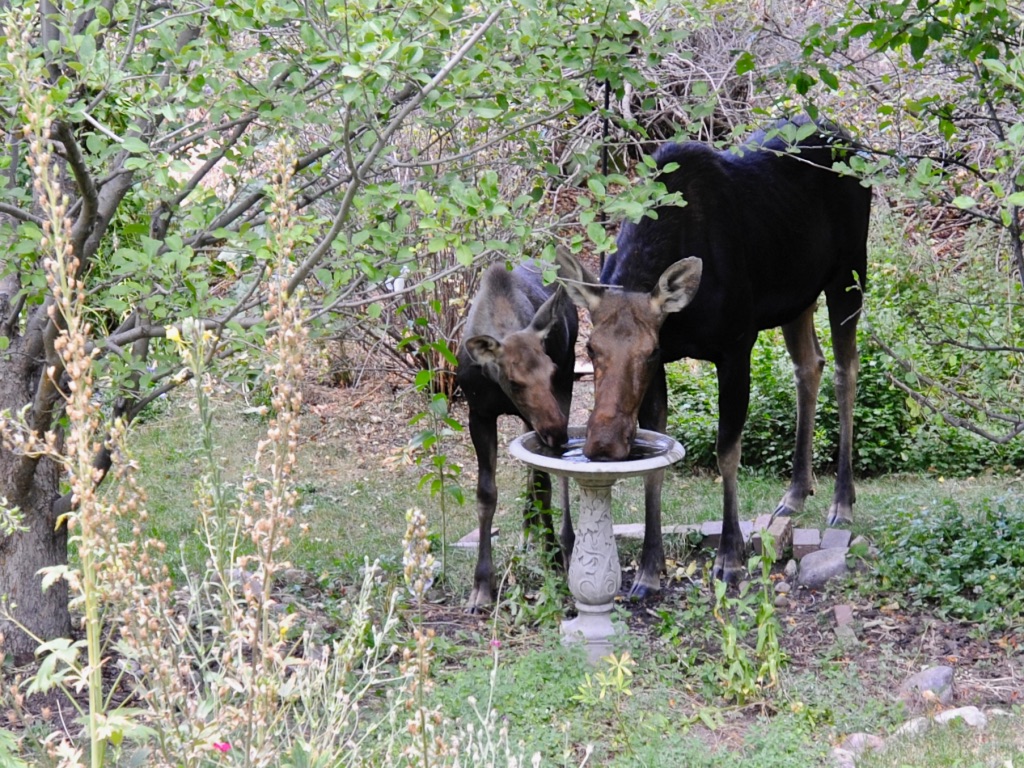 Some late summer days I have to refill the birdbath. Also, those bricks didn't get put in for a grass barrier that day.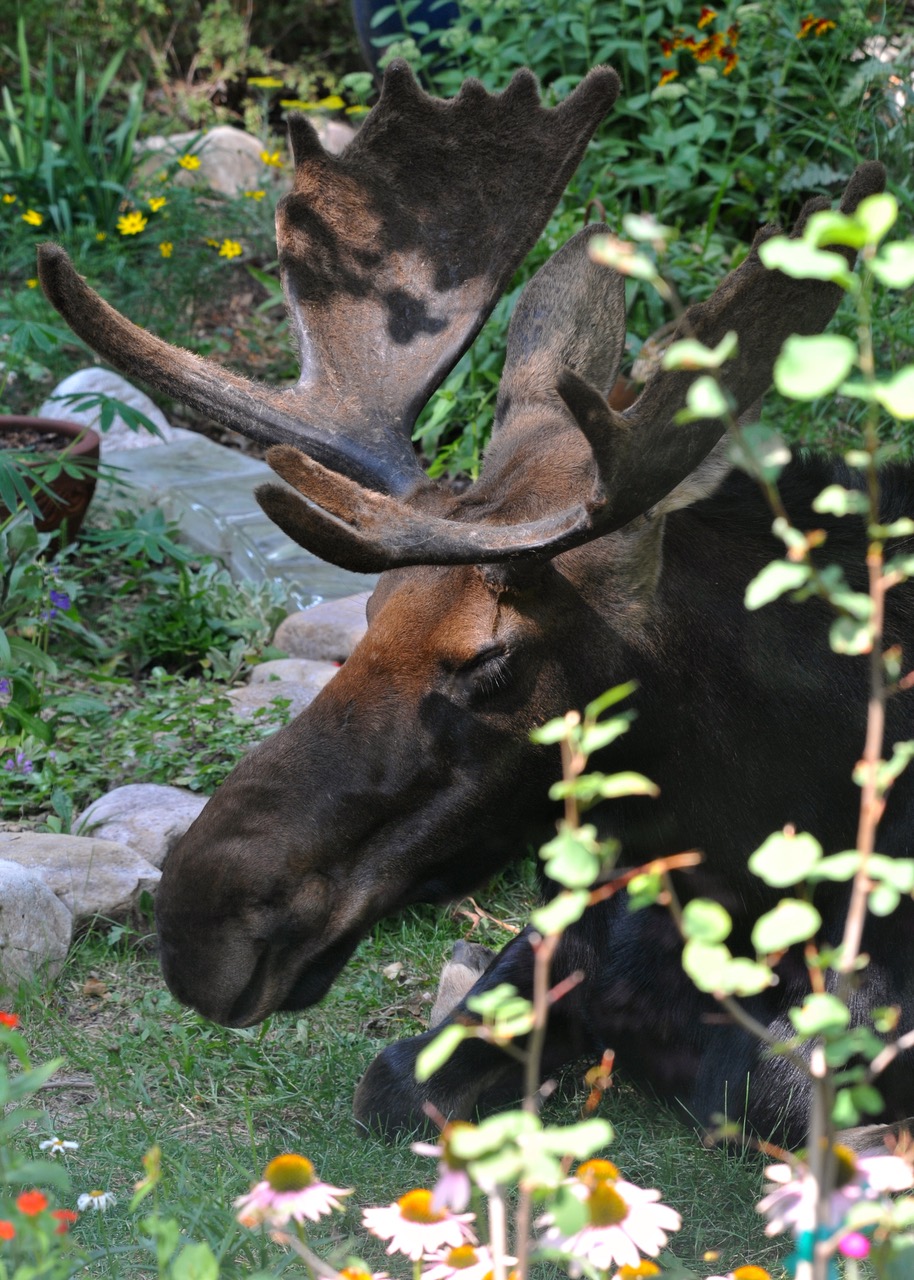 Bulls have visited only twice, a young one many years ago and then this big guy in 2018. I like to think he had been here before when he was a little calf and came back for another summer nap under the apple trees.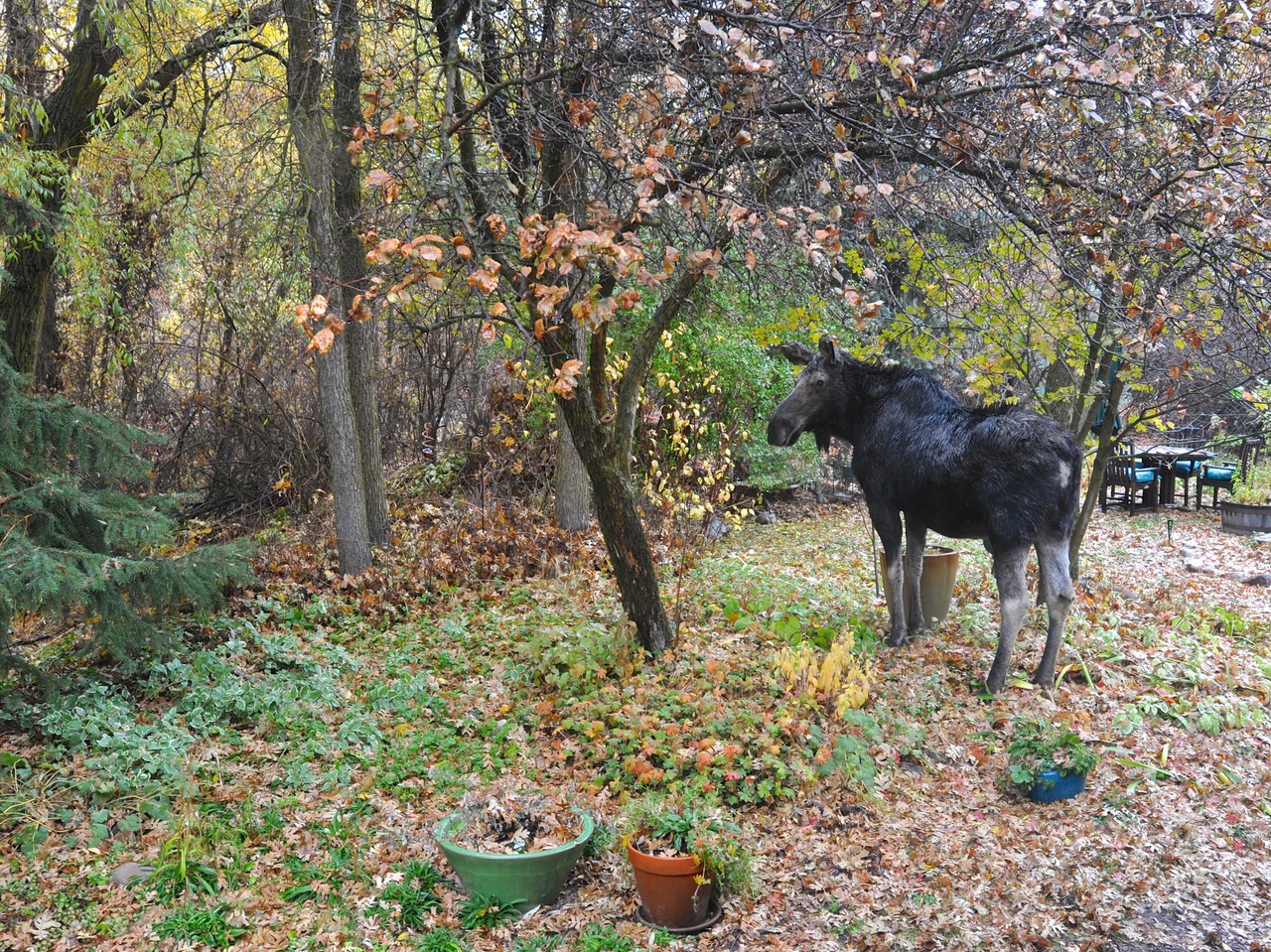 A cow visiting in autumn has a shaggy coat wet from rain. She has a calf lying just past her on the other side of this small hill. They have never knocked over a pot! Gambel oak leaves cover the ground.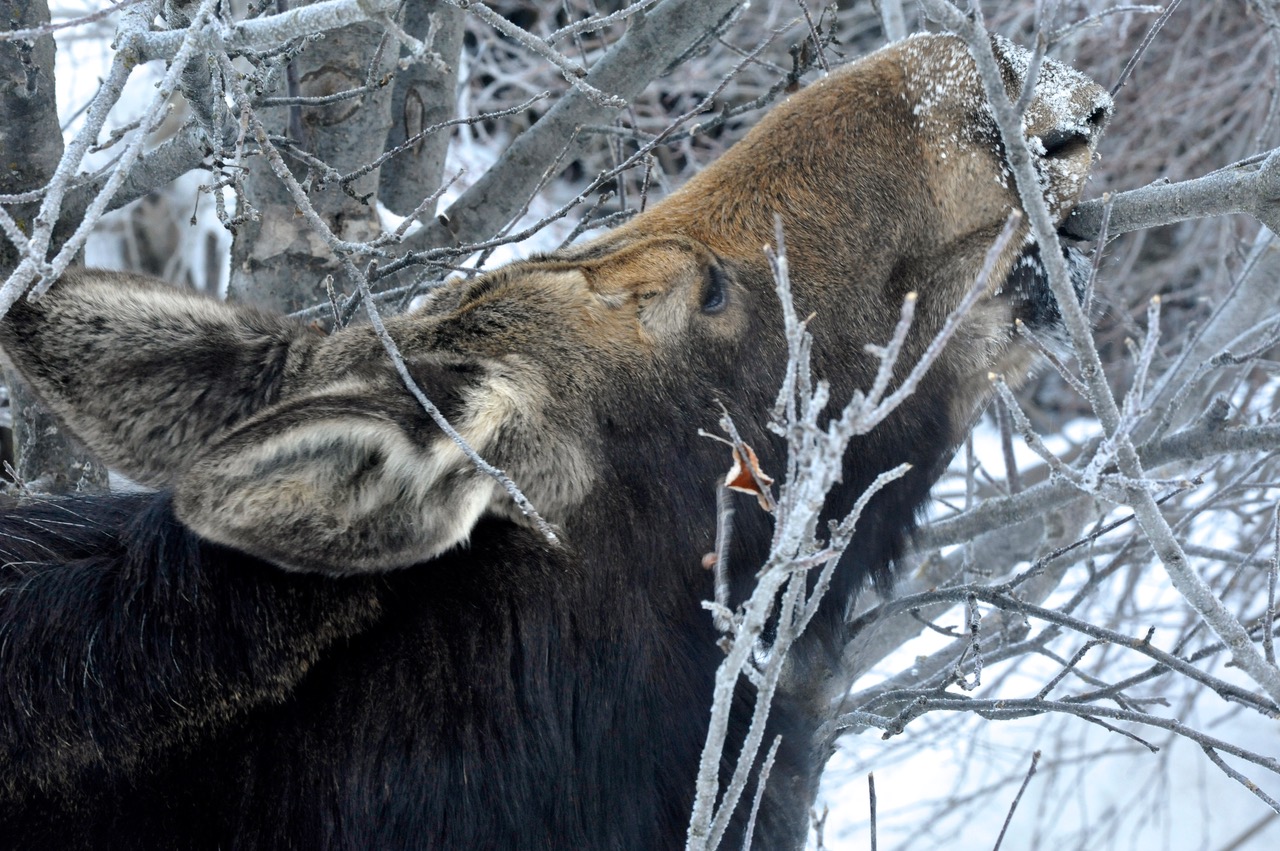 Winter visits are mainly for apple twigs and frozen apples dug from under the snow. I love seeing the large gentle creatures easing around the garden any time of year!
Have a garden you'd like to share?
Have photos to share? We'd love to see your garden, a particular collection of plants you love, or a wonderful garden you had the chance to visit!
To submit, send 5-10 photos to [email protected] along with some information about the plants in the pictures and where you took the photos. We'd love to hear where you are located, how long you've been gardening, successes you are proud of, failures you learned from, hopes for the future, favorite plants, or funny stories from your garden.
If you want to send photos in separate emails to the GPOD email box that is just fine.
Have a mobile phone? Tag your photos on Facebook, Instagram or Twitter with #FineGardening!
You don't have to be a professional garden photographer – check out our garden photography tips!
Do you receive the GPOD by email yet? Sign up here.