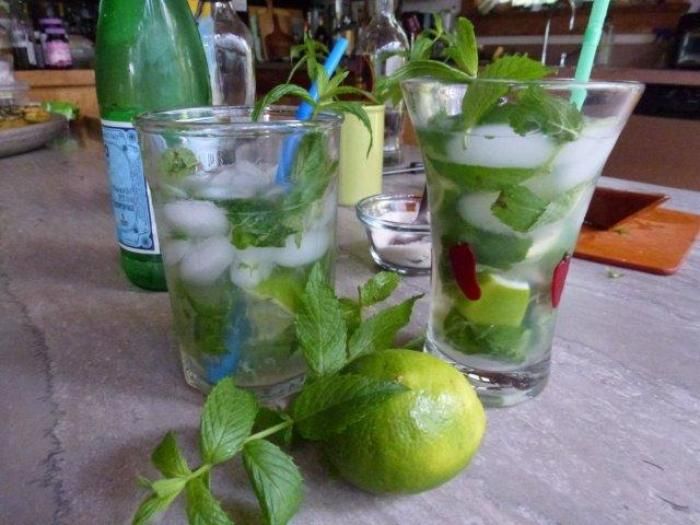 Ingredients:
For one mojito:
1 lime, cut into 8 pieces
Generous handful spearmint leaves
About 1 tablespoon sugar
About 1-1/2 to 2 ounces good-tasting rum
Ice
About 2 to 3 ounces sparkling water
Few drops of Angostura or orange bitters, optional
Mint sprig for garnish
Mojitos are a popular bar drink, especially in hot weather, since they are refreshing and cooling. I make them often and I've made them lots of ways. They are easy to prepare, and the traditional cocktail requires five essential ingredients: rum, fresh lime, spearmint, sugar and sparkling water.
I prefer a dark rum for this libation; some prefer a light one. I enjoy Flora de Caña or Mount Gay; for a light rum Mount Gay Special is good, and many bars use Bacardi Limon. A fresh lime is absolutely essential, as well as fresh spearmint (dried will not work). I often make a mint syrup and freeze it so I can have a mojito in cold weather if cabin fever is setting in. Regular cane sugar can be used, although I prefer organic cane sugar, Turbinado, or Demerara, or even light brown sugar. One can use club soda, seltzer water—any fizzy water will do—I like Pellegrino or Perrier when given a choice. Bitters are not in the original drink, but I often add a few drops depending on the mood, since I like them.
You will need a tall "collins"-type glass, a muddler (although a wooden spoon handle will do in a pinch), and a long-handled spoon for stirring. I do all of the mixing right in the glass; a straw is nice.
In a tall glass, put in half the lime pieces, about 8 or 12 mint leaves and the sugar. This is a tart drink, and most people prefer it sweeter, so you might need a tad more sugar when you taste it. Put in just a splash of rum and muddle the lime, mint, and sugar, crushing the juice from the lime and smashing the mint. Add the rest of the lime and a few more mint leaves and muddle again.
Add the ice to fill the glass just over halfway. Pour the rum over the rocks-—I like mine with the lesser amount—traditionally it uses 2 ounces–stir well. Add the sparkling water, stir and taste. At this point, you could stir in a bit more sugar though it will not dissolve as easily. Add a drop or two of bitters if desired. Adjust with a bit more water for a "longer" drink if desired. Take a sprig of fresh mint and run in around the rim of the glass, and then pop it in for garnish, along with a straw for stirring/sipping. Cheers!
Variations:
Non- alcoholic mojito—just leave out the rum and add a little more sparkling water, or I often like to use gingerale in place of the rum. Adding 1 to 2 ounces of fruit juice is fun—see instructions below.
Fruit mojitos—add about 1 to 2 ounces of fruit juice in place of the sparkling water. This is lovely with mango nectar, pineapple juice, pomegranate or cranberry juice, and fresh watermelon juice. Add a good splash of sparkling water for garnish.
Ginger mojito—muddle about 2 to 3 teaspoons of fresh chopped ginger root with the lime and mint—ginger ale is good in place of all or part of the a sparkling water. Thisis spicy and great for digestion!