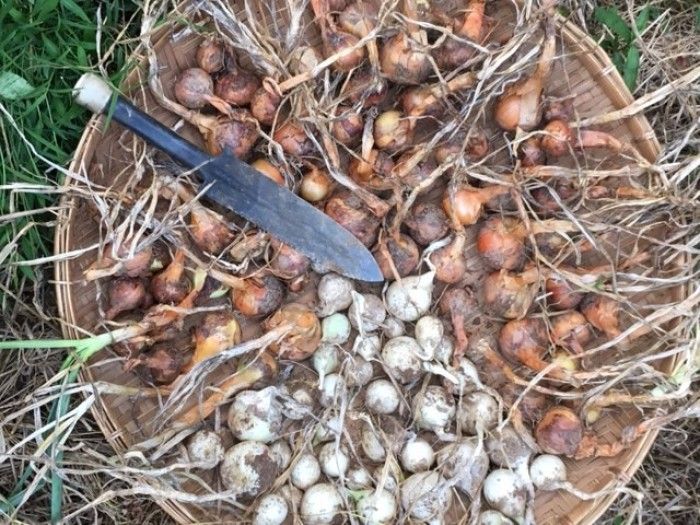 Today is the first day of August, also recognized as Lammas Day (which is the celebration of the first grain harvest in parts of the Northern Hemisphere where English is spoken) and we are well into the summer gardening season. This day is also recognized as Lughnasadh (LOO-nə-sə) which is the Gaelic festival celebrating the beginning of the harvest season in Ireland and Scotland traditionally.
Every year by this time, the weeds are in fierce competition with the crops–sometimes even bigger than the crops. However, I did manage to harvest the root crops last week when we were in the fourth quarter root moon. Look at my onions and potatoes. Not a bad yield of potatoes–about 6 to 7 gallons–for a 50-foot row. There are three kinds: Kennebec, Red Pontiac and Yukon Goldand the red 'taters were by far the most prolific. I love tooties (as my family affectionately refers to them in any shape or form). Two favorite summertime recipes are potato salad and potato bundles. /item/129908/fourth-of-july-fare-potato-salad
/item/15393/vegetable-bundle-basics
The onions didn't get as big as they do some years, however their tops were withered and disappearing, so it was time to dig them before they were lost. We had a rainy spring and then it has been pretty dry, which is one reason, I don't think they were as large. That and the fact that the wheatstraw mulch sprouted and grew tall, so they had to fight those pernacious roots until I got round to yanking it out and then turning all that mulch over.
We planted twice as many sets as just harvested, and ate them like spring onions and thinned them up till now–haven't really bought onions since about April. Right now the basket of them is out on the picnic table on the covered backporch, curing. Once they dry a bit, I'll trim them and remove the dried soil that is still on some of them. If some of the tops are in good shape and dried through, I'll make a few little braids of onions to hang up. Otherwise they get trimmed and stored in net bags in the cold room down the basement. We eat a lot of onions, so our harvest might last for about three months more.
Zukes and cukes are coming in fast and furious and need to be picked everyday. We've been eating green and yellow zucchini, yellow summer squash and pattypans in about every way possible. Inspired by a recent NYT article titled "Zucchini for Breakfast, Lunch and Dinner" (47 ways), (https://cooking.nytimes.com/68861692-nyt-cooking/90084-zucchini-for-breakfast-lunch-and-dinner?te=1&nl=cooking&emc=edit_ck_20190727?campaign_id=58&instance_id=11212&segment_id=15619&user_id=a59ce9a7c66b8ac459529b866c87d3ff®i_id=5893832120190727), I recently made up my own version of zucchini pancakes and served them with a chimichurri sauce–they were quite tasty–and I used 3 medium-sized zucchini in one batch. They have to be grated, lightly salted and drained in a colander and then all their liquid has to be squeezed from them so the pancakes aren't soggy.
Lots of cucumber salads from Greek-style with tomatoes (/item/9312/summer-greek-salad), Asian-style marinade to escabeche to tzatziki and eating them just sliced with a little sea salt. Also putting them in aguas frescas with lemons and limes. Kids like sliced cucumbers, so I just gave my niece five good-sized ones to slice up and serve with the pizza they're having at her daughter's birthday party. Anya likes ranch for dipping, while Elena prefers balsamic.
Tomatoes are just starting to come in–been picking one or two everyday–however now they are ripening and I'll soon have a tomato glut. I'm not complaining; I love summer-ripe tomatoes and can eat a tomato sandwich everyday. And I certainly enjoy fried green tomatoes. /item/9979/fried-green-tomatoes
I am thankful for the abundance of the summer and that I am able to grow a garden and eat good healthy food so today I celebrate the harvest season.