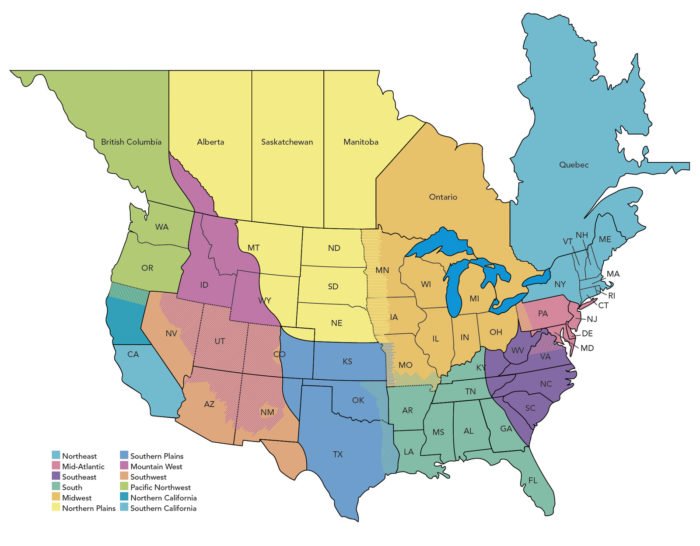 Our readers have been asking for more regionally focused gardening content for decades, but logistics and pressures of keeping our national magazine as applicable to all as possible have long kept us from the regional focus so desired by our subscribers. That all changed last year when we launched Fine Gardening All Access. We worked to find expert reporters for twelve key regions around North America who could provide up-to-date and relevant information for their area every month online. We are so excited to partner with these authors to bring you the best tips, plants, and ideas for your garden when you need them. Not an All Access member? Sign up here to get all of the information you need to build the garden of your dreams.
Note: Five of our regional reporters are featured below, and we're working to get introductory videos from everyone over the next several weeks. View everything about your region by visiting the My Region page.
Southeast Regional Reporter: Dr. Andy Pulte
Andy grew up in the nursery industry in Grand Island, Nebraska. He received his Ph.D. in plant sciences from the University of Tennessee, where he is now on the faculty in the same department. His responsibilities include teaching and advising, and he also coordinates UT's plant sciences undergraduate program. Additionally, he speaks regularly to diverse groups and travels extensively to feed his passion for people and plants. Over his career, he has contributed to a variety of gardening publications and hosted a gardening radio show. He is also an internationally certified arborist. Andy gardens in a residential community north of Knoxville. He seeks out unusual plants for his home garden that inspire questions from those who visit. He and his wife, Beccy, have two outdoor-loving young boys who are always looking for their next adventure. See Andy's posts.
Mountain West Regional Reporter: Michelle Provaznik
Michelle discovered a love of gardening when she and her husband joined friends in renting a community garden in Arlington, Virginia. Several years and two states later, she turned her passion into a career by studying ornamental horticulture at Foothills College in Los Altos Hills, California. While in school, she worked at a local nursery, gardened on a private estate, and interned at a public garden. A move back to Colorado introduced Michelle to the challenges of gardening in the Mountain West, where she ran her own horticulture maintenance company for six years and served on the nonprofit board of a developing public garden. In 2008, Michelle became the executive director of the Gardens on Spring Creek, the botanic garden in Fort Collins. Since then she has grown the Gardens on Spring Creek by constructing gardens and overseeing visitation, programs, volunteers, and partnerships. She is excited for future programming in the new facility as it works to fulfill its mission of enriching lives through horticulture. See Michelle's posts.
Northern California Regional Reporter: Fionuala Campion
Fionuala has loved the outdoors her whole life. Her passion for gardening began while she played in the gardens of her native Ireland. After moving to California over 30 years ago, she became the owner/manager of Cottage Gardens of Petaluma, a specialty nursery in Northern California. From this platform she shares her love of growing plants and transforming landscapes, while continuing to design and maintain gardens for clients. Having raised four kids with an appreciation for nature and the outdoors, and successfully sent them on their way with remarkable weeding skills, Fionuala now lives in the countryside of Petaluma with her dogs, hens, ducks, and heritage hogs. See Fionuala's posts.
Northwest Regional Reporter: Susan Calhoun
Susan's horticulture career started with an accountant (her) staring out the window trying to figure out a way to work outside. After going through a job-retraining program to study horticulture, she begged an amazing plantsman, Junkoh Hararui, to hire her as a designer. After turning her down four times, he finally said yes if only to shut her up. She worked at Bainbridge Gardens Nursery for a year and then began working on her own, founding Plantswoman Design. Bainbridge Island, Washington, where Susan lives and works, has a huge gardening community, with many wonderful artists and gardeners that she has the privilege to work with. "Horticulture is such a great field to work in because there is always something new to learn, new plants to try, and challenges of climate, hardiness, and sustainability to keep things interesting," says Susan. See Susan's posts.
Southern Plains Regional Reporter: Karen Beaty
Karen is a horticulturist at the Lady Bird Johnson Wildflower Center in Austin, Texas. She primarily works in the 4.5-acre Luci and Ian Family Garden, but she also participates in land management efforts such as prescribed burns. She received an M.S. in land resources from the University of Wisconsin-Madison and a B.S. in biology from Davidson College. As a fifth-generation Texan, she is fascinated with the native flora of the Southern Plains region and enjoys hiking and camping as a way to meet new plants. Her outside interests also include vegetable gardening, homesteading, and building things with scavenged materials. See Karen's posts.