My name is Mary Harkacz, and my garden is located in northeastern Ohio. I've been gardening for over 30 years, but I've worked on this one for over 20! It really is one of my greatest passions.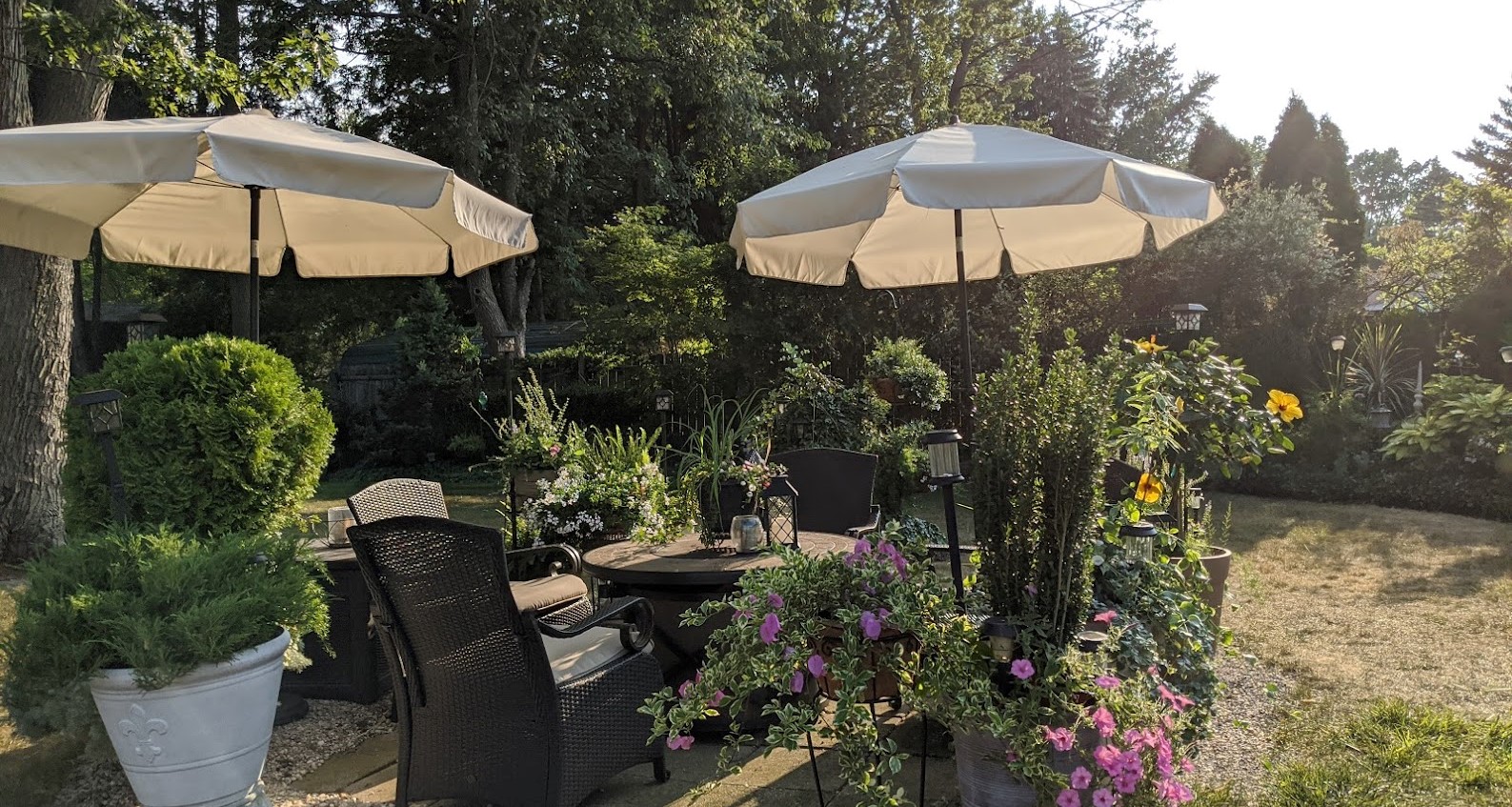 The patio is our favorite backyard lounge spot. I love trying something new here every year. In the hanging basket are pink bougainvillea (Bougainvillea sp. Zones 9–11 or as an annual) with variegated leaves. Their thorns may have pricked me more times than I care to admit, but I still think they're beautiful!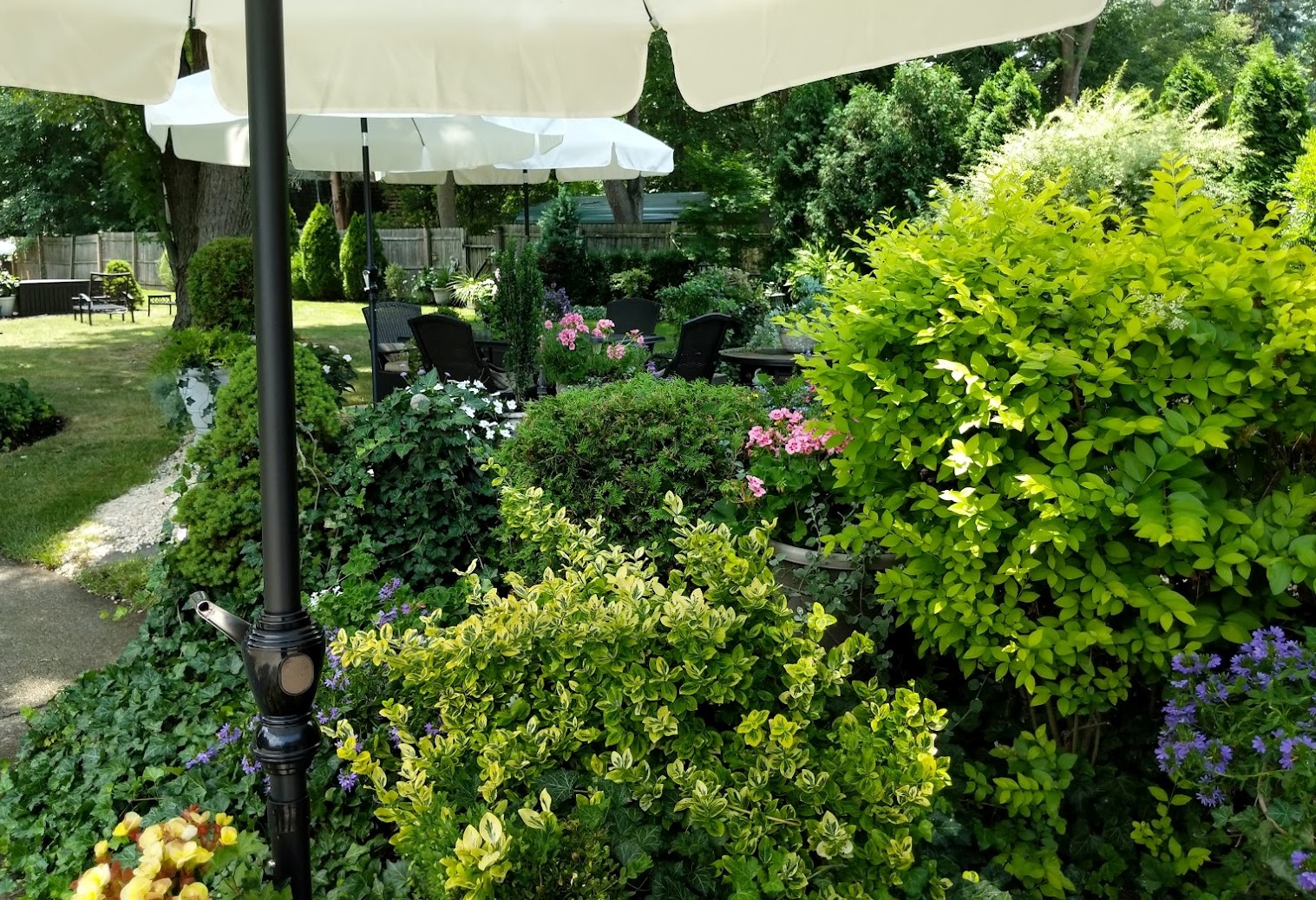 Here's a view of the patio taken a little farther away that shows a bit more of the garden. I love using English ivy (Hedera helix, Zones 5–9) as a ground cover. There are more pink petunias (Petunia hybrid, annual) here, with a yellow begonia (Begonia hybrid, annual) almost out of the frame.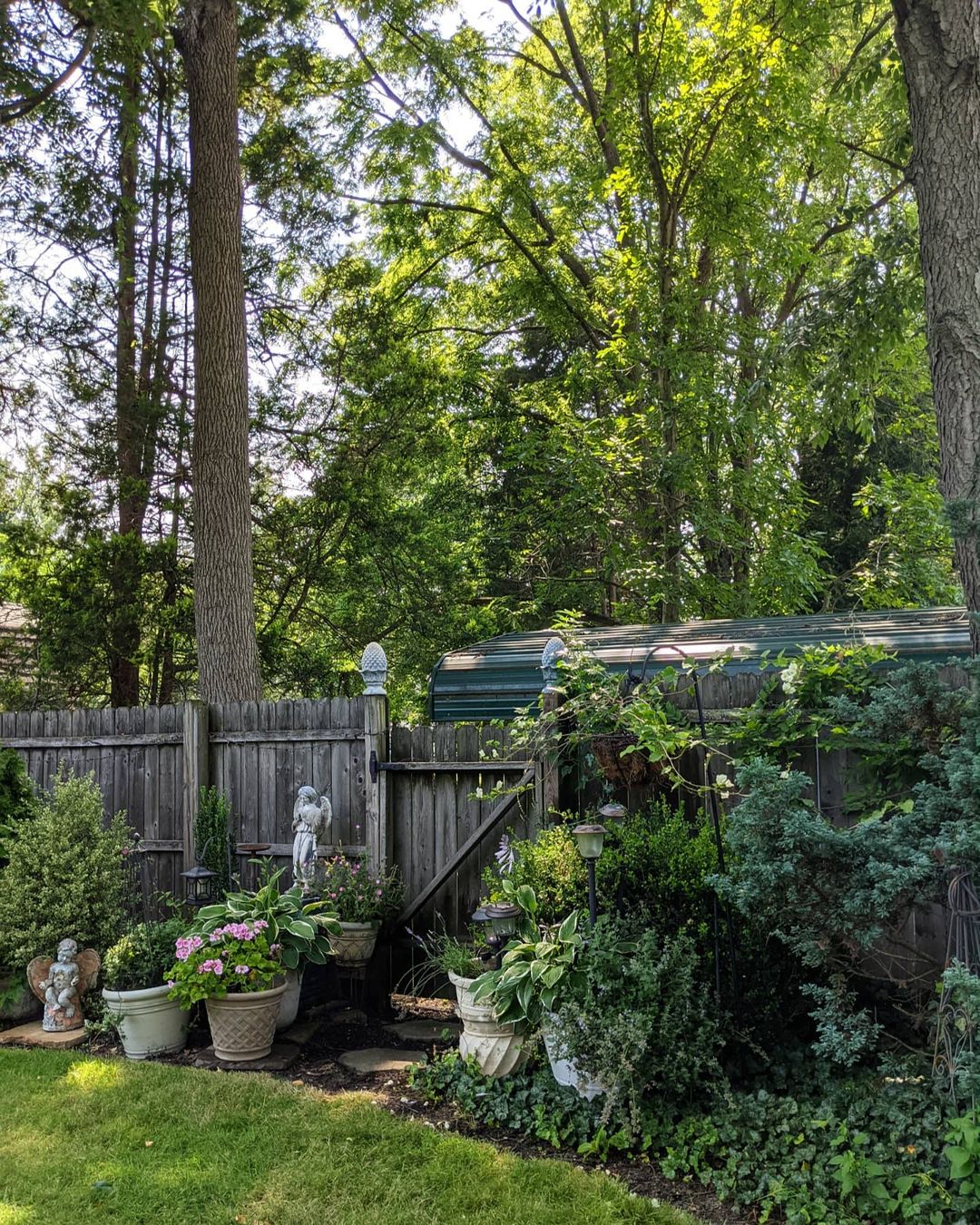 When we built our fence around the yard, we really wanted to include a gate, since we were lucky to have wonderful neighbors. In the pots we have pink geraniums (Pelargonium hybrid, Zones 8–10 or as an annual) and more English ivy. We have some wisteria (Wisteria sinensis, Zones 5–10) vines—and they are considered invasive, but I really enjoy the look they give. The big green leaves on the left of the gate are hosta (Hosta hybrid, Zones 3–9) plants. There are some branches of evergreen, but I'm not sure what kind.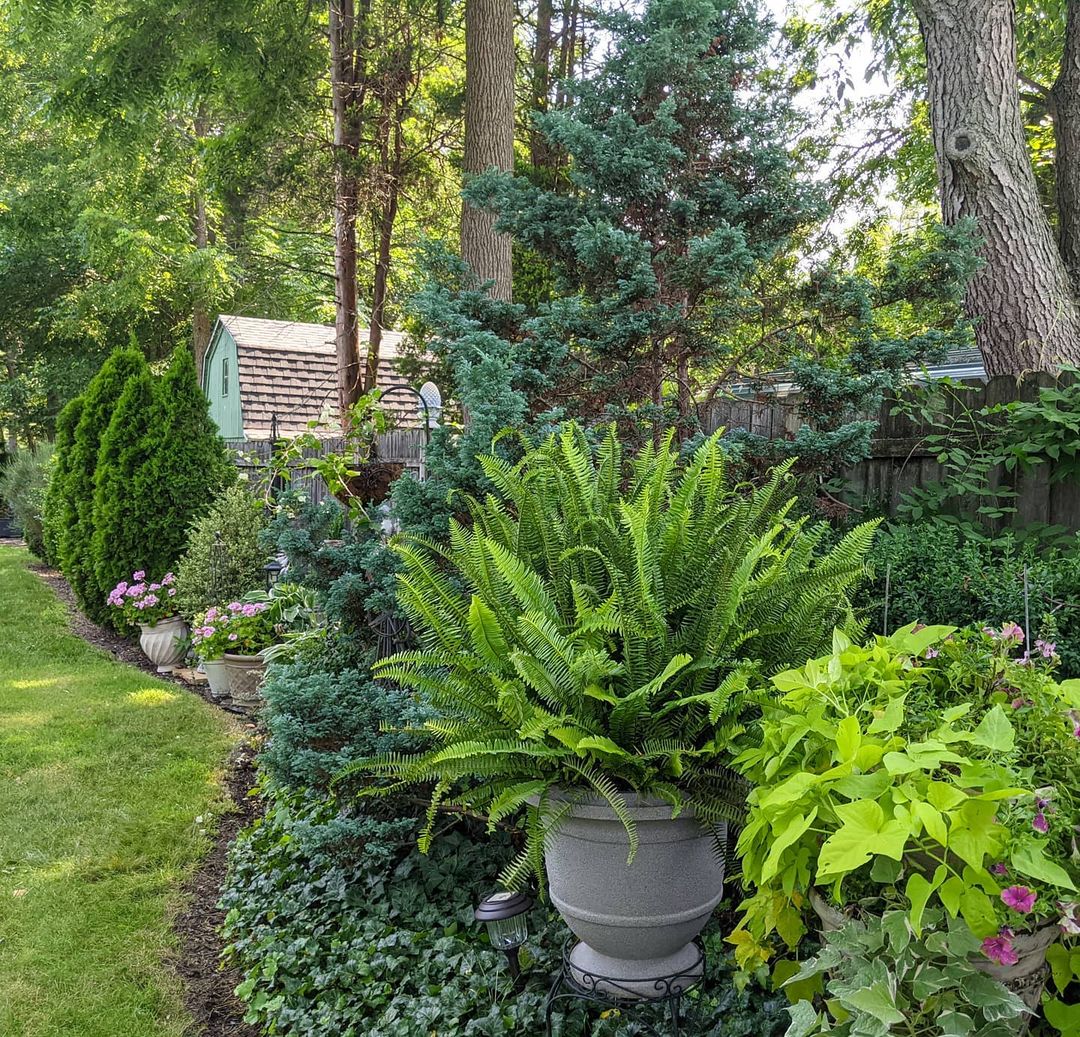 This view of the gate area showcases the angle just before you reach it.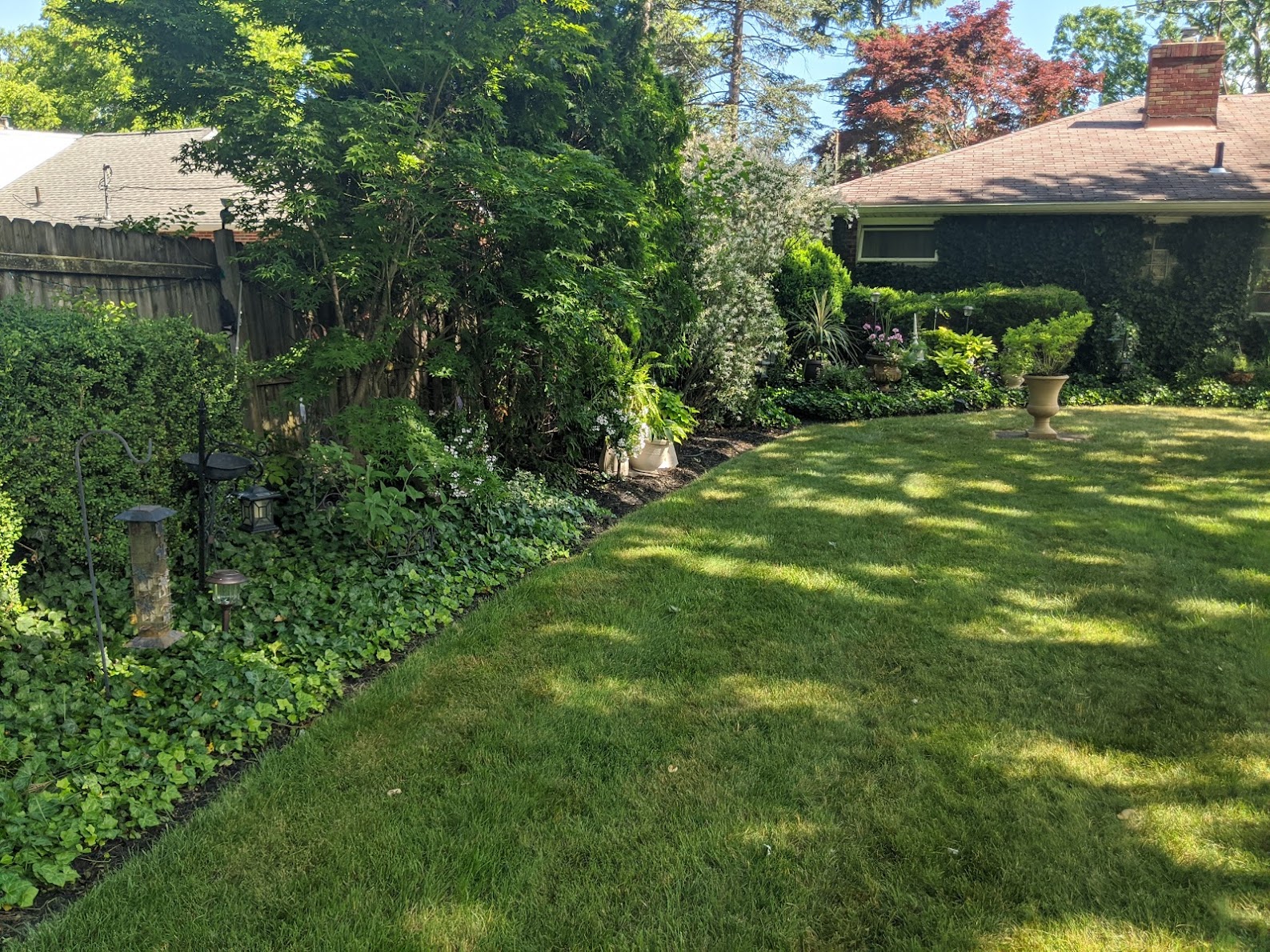 This is what you see from the gate area looking the other direction toward the house.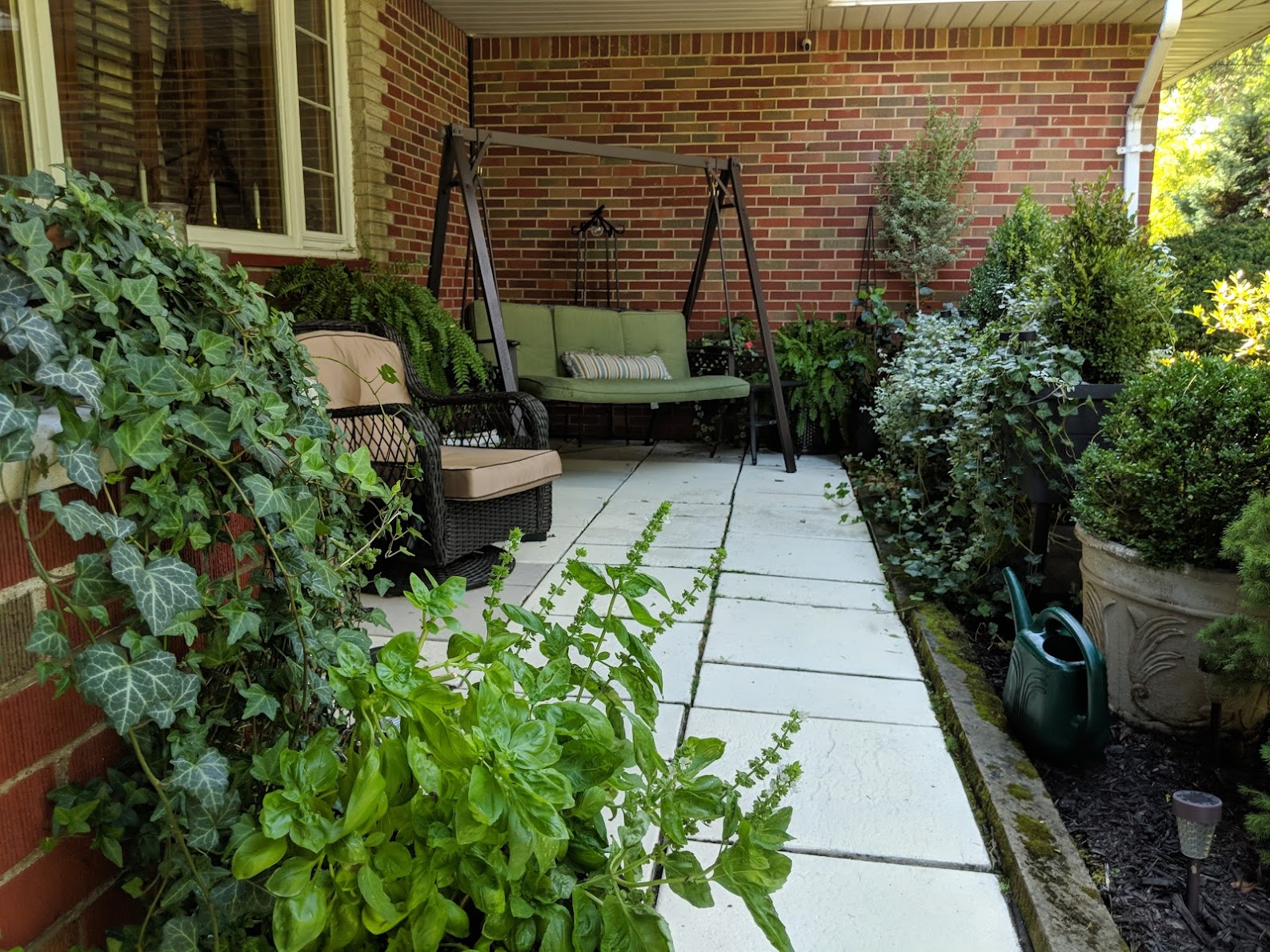 Here's a view of our garden at the front of the house. While this area is about a half-acre from the road, I still loved building up a garden here for a little extra privacy and beauty. There are ferns on either side of the bench. On the right are two varieties of boxwood (Buxus spp., Zones 5–9). On the far left and hidden on the right is more English ivy. In the foreground pot, I've planted basil, among other plants.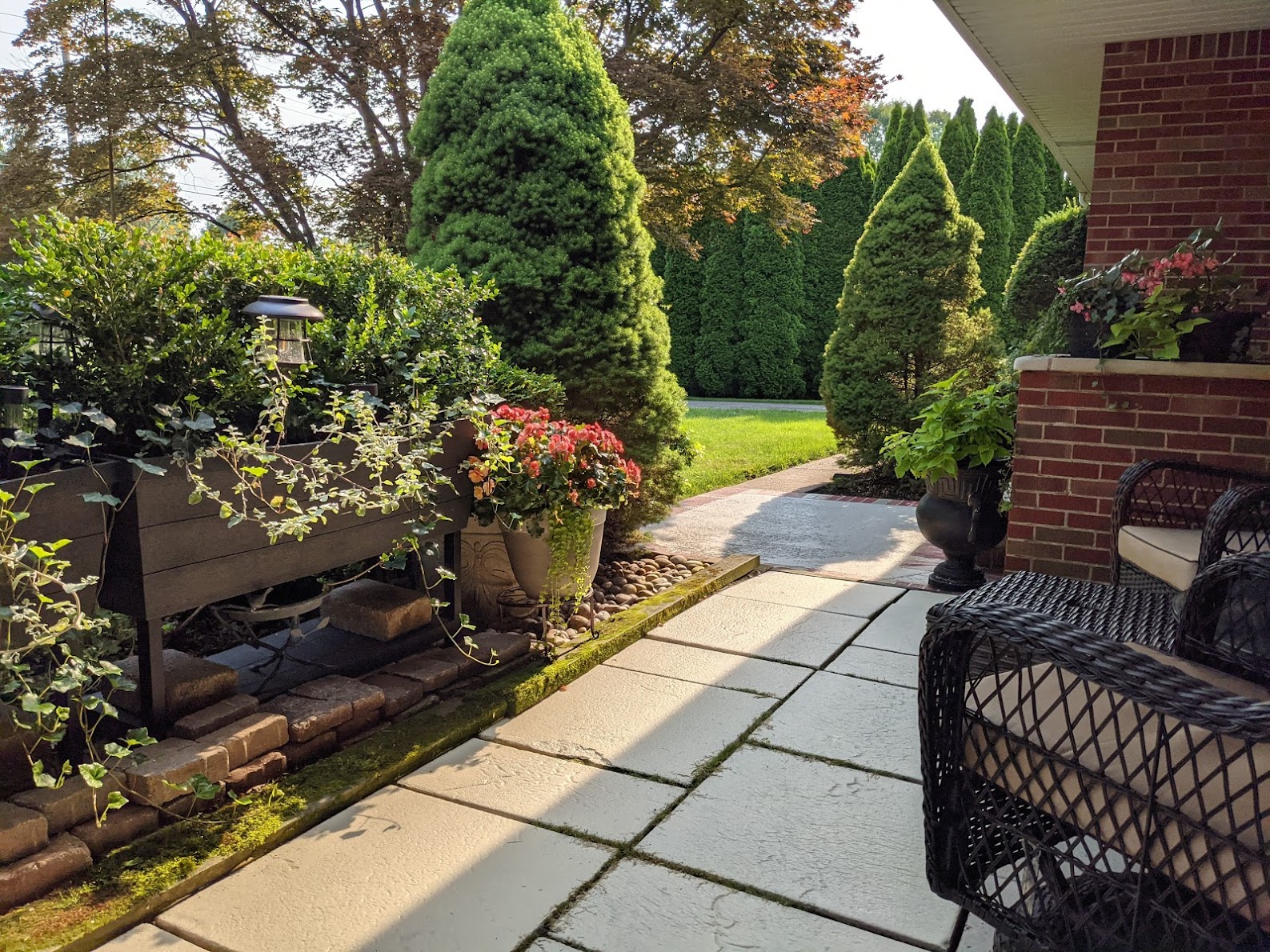 A view of the opposite direction of the front garden—it's our favorite place for a morning coffee.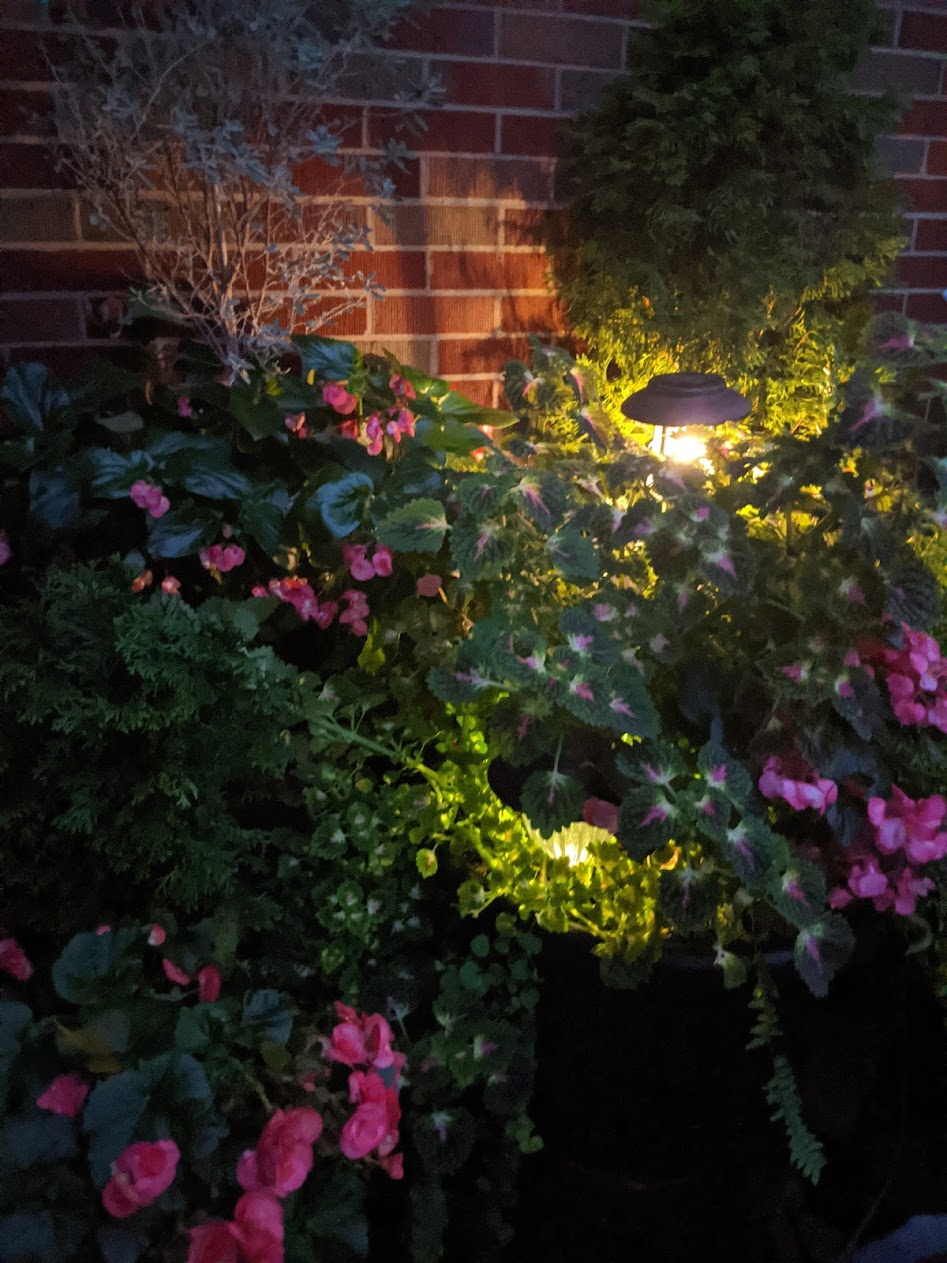 I love the idea of looking at my gardens at night and seeing them illuminated. In the front of our house, we have a spot with pink begonias and coleus in front of an arborvitae, among others.
Here's a shot of our driveway lined with arborvitaes (Thuja occidentalis, Zones 3–8).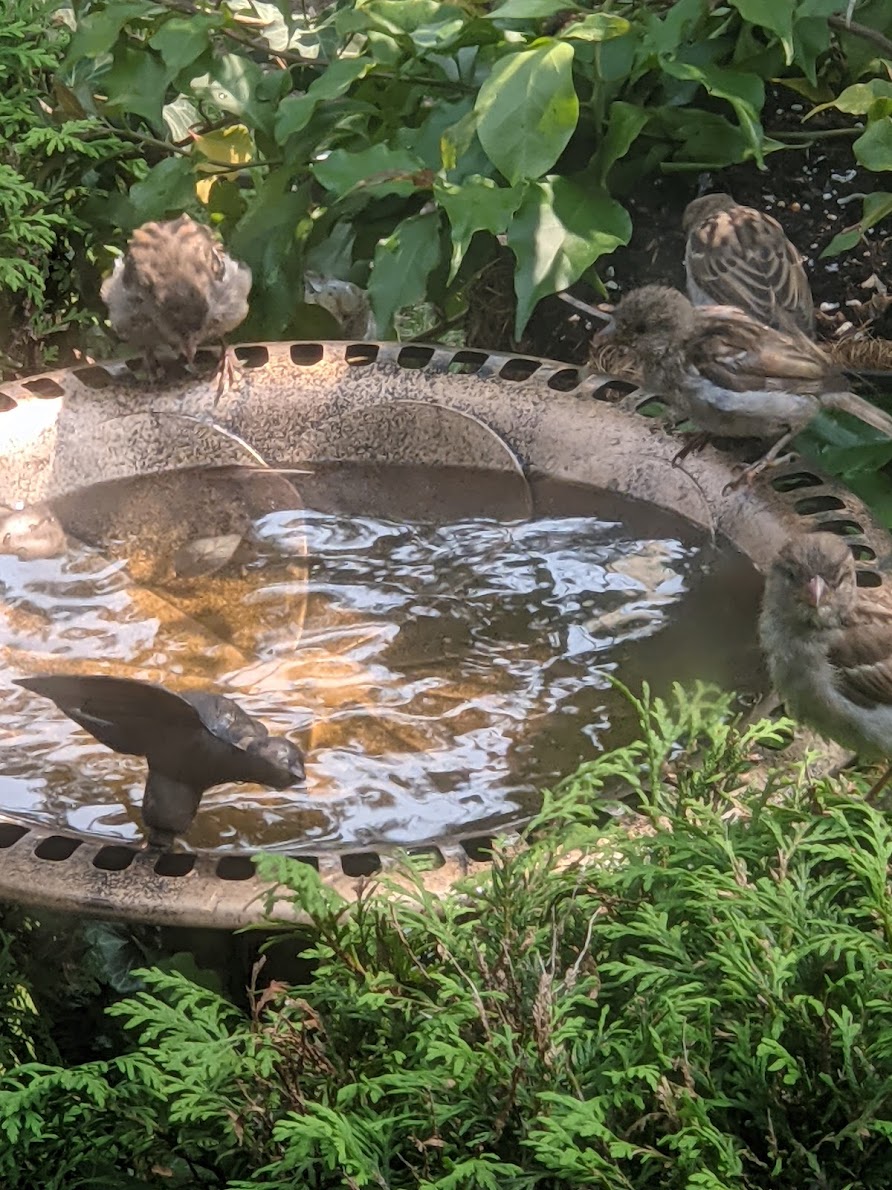 And last but not least, we have a little basin tucked away that regularly has some adorable visitors.
Have a garden you'd like to share?
Have photos to share? We'd love to see your garden, a particular collection of plants you love, or a wonderful garden you had the chance to visit!
To submit, send 5-10 photos to [email protected] along with some information about the plants in the pictures and where you took the photos. We'd love to hear where you are located, how long you've been gardening, successes you are proud of, failures you learned from, hopes for the future, favorite plants, or funny stories from your garden.
If you want to send photos in separate emails to the GPOD email box that is just fine.
Have a mobile phone? Tag your photos on Facebook, Instagram or Twitter with #FineGardening!
You don't have to be a professional garden photographer – check out our garden photography tips!
Do you receive the GPOD by email yet? Sign up here.