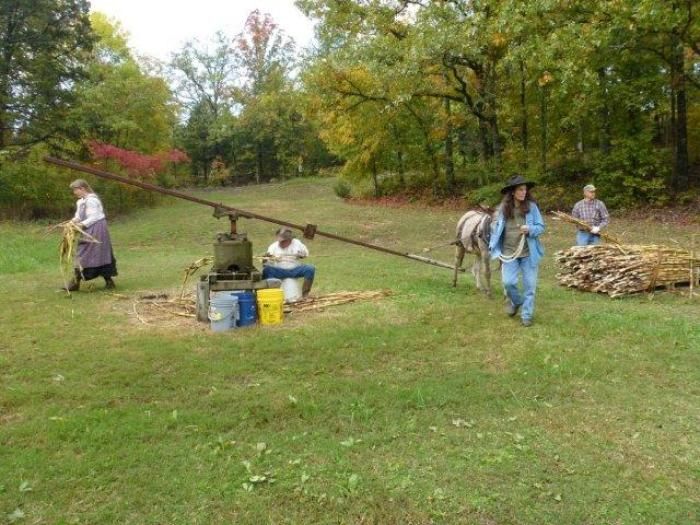 It was a glorious fall day in the Ozarks, blue sky, warm sun, golden leaves. Benson Hardaway and his wife, Connie, from Strawberry, Arkansas drove to the Ozark Folk Center early in the morning. They brought a truckload of sorghum canes from their farm, Curia Lake, to press in the old sorghum mill. The mill had not been used in years, however it had been checked out and cleaned up and it worked. It was a perfect day to be outdoors for a fun event.
When my friend and donkey owner, Tina Marie Wilcox, arrived with her donkey, Whiskey, in the trailer and got ready to put on his harness, folks were already arriving. Jeanette Larson, craft director at the OFC, shepherdess, weaver and all-around amazing woman was awaiting us. As Benson and some of his friends began to prepare for the fire, which would burn under the sorghum tray, we set up for the day. Missy Epperson, came with her vehicle full of Dutch ovens, charcoal, charcoal starters, and biscuit makins. She and her husband Josh have been making biscuits using cast iron and cooking over hot coals for years–and they have got it down.
So, this merry, yet hardworking crew, set about getting the donkey harnessed to the mill, piling the sorghum nearby, making biscuit dough, and lighting fires. Folks started gathering to watch the process and stayed to enjoy the demonstration… most all of them waited around for a hot biscuit. Missy made it look easy makin and bakin biscuits out in the middle of a field. Connie set out jars of sorghum and spoons for tasting and we had visitors help shake jars of cream to make butter. Benson carried cane over to his friend, DeWayne Tucker, who fed the cane through the mill most of the day long. 
This went on all day long and it got hot and sweaty there for awhile. The crowds were entertained by the donkey, who got a taste of the sorghum cane and then he wanted to stop everytime he came around the side where the pressed cane was being extruded from the mill. Once pressed, the cane is not as stiff–it is more pliable–and drippy with sweet juice. It is called pumace (DeWayne told me that they refer to it as "pumee") and is generally fed to livestock. I moved a lot of this pumace away from the press into a pile and let me tell you–it was heavy–and very sticky. No wonder the donkey wanted it; he was like a kid in a candy shop! We switched out donkeys about midday and Tango (Whiskey's brother) came to have a turn. He had a taste for that sweet sticky pumee too. I must admit, I ate my fare share of sorghum on biscuits.
Benson and Connie got the fire burning under the sorghum tray in the shed once we got a few bucketfulls of pressed juice. They have a system to get the water flowing and blocking it where needed with rolled up towels. The water goes through the trays first and it has to get boiling and it sure gets steamy. Connie and Benson took turns skimming the foam from the boiling syrup and explaining to folks about the process. It took all day, however, I got to see the finished syrup pouring out of the tray into a bucket. When I asked Benson how many pounds of sorghum we used his reply was, "I suspect we processed around 400 pounds of cane. Generally about half the weight of the cane is juice. It takes about 8 gallons of juice to make 1 gallon of sorghum syrup." Golly, what a lot of work to get one gallon of sweet syrup!
All in all, it was a great day–educational, fun and lip-smacking good–and we had lots of visitors at the park who stayed and visited and even helped out with the process. Best of all, I came away with a case of 100% pure sorghum syrup, which will be great for holiday baking, not to mention tasty gifts. I love it most on hot biscuits and cornbread, however it is even good on peanut butter toast and oatmeal. I put it in my baked beans, Indian pudding and gingerbread and my friend Marion made an amazing shrub with apple cider vinegar, hot peppers and sorghum. I am going to work on a pumpkin dessert using sorghum for Thanksgiving and I'll share the recipe once created. If you want to order Curia Lake Sorghum, contact [email protected] or the General Store at the Ozark Folk Center sells it and will be open through Thanksgiving. Benson uses his own 100% sorghum syrup to sweeten his coffee instead of sugar.