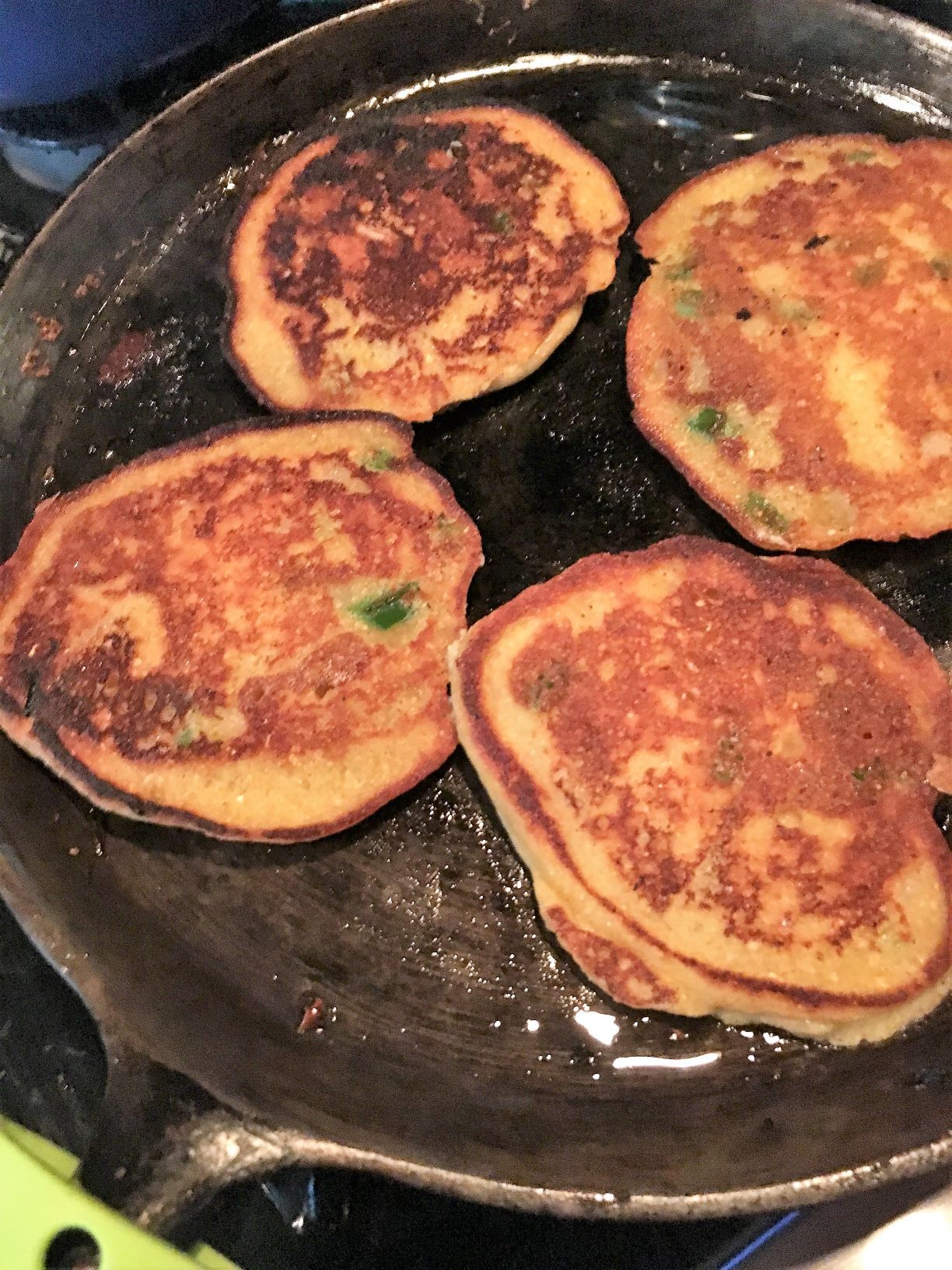 Many folks have asked me to share this recipe, which Tina Marie Wilcox and I prepared at the Herb Harvest Fall Festival. They are great hot off the griddle. Quite honestly, I like them better than cornbread–they are fun to eat–and they travel well and are less crumbly than cornbread. You can make them large or small depending upon what you are doing with them. They make a killer grilled cheese sandwich with a slice of onion and/or tomato!
 
Hoecakes
A hoecake is basically fried cornbread instead of baked. They were so named, because workers out in the field used to cook them over an open fire on the metal blade of a hoe.
I make the batter and drop it on a hot griddle just like I would cook a pancake. You can make them small for appetizers; I generally like them about 3-inches round. They are moist and tasty and actually, I like to eat them just plain. Use them like you would a biscuit with sweet or savory toppings.
They are good with Jezebel Sauce which is sweet and hot, or sorghum butter (1 part sorghum syrup mixed into 2 parts softened unsalted butter), or even salsa. This recipe is adapted from the hoecake recipe in A Real Southern Cook in her Savannah Kitchen by Dora Charles.
Serves 3 or 4
1/2 cup cornmeal yellow or white cornmeal
1/4 cup unbleached flour
1/4 cup whole-wheat flour
2 1/2 teaspoons baking powder
1/4 teaspoon baking soda
1 scant teaspoon sea salt
1/2 cup buttermilk
1 large or extra-large egg
1/4 cup water
1 tablespoon sorghum molasses
1 1/2 tablespoons fat (olive oil, melted butter or pan drippings)
1/4 cup chopped green onions or onion
1 minced jalapeno or serrano chile pepper, optional
Oil for frying
 
In a bowl mix the dry ingredients: cornmeal, flours, baking powder, baking soda and salt and toss to combine.
Stir the buttermilk into the dry ingredients until just incorporated, then add the egg and stir it in; add the water, sorghum and olive oil and stir to combine along with the onion and chile, if using it. The batter should be like a thick soup; if need be, add another splash of water or buttermilk.
Heat a griddle or skillet over medium heat and add a little oil. Drop the batter onto the hot griddle by the spoonful-I use a 1/4-or 1/3 cup measuring cup for a good-sized cake, though some prefer them smaller. Fry the cakes until they have bubbles around the edges and seem set in the middle. Flip them with a spatula and fry the other side until golden brown.
If they seem greasy, you can set them on a paper towel. (If you are making a lot of them, you can keep them in a medium hot oven, while you cook the rest.) Put them on a warmed serving dish and pass them. Most folks can eat at least two, and hearty appetites might eat three or even four. Serve warm-if there are any leftover-I like them for breakfast the next day (they are even good with peanut butter!).