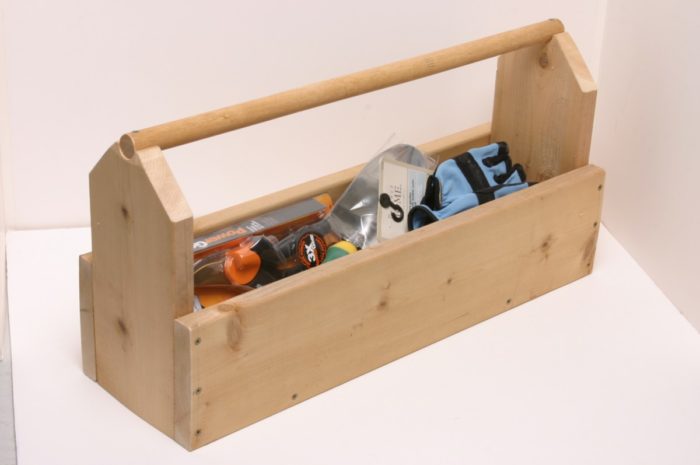 Now here's a project that's about my speed: A wooden garden tote you can make with your kids
I don't have kids, but my spouse says I have the physical strength of a child. And I'm more than a little deficient when it comes to completing projects that require coordination, precision, and physical strength. And that needs to change soon, because there's a lot I need to get done.
To help put together our garden tote, we asked for help from our sister magazine, Fine Woodworking. We'll let them take it away from here.
---
I designed this simple project to introduce my daughter to woodworking, but it is a great one for beginners young and old. You can make this handy garden tote from a single cedar deck board, a dowel, and a few screws from your local home center, and the only tools you need are a drill and any kind of power or hand saw. Fill it with new gloves and tools, and you'll make a gardener very happy. The nice thing about decking boards is that the corners are already rounded. Ask for 1×6 deck boards, which should actually measure 5-1/2 in. wide and about 3/4 in. thick. Since this blog was originally published on FineWoodworking.com, we updated the design a bit, and you'll find a plan here for the new-and-improved tote. The main difference is that there are the few simple curves we added. Also, the holes for the handle go only partway through, hiding its ends, though you could drill all the way through and it would still look great. We did some of the work on machines like a bandsaw and drill press, but a hand-held drill and a jigsaw would work just as well. A handsaw can also handle the straight cuts with a coping saw making the curved ones. The sides and bottom are attached with rust-resistant decking screws. Make it easier on yourself by drilling clearance holes in the top board and pilot holes in the board below. Click the box at the top of this page to download the plan. —Asa Christiana, FineWoodworking.com
How to Make a Garden Tote
---
Thanks to Asa and her daughter Lucy for their help with this project!
Here's a list of wood-related items I want to acquire in the near future:
A pergola
A new shed
Something pretty for storing garbage cans
A potting bench
A deck
A treehouse
I'm sure there's more
I am beginning to realize that in order to have my dream home/landscape, I'm either going to need to win the lottery or become a better DIYer.
What are you making for your garden this year?