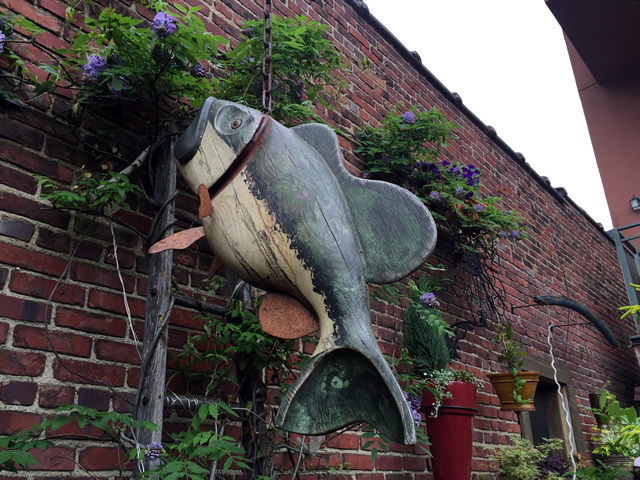 Janet Cleveland from the "concrete jungle' of NYC gives us a peek into her stunning rooftop garden.
"The challenges of above ground level container gardening, might discourage even the most seasoned gardener from attempting anything more permanent than a 'cafe umbrella' and a few geraniums in pots on the deck. That's because, life on the roof is hard. The climate tends to be 2 to 3 times for powerful than whatever the atmospheric conditions are at street level, with the heat index coming seriously into play. If the concrete jungle of NYC is clocking in on the evening news at 95 degrees, it's 103 on the rooftop!
However, along with the noisy parade of never-ending harsh conditions; crazy wind, extreme heat, extreme cold and simply gobs of pollution, come some rather rare rewards. My favorite of them being the phenomena of the 'microclimate'.
In spring, my city garden is fully 3 weeks ahead of the 'in-earth' gardens. There is also the lack of pernicious weeds to contend with (although there's a neighborhood ash tree that bombards me with propeller seeds yearly) and the complete absence of chewing critters making a salad bar out of your plants (although, there has been a duo of raccoon's adventuring about on a couple of occasions?!)
What seems at first to be an attempt at making a lush botanical arena in a median strip on the highway, quickly begins to exhibit more nuance, as the plants grow and light changes. Of course the key to every container and every plant therein, is drainage. I didn't fully understand what that word meant, until I climbed up to the roof with my first bag of dirt!
Anyway, if you and your plants can survive the uphill battle and the bazillion flights of stairs (no elevator!) ahead of you, your elevated' eco-system' can do better than just 'work out', it can thrive. Take heart, enjoy the pictures and Good Luck Everybody!"
Have a garden you'd like to share? Email 5-10 photos and a brief story about your garden to [email protected]. Please include where you are located!
Have a mobile phone? Tag your photos on Instagram or Twitter with #FineGardening!
You don't have to be a professional garden photographer – check out our garden photography tips!
Do you receive the GPOD by email yet? Sign up here.
Follow us: @finegardening on Twitter | FineGardeningMagazine on Facebook | @finegardening on Instagram