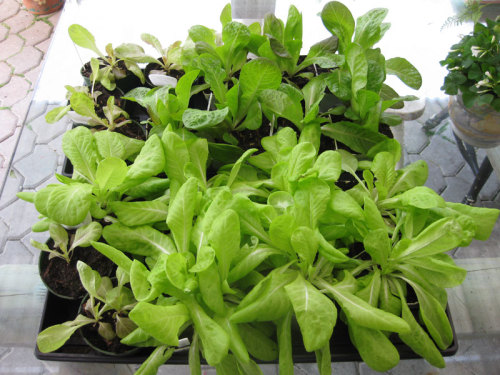 Spring time is lettuce time, and I think it's about time to get mine into the garden. I had to pull these dudes out from under the indoor lights and start acclimating them to the outdoors last week. Growing a variety of lettuces not only adds texture, color, and interest to your garden, but it's the best way to get all kinds of great flavor on your salad plate. I have a light green, rather floppy-looking lettuce called 'May Queen' and although their buttery leaves look as if they're wilting, it's just their growing habit.
I also have an upright variety called 'Petit Rouge' (a romaine type) which are burgundy-tinged. There's one variety that's taking it's sweet time growing called 'Mervielle des Quatre' ('Marvel of Four Seasons') which grow in a kind of flat pattern. They're all doing great this spring, but those 4″ containers are only going to go so far – they need to get into the garden bed. We've had gorgeous weather for days around here, but today it's perfectly drizzly.
What's considered a beautiful, sunny, and warm day to us can be hard on newly transplanted, cool-weather lovers like lettuce. So today's weather is a good one for getting these lettuces into the ground. When it comes to lettuce, I start my first crop as early as I can indoors and slowly move them outside; it makes feel like I have a jump on the season. After a couple of weeks, I'll plant more lettuce seed directly into the beds and forego starting them indoors from here on out. By succession planting, I'll have steady lettuce production for a while.
At some point, we get some seriously hot weather and I'll have some heat-resistant lettuces going. But even with those varieties, they aren't at their best here in the SF Bay Area. I'm sure they'd do wonderfully all year closer to bay, but I'm about 45 minutes inland and the microclimate is quite different from those zones along the coast.
As the cool weather approaches again in the fall, I'll direct seed my lettuce once again so that I'll be harvesting for the winter. This time, I'll plant them directly into my cold frame. I can usually grow lettuce all winter long (or very close to it) by using the cold frame. This year, I've planted lettuces in hanging baskets outside the front door – that should keep things interesting.