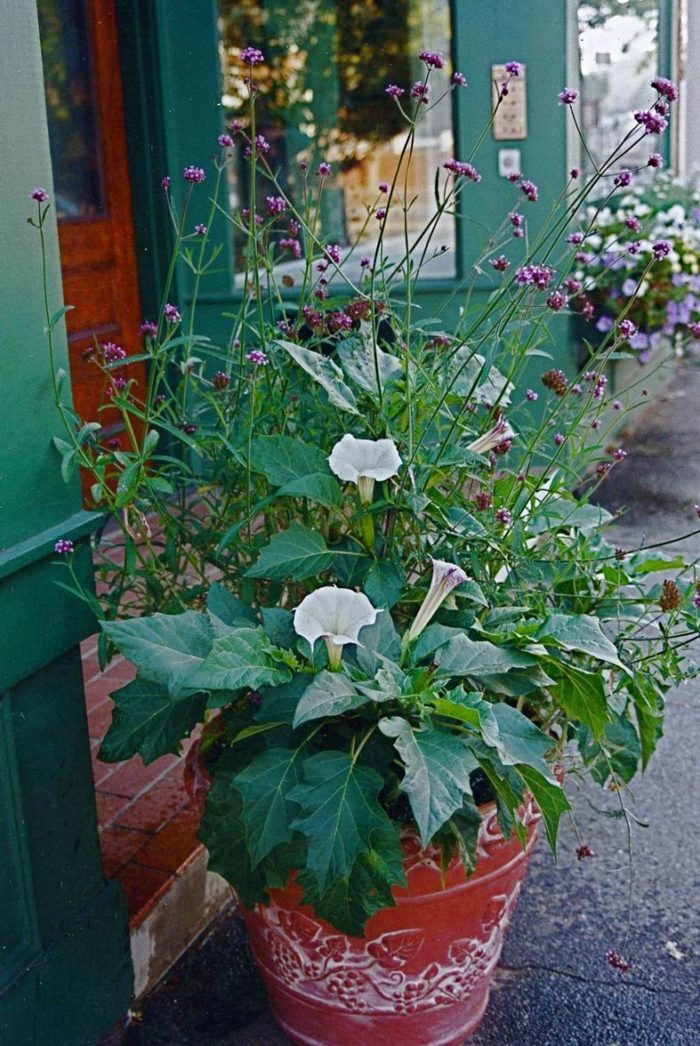 Lest you think Lynn Felici-Gallant only designs window boxes (see yesterday's post), check out this simple, gorgeous container she designed with just 'Belle Blanche' datura (Datura metel 'Belle Blanche', Zone 11) and tall verbena (Verbena bonariensis, Zones 7-11). Both plants are easy to grow and super-tough, perfect for a busy sidewalk. And the purple blooms of the tall verbena echo the hints of purple in the white datura blooms.
**Click directly on the photo to enlarge it in a pop-up window.**
Welcome to the Fine Gardening GARDEN PHOTO OF THE DAY blog! Every weekday we post a new photo of a great garden, a spectacular plant, a stunning plant combination, or any number of other subjects. Think of it as your morning jolt of green.
Sign up to get new posts delivered to your inbox each morning so you'll always remember to take a look, or subscribe to our RSS feed. We look forward to sharing our garden travels with you.
R E A D E R   P H O T O S: We love featuring your photos, too. If you think you have a photo that we should share on the Garden Photo of the day, email us. Send hi-res images if possible. We'll only respond if we plan to use your photo.