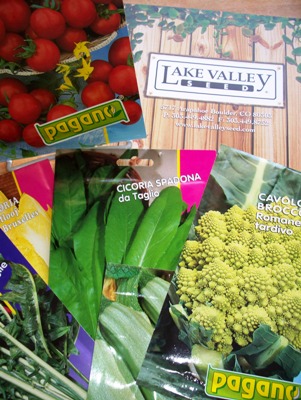 I was delighted to learn there's another seed company located just a few miles away from me in Boulder, Colo. (BBB Seed Company is also nearby.) Lake Valley Seed got in touch to introduce its products to me and I'm so glad they did. Not only did I learn about the 600 varieties of herbs, flowers, and vegetable seeds the company carries, but I found out about its line of Pagano seeds.
Lake Valley is the exclusive importer of more than 70 regional Mediterranean varieties of vegetable and herb seeds from Pagano Seed, one of the oldest seed companies in Italy.
Constantino Pagano, an accountant and lieutenant in the Italian army, started the company in 1925 in Scafati, Italy. After his death in 1930, Almerico Pagano, an agronomist, and his brothers continued the work Constantino began. The company continues to produce and market a wide range of seed for national and international markets.
The Pagano line includes vegetables like Ciliegino Pomodoro tomatoes, Broccoli Romanesco S. Giuseppe, Cicoria Spadona Da Taglio (cutting chicory), Melanzana (eggplant) Violet Napoli, Zucchino Bianco di Trieste (white squash), and many other vegetables that are an important part of a Mediterranean diet.
A nice selection of Italian herbs is also offered, including Dente di Leone (dandelion greens).
Lake Valley's seed lines are available on its website and at independent nurseries, garden centers, and hardware stores.
The attractive oversized seed packets (5" x 8") distinguish themselves from traditional American seed packets in several ways. The packets feature full-color photographs of the vegetable or herb printed on glossy paper and each packet has detailed planting instructions in three languages—Italian, English and Spanish.
While holding one of these packets, it was easy for me to imagine standing in an Italian garden with the Mediterranean sun warming my back.
I can't wait to start planting.