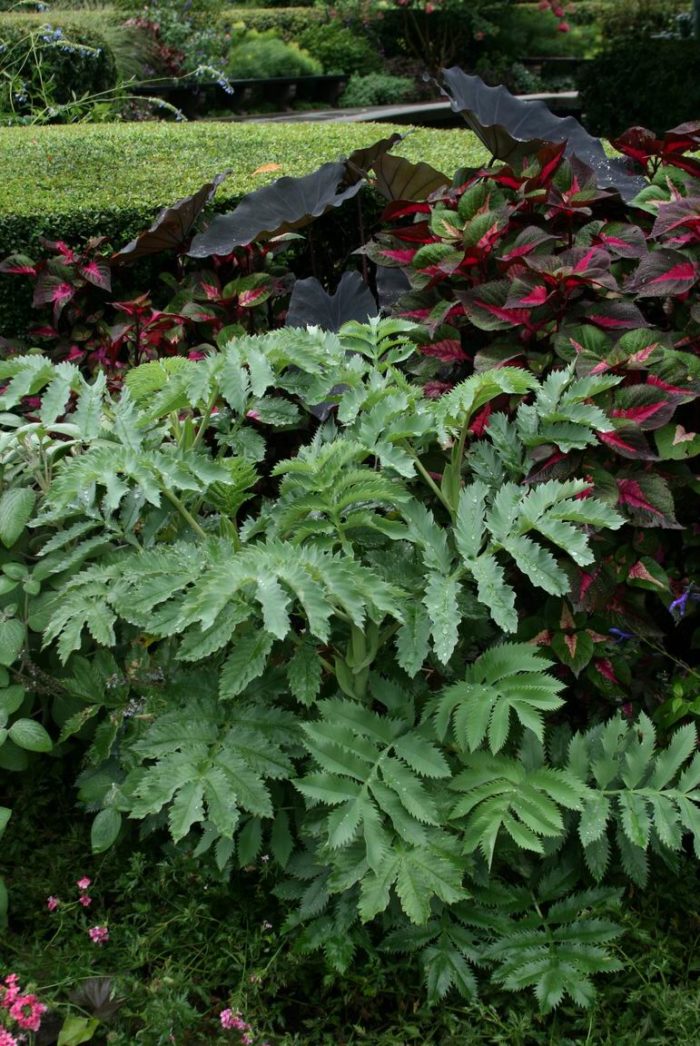 It was a year ago today that we started up the Garden Photo of the Day blog. Since then we've posted over 450 inspiring garden photos, many of which came from you, our GPOD readers! I took a few minutes yesterday to scan through the entire year of photos, and it was lots of fun–I highly recommend it. Keep those great photos coming. I'd like to especially thank Ruth Dobsevage, FG's web producer, who steps in to save the day whenever I'm too overwhelmed working on the actual paper magazine to post for a few days – thanks, Ruth, you're the BEST!
Today we're kicking off the second year of the GPOD with a plant combination at one of my favorite gardens, the Central Park Conservatory Garden in New York City. If you've never been, you should. The gardeners there are masters at combining plants, and they use some pretty amazing plants. This combo includes honey bush (Melianthus major, USDA Hardiness Zones 8-11), 'Magilla' perilla (Perilla 'Magilla', annual), and a dark elephant ear (Colocasia esculenta cv., Zones 8-11). Dreamy!
Welcome to the Fine Gardening GARDEN PHOTO OF THE DAY blog! Every weekday we post a new photo of a great garden, a spectacular plant, a stunning plant combination, or any number of other subjects. Think of it as your morning jolt of green.
Sign up to get new posts delivered to your inbox each morning so you'll always remember to take a look, or subscribe to our RSS feed. We look forward to sharing our garden travels with you.
READER PHOTOS: We love featuring your photos, too. If you think you have a photo that we should share on the Garden Photo of the day, email us. Send hi-res images if possible. We'll only respond if we plan to use your photo.