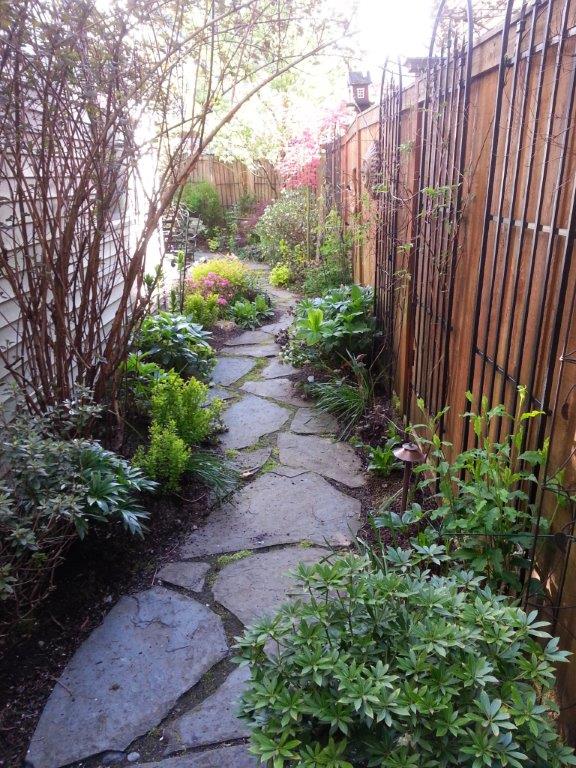 Welcome to Day 2 in Jen Talilah's Washington garden! Jen answered my plea for more info. She says, "Our garden has been an almost 10 year labor of love. It started off as nothing but a steep rocky patch around the house that the builder left behind. We filled in and leveled the property by ourselves, which was a major undertaking and left us with some seriously aching bodies! We hired a landscaper to build out the larger hardscaping, such as the fence, rock walls, flagstone walkway, irrigation, and landscape lighting.
The backyard is only about 750 square feet and the front yard 300 square feet, but it can really hold a lot of plants! I am a plantaholic (is that a word?) and can't resist new plants at a nursery (so I've tried to wean myself from going to them, but still am not fully cured). Somehow, I always seem to find a spot for a new plant! So lots of plants have found their home here, some have gone (mainly due to our PNW wet weather), and these pictures are of how it looked as of last summer.
I've actually made a few changes to the yard since fall 2014, adding and changing pots, plants, and garden art. I also am getting ready to start a project to level out the flagstone walkway that runs from the front to the back yard through to the back driveway. I can send new pictures later in the year after it has been completed, hopefully by May this year." Oh please do, Jen! Your garden is so wonderful–I can't wait to see more!
______________________________________________
Want to get the (G)arden (P)hoto (o)f the (D)ay delivered to your inbox every morning? CLICK HERE!
Want us to feature YOUR garden, or a garden you've recently visited, in the GPOD?

CLICK HERE!


Want to see every post ever published?

CLICK HERE!


Want to search the GPOD by STATE? CLICK HERE!
And last but not least, Check out the GPOD Pinterest page, where you can browse all the post in categories…fun! CLICK HERE