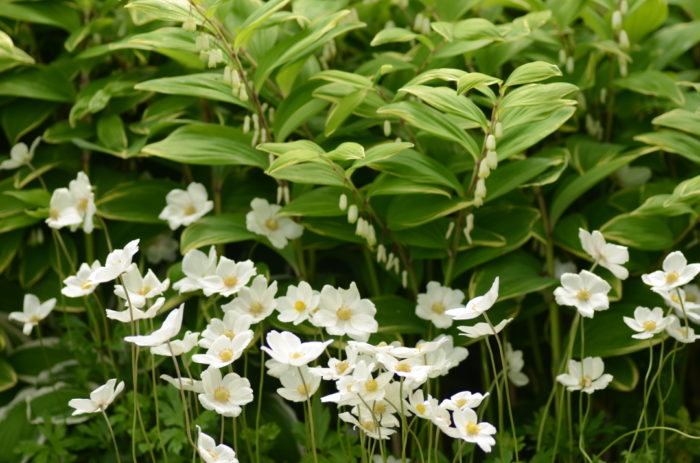 Kathy Schreurs of Sheldon, Iowa, was inspired by a GPOD post to send in pictures of her own garden (I hope you'll do the same!). She wrote:
I just now enjoyed reading the "Sisters' Gardens" post on the Garden Photo of the Day. I also have two sisters who garden, and we too experience dissimilar settings. My Washington State sister lives in the best of worlds (from an Iowa perspective) when it comes to gardening, and my Iowa sister gardens in extreme and full sun while I garden in various ranges of shade. We share a common failing: buying new plants that beckon in the garden centers and then cruising our borders to look for that spot where, just possibly, we can squeeze in one more plant.
My husband and I bought our property twenty years ago. At that time, our now-125-year-old Folk Victorian, sitting on a lot and a half, claimed only a vintage mock orange shrub, a tiny patch of failing iris, a foundation border of bridal wreath spirea, and about 20 old but lofty trees. (Unfortunately, some have succumbed to age, wind, and ice storms.) My goal, when looking out of the beautiful old windows of our house, was to see flowers and blooming shrubs from any vantage point in the house. I'm getting closer.
Typically on this date in northwestern Iowa, I would already have seen and enjoyed hellebores, crocus, lungworts, and early tulips. This year, nada. As I write this, we are expecting a record-setting blizzard. It has been a long winter. But here are some pictures of previous springs in my garden.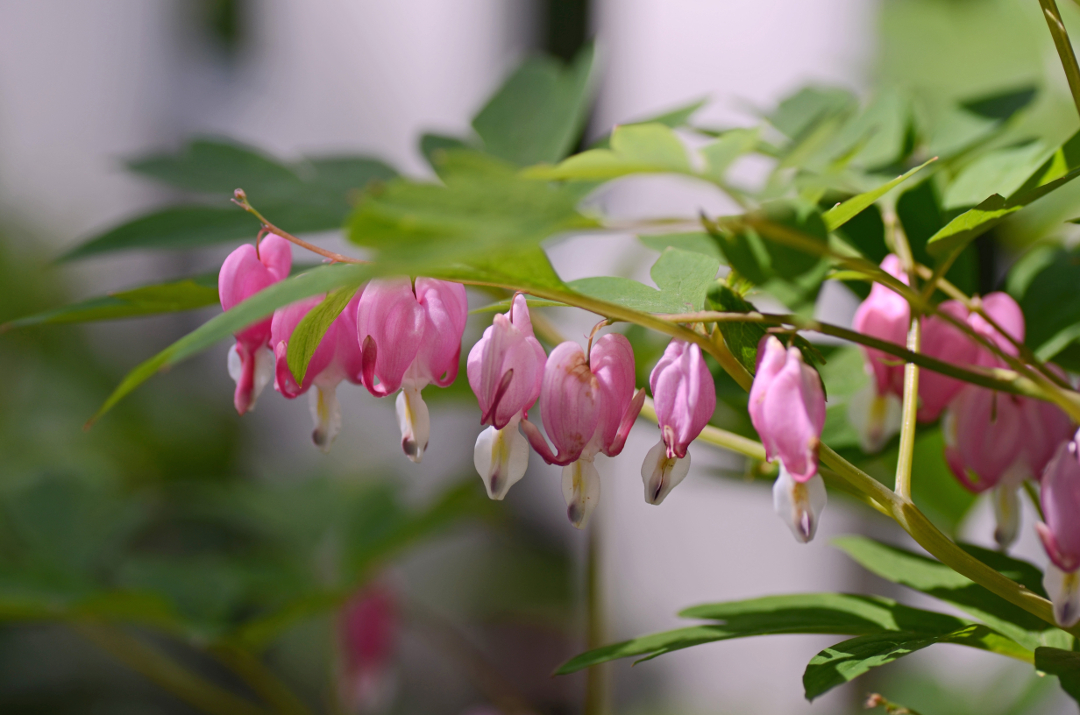 My husband's hobby is photography, and since plants are more likely to stand still than our 14 grandchildren, he often captures their beauty for me. One challenge is helping him to understand that although I love the gorgeous close-ups, like this bleeding heart, (Dicentra spectabilis, Zones 3–9), I really appreciate seeing plants in a slightly larger setting.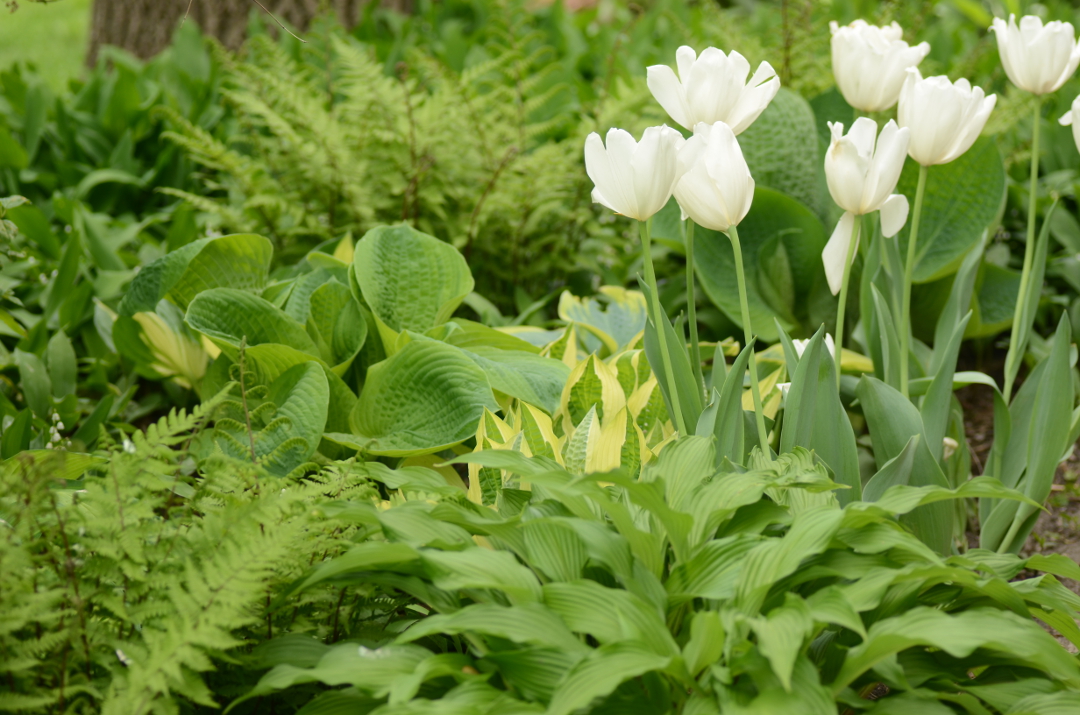 I love pairing the fresh greens of spring with white, so that combination shows up in several places in my borders in April-May. I reserve one space for white tulips in the spring and white browallia (Browallia americana, annual) during the summer. I like calm, restful spots, and the combination provides peace in spite of a rather chaotic mix of hostas.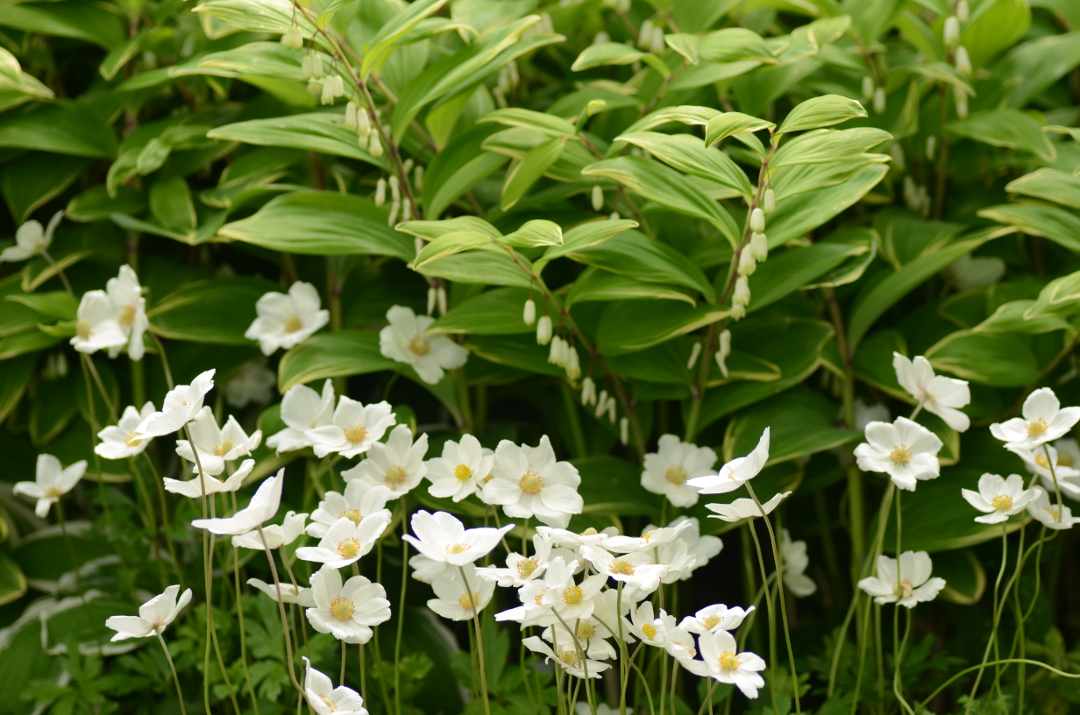 I've spread Solomon's seal (Polygonatum odoratum 'Variegatum', Zones 3–8) to several dry, shady spots—always marveling at how a few roots have spread to masses—and on these pictures they are paired with snowdrop anemone (Anemone sylvestris, Zones 3–9).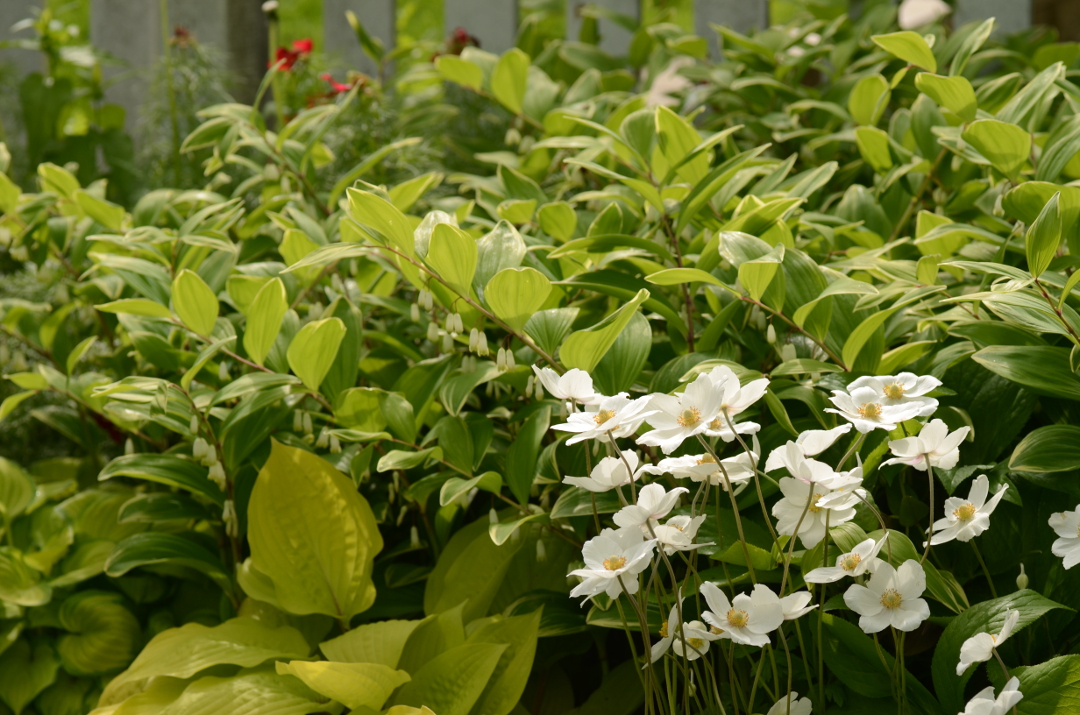 The bright hosta in the bottom left is 'Fire Island', but in the absence of a huge tree branch, the victim of an ice storm, makes me think I should relocate it. It tends to burn now in the late summer.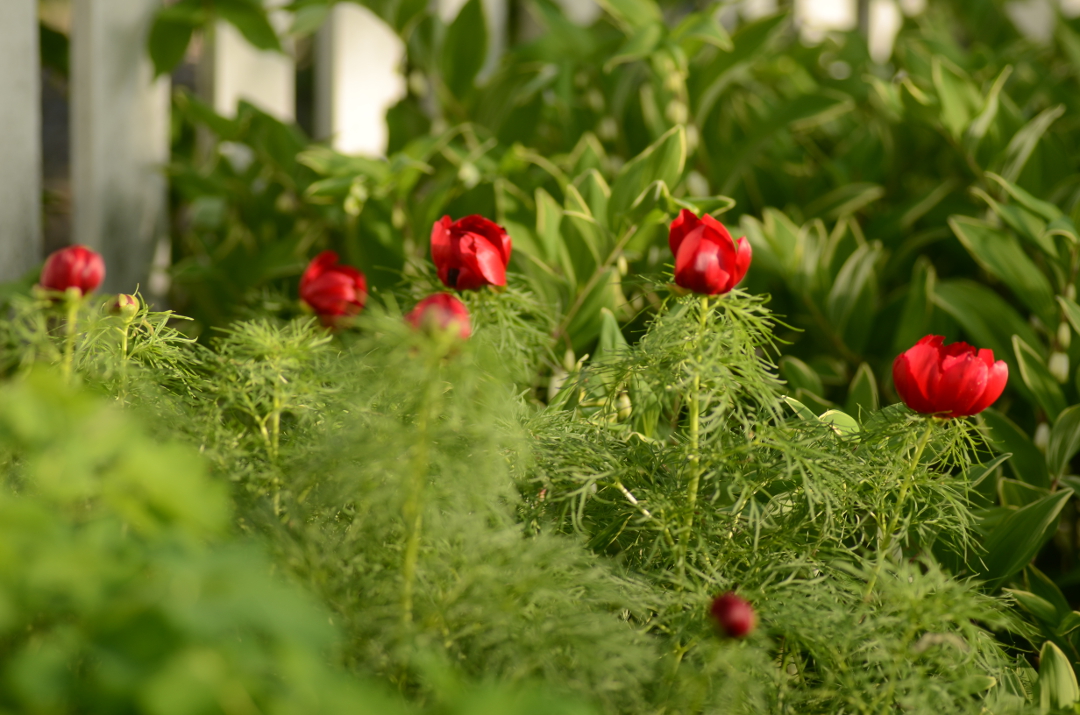 The fern peony (Paeonia tenuifolia, Zones 3–8) that keeps them company was transplanted from my mother's garden.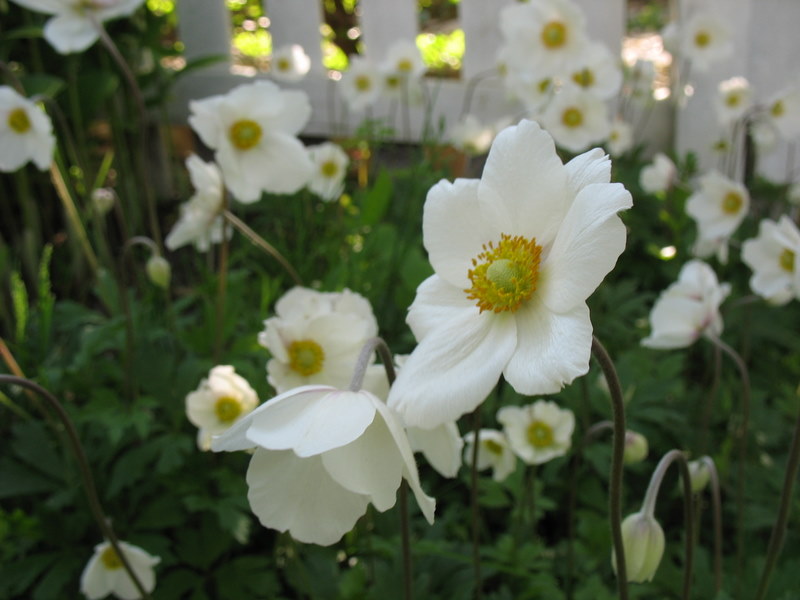 I sent you a couple of photos of Solomon's seal and snowdrop anemone. I'm including another one of the anemone, just because they make me happy.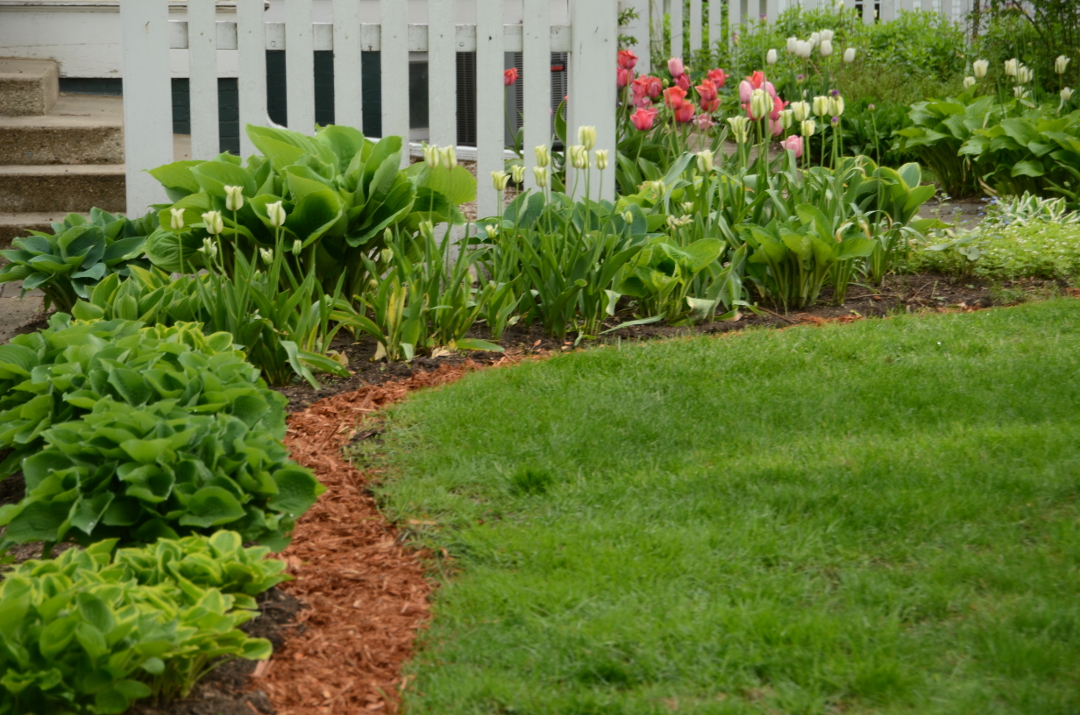 This narrow border curves around a sidewalk alongside our house. I love green-white tulips, and I'm happy this variety comes back year after year. The showier, more colorful varieties are usually a whim when I'm perusing bulb catalogs in the fall. (Learn more about tulips.) Although our property has a large amount of picket fencing, the section in this picture is attached to nothing. My husband installed what was intended to be a temporary, stand-alone section one year at Christmas, and it's become permanent.
Come back tomorrow for more of this beautiful garden!
Have a garden you'd like to share?
Have photos to share? We'd love to see your garden, a particular collection of plants you love, or a wonderful garden you had the chance to visit!
To submit, send 5-10 photos to [email protected] along with some information about the plants in the pictures and where you took the photos. We'd love to hear where you are located, how long you've been gardening, successes you are proud of, failures you learned from, hopes for the future, favorite plants, or funny stories from your garden.
If you want to send photos in separate emails to the GPOD email box that is just fine.
Have a mobile phone? Tag your photos on Facebook, Instagram or Twitter with #FineGardening!
You don't have to be a professional garden photographer – check out our garden photography tips!
Do you receive the GPOD by email yet? Sign up here.