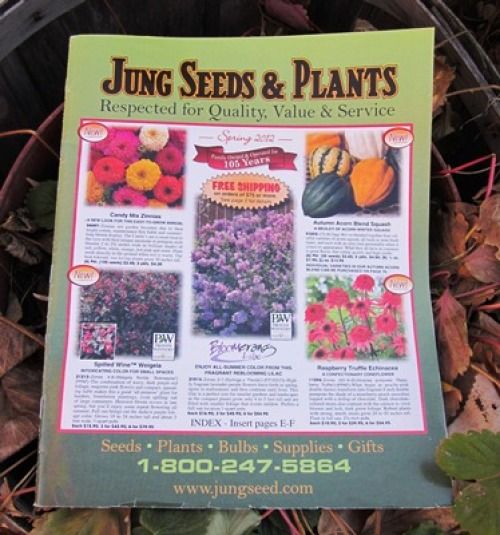 I can't remember having such a good time reading through a seed catalog as I did while perusing the many pages of Jung Seeds & Plants. I'd love to meet the writers who wrote the descriptions for the Super Freak Hybrid pumpkins and the Lunch Lady gourds.
Every page is loaded with witty narratives about the company's seeds, plants, bulbs and supplies. It makes sense that Jung Seeds & Plants has honed its marketing methods to a fine art—the company started in 1907.
Family owned and operated for over 100 years, Jung Seeds & Plants searches far and wide for the varieties that gardeners like to grow. There are plenty of old favorites (look for the "Heritage" symbol), but I appreciate the fact there are so many different kinds of vegetables and herbs, including more than 250 new products for this year alone.
Some gardeners will surely go for the novelty items like the ornamental corn called Japanese Striped Maize. This beautiful plant has leaves striped in green, white, yellow and pink and the kernals are burgundy. Other gardeners will like the healthful novelty offerings like the Sochi Tea plant from Sochi, Russia, and the Goji Berry vining shrub.
Why grow an ordinary watermelon when you can select a Golden Crown hybrid with a rind that turns color when the melon is ready to pick? How about a native American heirloom called the Vine Peach that tastes like a mango?
Jung Seeds & Plants also has a nice selection of unusual pumpkins, like the bi-color Batwing mini pumpkins and One Too Many with its stippled veins of red that look like bloodshot eyes. If you'd like to add more color to your garden try the Pool Ball hybrid mix of round zucchini, the Atomic Red carrots or some brilliant purple heads of Graffiti cauliflower.
But despite the unusual varieties, clever vegetable names and funny descriptions, this company is all business. Among the specialty varieties are traditional fruits, vegetables, herbs, flowers, vines, trees, and shrubs. Pawpaw trees share the catalog's pages with strawberries, raspberries and gooseberries. There are also plenty of peppers, tons of tomatoes and reams of radishes.
A good selection of growing accessories, seed starting supplies, fertilizers, and insect, pest, and disease controls fills almost 10 pages. Gardeners can request a printed catalog or shop the online store.
I enjoyed reading through the entire catalog, but the weird-veggie lover in me gravitated to the photo of the Bohemian horseradish crown that grew into the shape of a horse.