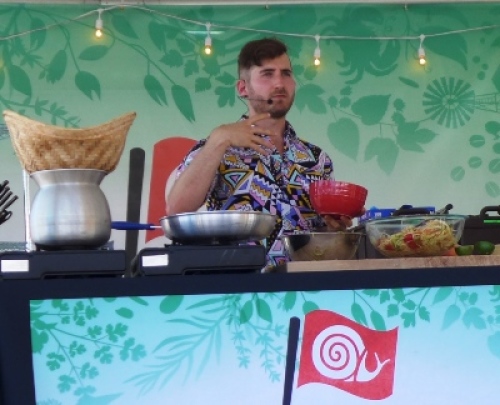 Slow Food Nations, in its second year in Denver, Colo., is a festival of flavor, culture and exploration. One of the highlights of this year's event was watching the cooking demonstrations on the main stage.
Josh Greenfield, of Brothers Green Eats fame, showed off his cooking skills with "The Magic of Cooking Plants" program on Saturday afternoon. His lively presentation showed how easy it is to "veganize" recipes for those who want to cook more meals around a plant-based diet.
His first suggestion is to get creative with vegetables and cuisines that lend themselves to using more vegetables, like Thai food. He also encouraged cooks to use the fresh fruits and vegetables that are local and in season instead of shopping for their exotic counterparts.
To demonstrate, he created a papaya salad that didn't include any papaya or fish sauce-two main ingredients in the salad.
Instead of a green papaya, he used an oversize zucchini from the garden that looks a little like a green papaya when peeled and julienned into long shreds. He mixed the shredded zucchini with shredded carrots and typical Thai flavorings. These flavors cover the important five: sweet, sour, salty, hot and savory.
To get the right balance of flavors, he used maple syrup, garlic, chiles, ripe peaches (in place of tamarind), lime juice, cherry tomatoes, roasted peanuts and mushroom powder (or soy sauce). 
He didn't follow a recipe and encouraged all cooks to just get in the kitchen and experiment. He just looked at the bowl of ingredients to make sure there was an even balance of vegetables.
"Food is inspired by a recipe and make it with seasonal, local food," he says. "Don't be afraid to cook. You won't die."
The second dish he prepared was a Thai ground beef salad, called Laab, only he prepared the recipe without meat. Instead, he veganized it by using baby portabello mushrooms, although any mushrooms would work in the recipe.
He broke up the mushrooms with his hands and sautéed them in oil, then added handfuls of fresh herbs, like basil, cilantro and mint. He mixed in some toasted rice powder and made a dressing with lime juice, maple syrup (or sugar), fresh serrano chiles, dried chile pepper, chopped scallions and finished it with mushroom powder mixed with water instead of fish sauce.
"Be creative and take risks," he said. "Sometimes when people cook they eat it and it's bland. If that happens, go back to the kitchen and add citrus and a little salt."
Greenfield started cooking when he was young because his mom was "a terrible cook." He started experimenting and has found "food is actually magic."
His Brothers Green Eats cooking show on YouTube includes his brother Mike in the more than 500 videos on the site. Together they've inspired over a million subscribers to give cooking a try.