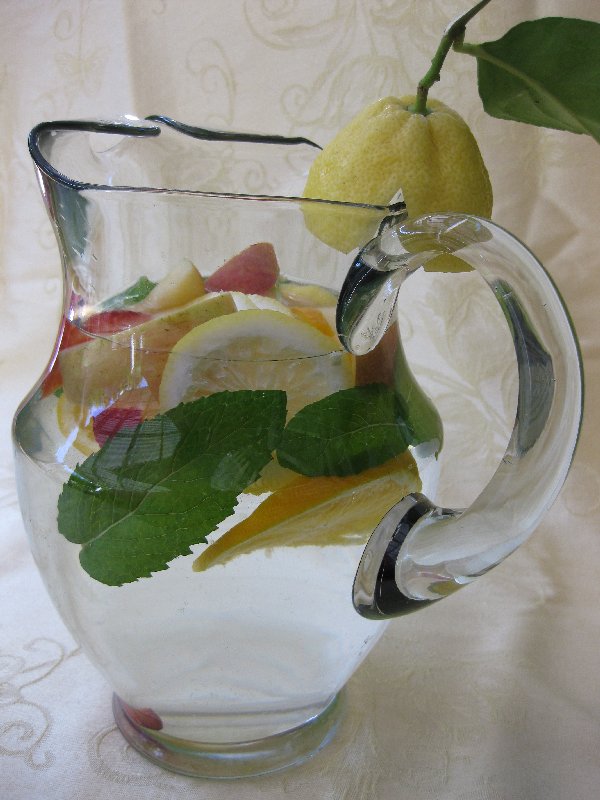 Ingredients:
1 glass or plastic pitcher – the simpler the better.
Any number of fresh, organic fruits, berries or citrus:
1 apple
1 lemon
1 orange
1 pear
4 large strawberries
Handful of raspberries
Handful of mint leaves
Fresh cold water
So, I'm getting a pedicure and I ask the woman (who is doing a bang-up job making my toes look like little watermelons) if they have a soda.
She points to a small table next to me and says, "I have water…do you want some water?"
I try to hide my sigh, because I don't do water. Taking a glance at it anyway, I see a big pitcher on the table with all kinds of colorful stuff inside that's floating on top. Yet, this wasn't your average pitcher of water – it was water wearing a prom dress. I was riveted. I tend to be drawn to decorative items like crows are to shiny things.
"Um…what's in it?"
The toe-lady blinks at me and says, "Everything that's good for you."
Huh. That explains why I didn't recognize it. Anyway, she poured me a glass; it was refreshing with a hint of fruit and the rest is history. While I've never been a water fan, I'm even trying to lose weight now that I found something lovelier to look at in the fridge than the boring beverage that water usually is. Ahhh, the newly converted.
I do realize that this isn't a difficult nor particularly clever recipe and I certainly didn't make it up. But once I discovered it, I became quite attached. There are so many reasons that this particular refreshing drink is perfect for your get-togethers.
1. Summer is here and unlike sodas, water is a true thrirst-quencher.
2. Some people attending your party may be watching their calories, and serving water is very appreciated.
3. The fresh citrus or berries make it water with a healthy twist!
4. It's inexpensive.
5. It's absolutely gorgeous sitting on decorated tables, seriously. Just very elegant with the naturally colorful fruits and simplicity.
Personally, my favorite way to arrange the pitchers is to get sort of a theme going on. I might make one fruit water with all the berries and mint leaves, while another with the apples, pears, oranges, lemons, and mint leaves.
Make sure your fruit is well-rinsed; if you're using mint leaves, rinse those, too. Then you just cut large slices or thin wedges of each fruit- depending on how you looks at it and place them in the pitcher of cold water. Leave the mint leaves whole.
You could even freeze other herbs or little flowers like violets in ice cubes and float those darling things in there. The possibilites are endless. Surprisingly, the water's flavor is very light with just a hint of refreshing fruit.