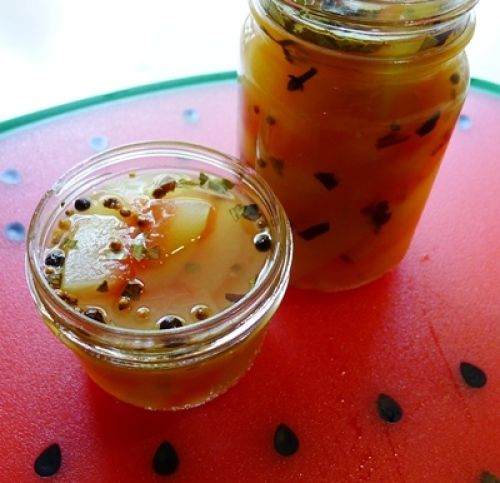 If you look in my fridge anytime during the summer, you'll see a watermelon. There may be a whole watermelon chilling before cutting or chunks of melon waiting to be enjoyed one juicy serving at a time. I've always been crazy about this summer-time fruit.
Watermelon makes me crazy in another way, too. As much as I love eating watermelon, I hate having all those rinds afterwards. If you eat as much watermelon as I do, those rinds really stack up.
That's why I like to take the rinds and turn them into something else I can enjoy: watermelon rind pickles. These sweet pickles are an old-fashioned favorite of gardeners who needed a delicious way to recycle the rinds. 
I'm a big fan of small-batch preserving so it's easy to make a few jars at a time. If you want to make more jars, simply plan on using more rind. Here are the simple steps for making a batch of watermelon rind pickles:
Ingredients
Watermelon rind (1 pound of watermelon will yield enough rind for 3 pints of pickles)
1 cup flavorful vinegar (like cider or white wine vinegar)
3/4 to 1 cup sugar (depending on the level of sweetness you prefer)
1 cup water
1 tablespoon salt
1 1/2 tablespoons pickling spice
Instructions
Cut the red watermelon from the rind and serve or save to eat later. Be sure to leave some pink watermelon with the rind to add color to the pickles.
Slice the rind into long pieces about 1/2-inch wide.
Use a vegetable peeler or knife to remove the dark green skin.
Cut the rind into pickle-size pieces. 
Fill a saucepan with water and bring to a boil.
Add 1 tablespoon of salt to the water; carefully add the pieces of watermelon rind.
Bring to a boil again and let boil 4-6 minutes or until the rind begins to soften and turn a lighter color.
Drain and allow the pieces to cool and then pack them into jars.
Combine the remaining ingredients in the saucepan: vinegar, sugar, water and pickling spice. Bring to a boil to allow the sugar to dissolve completely.
Pour the hot pickling liquid over the watermelon rind pieces; leave about 1 inch at the top.
When cool, place lids on the jars and refrigerate the pickles. For the best texture and flavor wait 24 hours before eating. Keep jars refrigerated for up to 3 weeks. 
Serve pickles as a condiment with sandwiches, hot dogs, cheese plates or any of your favorite summer meals.