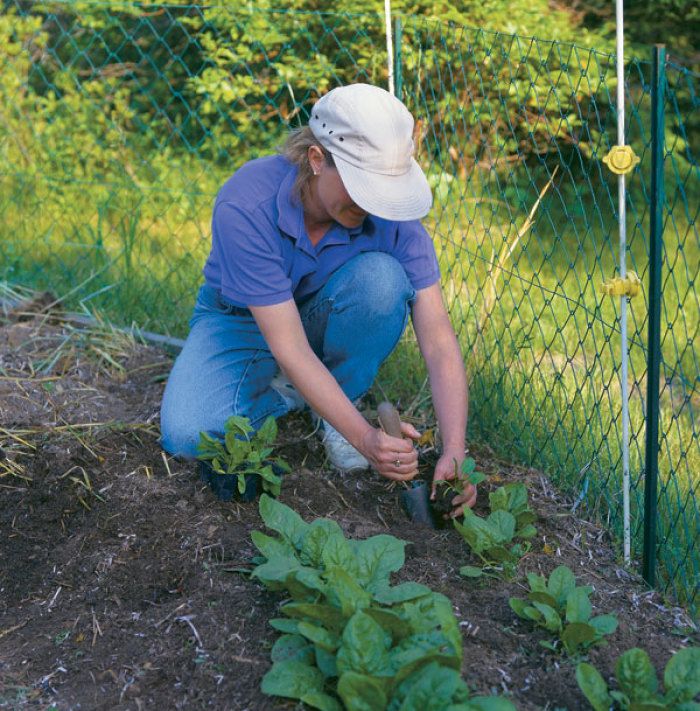 by Lucy Apthorp Leske
April 1997
from issue #8
There was a time when I had to pick and cook my entire spinach crop in two weeks. Depending on how much I'd planted, that could mean eating it daily. The first batch was always a much anticipated, mouth-watering treat, a far cry from the store-bought spinach we'd been eating all winter. By the end of the short harvest season in June, however, I felt like a used-car salesman when I hawked spinach for dinner.
Now things are different. I can harvest spring spinach over a considerably longer period—from late April to late June—and in quantities we can easily consume in a meal. I also get a fall crop. This isn't a case of new and improved spinach varieties at work. Credit goes to a combination of timed plant­ings matched with the right varieties or cultivars. In short, I've learned to finesse the spinach harvest.

Spinach keeps a tight schedule. Since I started growing vegetables 15 years ago, spinach has been the core of my early spring garden. Spinach needs temperatures of 45° to 70°F to germinate and produce thick bunches of sweet, juicy leaves. Any colder, and the spinach won't grow; any warmer, and it bolts.
At first, I staggered my spring sowings to extend the June harvest. I sowed seed about two weeks apart from mid-April until mid-May. In my Nantucket garden, however, the proper temperature range for spinach lasts only about two months.
No matter how early I started or how far apart the sowings, the harvest still bunched up in June. Sometimes the later sowings would sprint from pint-size to bolting without ever producing harvestable leaves.
It took me a few years to learn how to get spinach growing in the garden sooner and take better advantage of cool weather. The first thing I figured out was how to use different varieties to extend the harvest season. Most spinach matures in about 45 days, unlike, say, corn or tomatoes, which have wide-ranging maturity schedules. Choosing different varieties, therefore, does not by itself stagger maturity dates and lengthen the harvest season.
Instead, spinach varieties are distinguished mainly by their resistance to bolting, downy mildew, or cold. This allows me to match varieties with the times of the year they will be actively growing.
For instance, 'Melody' and 'Tyee' tolerate the cold because they germinate in cold soil and resist disease well. 'Indian SummerT', 'Steadfast', and 'Bloomsdale' tolerate the heat better and resist bolting for a week or more longer than the cold-tolerant varieties. Most spinach varieties taste about the same if grown well.

A strategy for all seasons. In addition to growing different varieties, I have developed a planting strategy that covers much of the year. In late February, I start by sowing a few dozen plants worth of cold-tolerant seed indoors in six-packs. In late March, I plant the seedlings directly in soil inside a cold frame in the garden. I plant in small batches, having found that about three dozen plants in 6 ft. of row will provide 8 to 10 servings of spinach and several salads.
Also in late March, I sow another 6 ft. of row of the same varieties alongside the transplants. The cold frame protects the seeds and seedlings from late winter weather. As soon as soil can be worked, I sow twice directly in the open garden, usually in mid-April and then again in late April. Because these last plantings will mature in late June, I choose bolt-resistant varieties. I also plant them where they'll receive a little afternoon shade from my shrubs, which helps forestall bolting.
Then, I hold off sowing for several months to avoid the hot, non-spinach months of July and August. Come mid-August, to prepare for a quick fall crop, I'll start more seed in six-packs for transplanting in the garden. Finally, in late September, I scatter the seed of a cold-tolerant variety over a 3-ft.-square plot in the garden. Spinach seedlings are extremely hardy, even in my garden, and some varieties will last over the winter with just a bit of help. I try to sow the seeds where they're most likely to receive late winter and early spring sun. Once seedlings are up and temperatures drop below freezing at night, I cover the seedlings with straw mulch for the winter. In places where snow cover is reliable all winter, mulch isn't necessary.
The race against pests. The actual growing period for spinach is so short and at such a cool time of the year that pests are not usually a problem. So once plants are up and growing, I rarely intervene except to thin seedlings and pull weeds. I tend to grow spinach thickly, leaving plants about 2 in. apart. However, I have had trouble in the past with leaf miners, flies that lay eggs on spinach leaves in mid-May. The eggs hatch and the larvae tunnel through the leaves, ruining the crop. To prevent the flies from reaching the spinach, help shade the later spring crops, and reduce the amount of dirt that spatters on the leaves during rain storms, I cover my spinach with row cover fabric from early May on.
An eye-popping harvest. My spinach system produces its first leaves for salads around mid-April, from the wintered-over sowing. If the early spring is really cold and rainy, I occasionally cover the crop I sowed in the fall with a clear plastic tent to speed it up. I harvest individual, outer leaves with a quick twist and pinch when they are about 3 in. long, leaving at least six central leaves remaining on the plant to continue photosynthesizing. I don't harvest whole plants unless I'm thinning the rows.
Spinach plants pass so quickly from adolescence to maturity that a single plant's ability to produce large, succulent leaves lasts only a couple of weeks. Once a plant bolts, I stop picking its leaves and, often, just pull the whole thing.
My spinach system may seem to demand much planning and organized behavior. But, oddly, I do not consider myself a very organized gardener. Although I have learned over the years that the best gardens do require some planning, I've found that habitual puttering drives success. Visiting the garden briefly every day, popping in seeds or plants wherever there's an opportunity, and growing small batches of backup seedlings indoors year-round yields a spinach crop we can enjoy at our leisure.