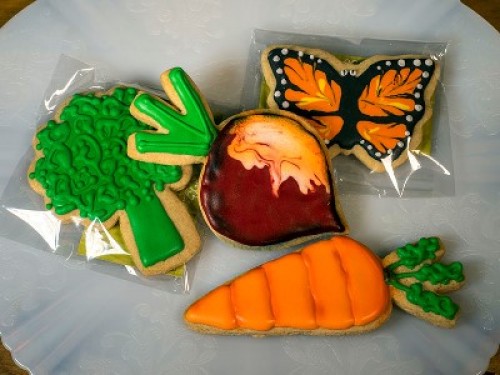 In her Casper, Wyo., backyard, Michele Soulek plants large circular garden beds with a huge assortment of fruits and vegetables from arugula to zucchini. Not only has her garden provided a bounty of beautiful food for the family, it provides food for thought, too.
As a full-time mom, part-time cookie artist and avid gardener, Michele uses her garden to inspire the designs for her Life is Sweet edible art cookie business. It's a different way to get kids to eat their vegetables. 
"I love to imitate nature in cookies – carrot, beet, broccoli shaped cookies! We have an asparagus bed, strawberries, grapes, apples, and plums growing, too." All those fruits also make their way into delicious cookie designs. 
When a monarch or swallowtail butterfly flits through the garden, she'll also capture those on her buttery cookie canvases. "The more colorful the cookies the better," she says, "especially hot pink asters, bright yellow sunflowers and orange calendula."
Michele officially started Life is Sweet in 2014, although she had been creating kid-themed desserts and cookies ever since her son Oliver arrived on the scene. 
"I baked a lot of free batches of cookies, so I decided to start selling them!"
Now she ships her cookies around the U.S. but also internationally to cities in Italy, Lithuania and Switzerland. Cookie-lovers find her through her Facebook and Pinterest pages.
Between baking batches of cookies, Michele spends time in her vegetable garden. She starts her garden from seeds every season and is especially pleased with her seed-saving efforts. She's been saving her tomato and pepper seeds for about three seasons and says she can see a difference in her "adapted" seeds. She says the saved seeds perform better in her garden almost as soon as they're planted.
"We will try anything once or twice, but will eliminate it from the garden if it doesn't easily grow in our conditions."
For those unfamiliar with vegetable gardening in Wyoming, there are plenty of challenges that include a short-growing season, lean soil, wild temperature fluctuations and windy weather. During her first year of gardening in her new yard, non-stop winds tore every leaf from her newly transplanted tomato and pepper plants.
Now she plants tomatoes in deep trenches, covers them with bottom-cut potting containers and places tomato cages on top. Her husband constructed a wind fence on one side of the garden for added protection. 
Besides serving as inspiration for her Life is Sweet cookie business, her vegetable gardening efforts have paid off in other ways. She's won numerous ribbons at the county fair for her garden-grown vegetables, herbs and flowers. Now she says she has enough blue, red and white ribbons to sew a skirt to wear to this year's fair.