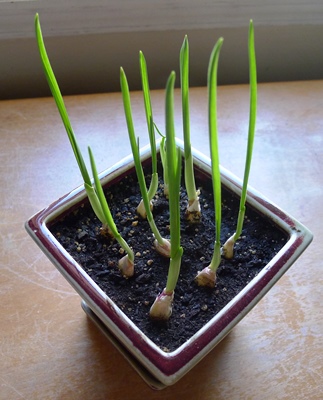 I probably don't need to tell you this, but buying fresh herbs at the grocery store can be expensive. That's especially true when a recipe calls for a few fresh sprigs of this or a handful of that.
That's just one reason why it pays to grow your own herbs, no matter what the season. And garlic greens are one of the fastest growing herbs that grow especially well indoors.
If you planted a container of garlic cloves with me at the beginning of November, your greens are now ready to harvest to use for Thanksgiving.
This cutting of greens is just the first of several that you can get from your garlic. After you snip the first batch of greens, they'll continue to grow for another one or two harvests.
Instead of investing in a small package of fresh herbs, here are 10 ways to use the garlic greens to liven up all of the helpings you'll be serving up for the holiday meal:
Chop the greens and make a hearty breakfast omelet to start the day.
Use the greens as a topping for tomatoes on bruschetta instead of fresh basil.
Finely chop and sprinkle on top of the soup course, like butternut squash soup.
Add the chopped greens to the sage turkey dressing for flavor and color.
Sprinkle sliced greens to mix into garlicky mashed potatoes.
Make a simple vinaigrette as a salad dressing and add a tablespoon of chopped garlic greens.
Give a boost of flavor to any vegetable side dish, like zucchini gratin or roasted Brussels sprouts.
Skip the turkey stuffing and use the long garlic greens to stuff the turkey instead.
Serve a cheese plate for dessert instead of pie and sprinkle finely chopped greens around the plate for a splash of color.
Use the greens to liven up leftovers, too. A few long slices make a flavorful topping to turkey sandwiches.