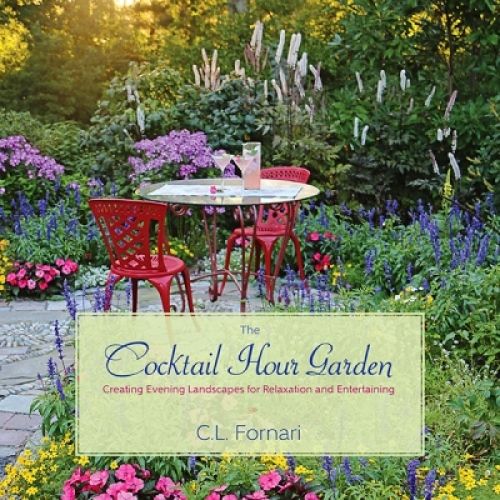 If the cover of C.L. Fornari's newest book doesn't convince you to get out in the garden this evening, nothing will. The gorgeous garden that graces the front of The Cocktail Hour Garden is so inviting I want to jump through the picture, pull up a chair at the table and take a sip of whatever she's serving.
The Cocktail Hour Garden (St.Lynn's Press, 2016) is a lovely addition to any gardener's library. This book isn't just how to plant a beautiful garden, but how to enjoy it as well. Too often gardeners get caught up with working in the garden, they forget how to take advantage of its relaxing properties.
C.L. Fornari offers ideas for the types of flowers and foliage to plant, but also how to mix up some simple herbal beverages to savor while sitting in the garden. If you grow basil, sage, mint, cucumbers, blueberries, nasturtiums or lavender, you have the freshest of ingredients right at hand. The Green Lantern Cocktail takes ordinary parsley leaves and blends them into something special. 
What I especially appreciate about this book is there's something for every gardener, no matter the size of the garden. Even a few containers of herbs can yield plenty of simple joys if there's seating positioned nearby. 
"Creating a garden is like any other journey: you start where you are," she writes. "Find those areas in your yard that are already appealing or conducive for sitting in the evenings. A deck, patio or porch is an obvious place to begin a cocktail hour garden, but other spaces on your property might call to you as well."
In addition to culinary herbs in The Cocktail Hour Garden, C.L. includes fragrant flowering shrubs, perennial and annual flowers, ornamental grasses, plants with silvery foliage, and plants meant to attract all kinds of winged visitors.
The vegetable garden gets special attention in Chapter Eight called "The Green Hour Vegetable Garden: Cocktail Hour Grazing." The photos offer ideas for how to plant a beautiful, productive garden, as well as ideas for preparing snacks like peapods and dip, radish roses, and nasturtium wraps.
Because many fruits and vegetables lend themselves to the cocktail hour, C.L. gives creative guidelines for how to blend them, add pepper heat to them and then garnish them. 
Here's to you and spending more relaxing time in your summer garden! 
(St. Lynn's Press provided a complimentary copy of The Cocktail Hour Garden for this review.)