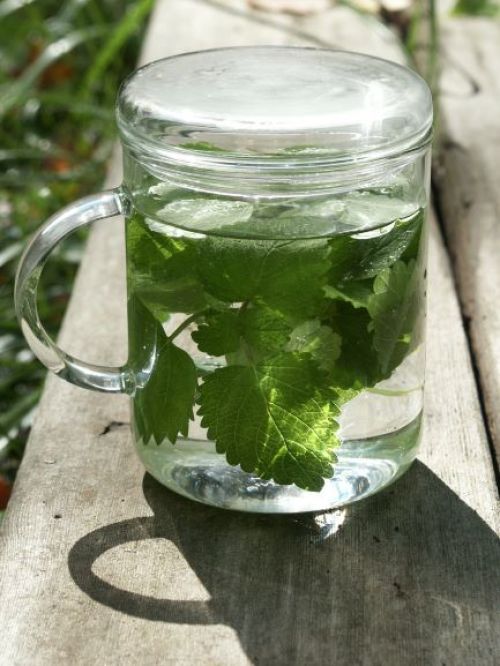 Cold weather inspires drinking hot beverages. When you come in from being out-of-doors on a frigid day, what do you want to drink? One can only drink so much coffee or hot chocolate before getting wired. However, there is always time for tea.
I like to put the kettle on and then go stand in the pantry and decide on just what kind of tea to make. I have many boxes of tea bags, tins of loose teas and jars of herbs and spices. One can start with a black or green tea or even rooibos and then add to it. Or herbs can be infused as a simple or used in combination with other herbs.
During the growing season, I harvest and dry culinary herbs for cooking and to use as tea. We all have culinary spices on hand, so it is easy to combine these pantry items to make tasty, healthful and flavorful mixtures. Sometimes, I use caffeinated green and black teas as a base, although quite often I just go for herbs.
When I want a traditional chai, I combine black tea with strong chai spices like allspice berries, cardamom and coriander seeds, cinnamon, gingerroot and peppercorns; this decoction will definitely warm you up! For a healthier version, I might decide to add pieces of astragalus, burdock root, dandelion or turmeric root. Recently, I had a traditional chai where they added cocoa powder, which certainly gave the beverage a different dimension.
Galpals Laura Anthony, Pat Kenny and I recently went to Calabash Teahouse & Café to celebrate PK's birthday. (www.calabashdc.com) A neighborhood café with comfortable couches, local conversation, good vibes and eats. We had a delightful time, sipping our tea selections and sampling their vegan soups, salad and hand pies. They have many tea blends for sale. After opening each jar on display and sniffing the contents, I came away with a few bags of their tea blends; it was hard to choose. I did get their "Idris" Hot Chocolate-Infused Chai along with the tea that I chose to drink there, which I thoroughly enjoyed called "Blue Velvet", combining Assam with coconut, vanilla and a touch of cinnamon.
Once I prepared the Idris hot chocolate at home, I dumped out the tea strainer and inspected the ingredients, which were easily identified. The package ingredients said "chai spices", so I was just seeing what they used. I can pretty much recreate this at home with what I have on hand in my spice and herb rack.
I enjoy the ceremony of making tea–from choosing the pot, the botanicals, the cup or mug to drink from–and the preparation, then awaiting the steeping. One can decide on other additions like sweetening with honey, maple or herb syrups and adding milk or cream, even adding some aromatic bitters. It's sort of a timeout, a thoughtful, meditational process; and then there is the sitting down to savor the flavor and take pleasure in the moment.
You should have most of the culinary herbs and spices listed below in your pantry–there are numerous other botanicals to choose from such as edible flowers, medicinal herbs, wild weeds, berries, bark and roots–however here are some familiar basics to start with. Hope you are inspired to create some of your own tea combinations with them. Let your creativitea loose!
Some Culinary Herbs for Tea
Lemon Basil, Cinnamon Basil, Tulsi Ocimum ssp.
Calendula Calendula officinalis
Catnip Nepeta cataria
Chamomile German Matricaria recutita and Roman Chamaemelum nobile
Lemon Balm Melissa officinalis
Lemongrass Cymbopogon citratus
Lemon Verbena Aloysia citriodora
Mints Mentha ssp.
Orange Mint Mentha aquatica
Peppermint Mentha xpiperita 'Mitcham'
Red Mint or Doublemint Mentha xgracilis 'Madalene Hill'
Spearmint Mentha spicata 'Kentucky Colonel'
Pineapple Sage Salvia elegans
Sage Salvia officinalis ssp.
Stevia Stevia rebaudiana
 
Culinary Spices for Tea
Allspice berries Pimenta dioica
Cardamom seed Eletteria cardamomum
Cinnamon Bark Cinnamomum cassia
Cloves Syzygium aromaticum
Coriander seed Coriandrum sativum
Fennel seed Foeniculum vulgare
Gingerroot Zingiber officinalis
Peppercorns Piper nigrum
Turmeric root Curcuma longa
Vanilla Bean Vanilla planifolia