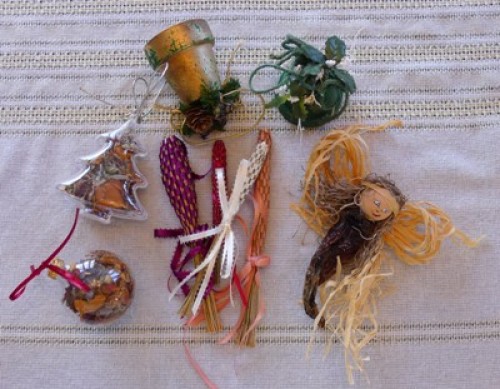 I've always appreciated anything homemade and that's especially true this time of year. Home-baked cookies, handmade jellies, and hand-crafted decorations are what make the holiday season special to me.
One of my favorite projects is creating ornaments made from the natural elements found in my garden. I gather sprigs of green holly, curly branches, and interesting seedpods to decorate wreaths or create centerpieces.
Miniature ceramic pots serve as bell ornaments topped with small pinecones, lavender wands are tied onto packages, and garden potpourri is used to fill empty ornaments found at craft stores.
Even dried chile pepper pods can be transformed into angel ornaments. I've seen these adorable angels made out of ceramic peppers and beads, but a real chile pepper can be used, too. Add a little raffia and some sphagnum moss to craft individual decorations for a garland or to top a Christmas tree.
To make each angel, you'll need a dried, red chile pepper, raffia for wings, sphagnum moss for hair, and a round wooden ball or small ball of Styrofoam for the angel's head. You'll also need a few paints, a small paintbrush, and a hot glue gun.
Make the wings by tying a large raffia bow. Glue the bow to the back of the chile pepper and let the bow ends hang down behind the angel.
Next, paint the wooden ball or Styrofoam. When dry, attach the angel's head to the top of the chile pepper. Glue on moss for hair. Paint eyes and other features on the face (if desired). Hang the angel using an ornament hanger pushed through the back of the knot in the bow.
Then head back out into the garden to gather more materials for your next crafty project.
More craft projects you might enjoy…
Gifts from the herb garden: create your own holiday or note cards
More gifts from the garden
Video: Make a Holiday Wreath (on FineGardening.com)