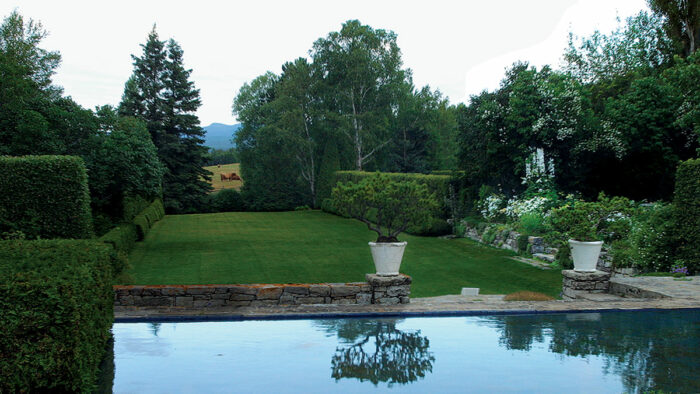 Frank Cabot's renown as a plantsman dates back many decades. Known for his passion for alpine and woodland plants, especially primroses, Cabot has introduced several plants into cultivation. He also founded The Garden Conservancy, a nonprofit organization devoted to the preservation of exceptional private gardens in North America. He has been given numerous awards for his contributions to American horticulture, including the prestigious A. Hoyt Scott Medal, and he is one of a handful of Americans to receive the Gold Veitch Memorial Medal from the Royal Horticultural Society.
With his wife, Anne Perkins Cabot, he has created two extraordinary gardens: Stonecrop in Cold Spring, New York, which became a public garden and teaching institution in 1991, and Les Quatre Vents in La Malbaie, Quebec, a property along the St. Lawrence River that has been in his family for generations. While on a grander scale than most residential gardens, his Quebec garden embodies relevant design principles that can be applied to any setting. We spoke about the inspirations and ideas that guided its making and how other self-taught gardeners can work to create personal and meaningful gardens.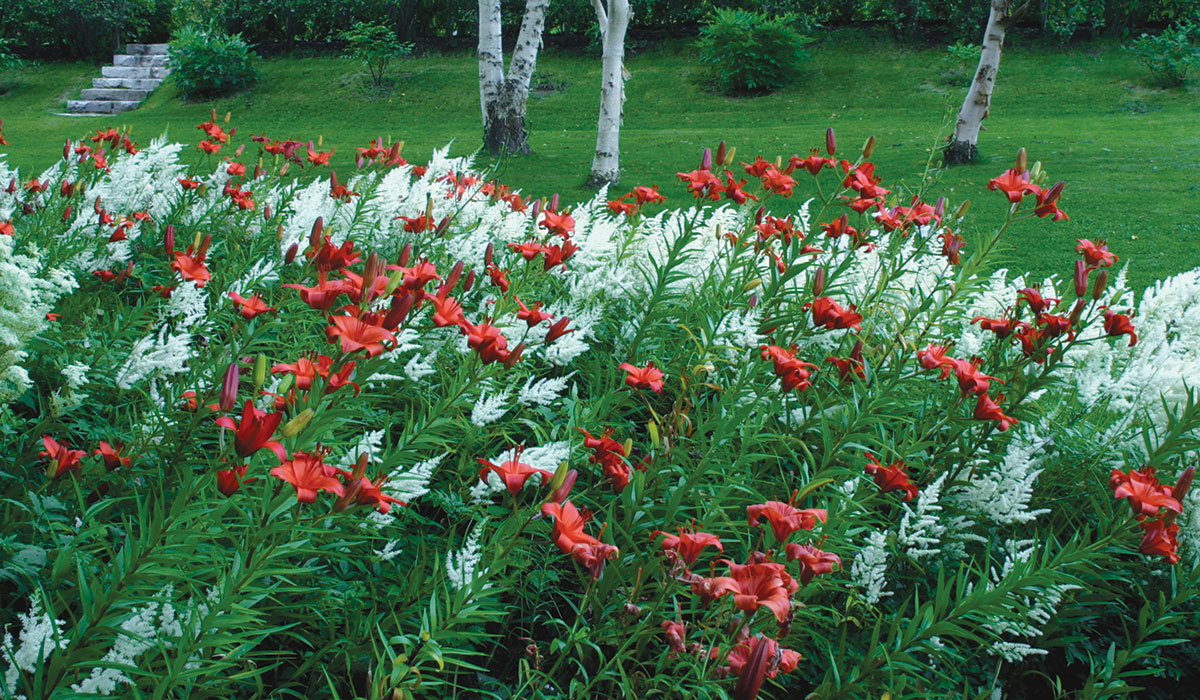 FG: How did you go about designing these gardens?
FC: I've always been fascinated with plants, and over the years, I've experimented with making gardens. To me, the most important thing is how a garden fits into its surroundings and the relationship between the contrived landscape and the natural landscape that surrounds it. For example, we have an allée of arborvitae that are native to this area, so they look like they belong in this landscape. We are also blessed with an incredible view. I know that working with a typical backyard can be more challenging.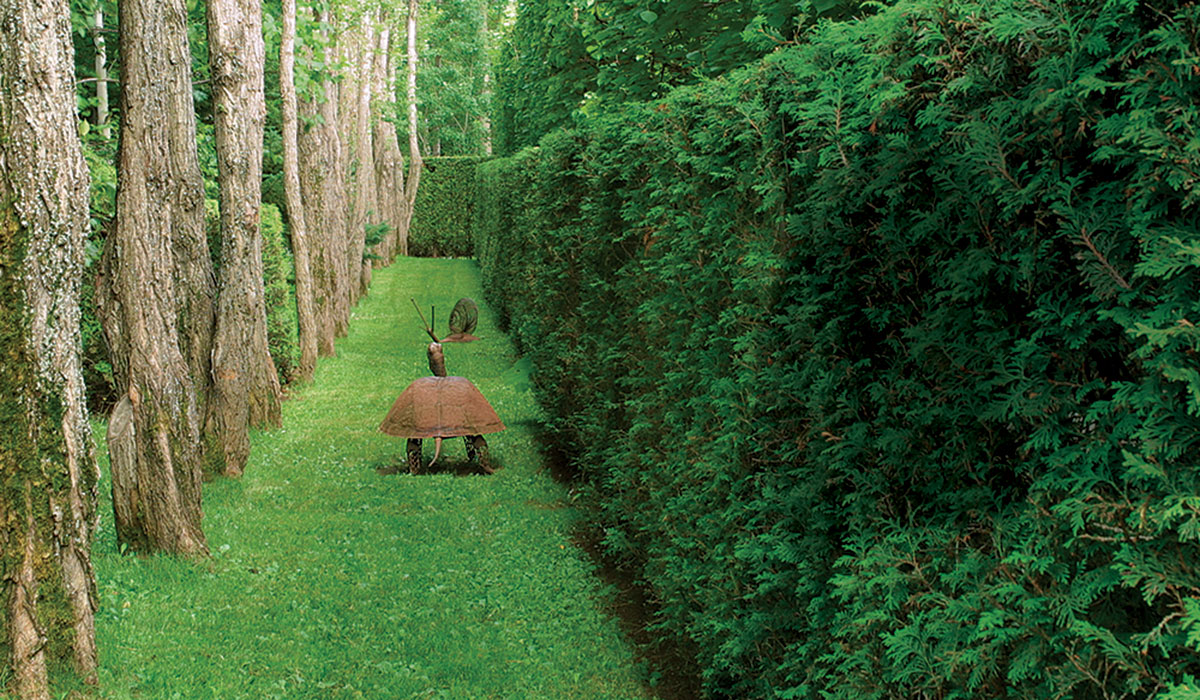 FG: What if someone does not have great views or a large site to work with?
FC: If you observe your site and are patient, I think the space will inspire you. If your garden is confined within a small area, you may have to create a framework to make that happen. Maybe that's what your site will tell you. Don't rush in, and don't expect to get it right the first time. Be prepared to change everything over the years. Give yourself a decade or so to work it all out.
FG: How did you get ideas for specific gardens?
FC: Besides observing the land and then seeing potential in that, a picture in a magazine or book often got me thinking in a certain direction. Or occasionally I saw something while visiting another garden. Our moon bridge was inspired by a visit to China. I took a photograph of a bridge when I was there and adapted it here (photo above, bottom center). Often the idea for a particular garden or planting comes to me as I'm weeding.
FG: Being self-taught in garden design, do you have suggestions for other gardeners on how they might learn to design their gardens?

FC: Everyone has to go through a learning process, whether it's learning about plants or about the actual design of gardens. I started with plants. I wanted to have one of everything. With each plant I grew, I tried to understand its nature, where it belonged, and how to use it in a garden. I started my first gardening experiments at Stonecrop. That garden was created haphazardly, and I made many mistakes along the way. There was no overall discipline in the layout. Here, I was fortunate to inherit this landscape with gardens around the house already designed by my uncle, Eddie Matthews, who was an accomplished architect. So there is a real backbone to this garden that has guided our efforts.
When people ask me, "What should I do to get started in making gardens?" I say that before you start your landscape design, just immerse yourself in plants. For example, work for a nursery where you can just get to know plants. Then you'll be able to create much better gardens.
---
Reflective elements lend a sense of mystery
| | |
| --- | --- |
| An archway serves as a passage between two formal rooms, one with a shallow pool. | A moon bridge was inspired by a similar structure in a Chinese garden. |
| | |
| --- | --- |
| A watercourse is bordered by trimmed cedars and accented by ornamental rhubarb. | |
---
FG: You have framed several views throughout this garden. How did you approach that?
FC: We're surrounded by views, and we decided that it would be more interesting not to see the whole view all the time. So now, as you wander through the garden, you're discovering different bits of a view. It's not until you've been going through the garden for a long time that you come to a point where you can see a panorama, which makes that experience special. If the whole view were always there, it would soon lose its interest.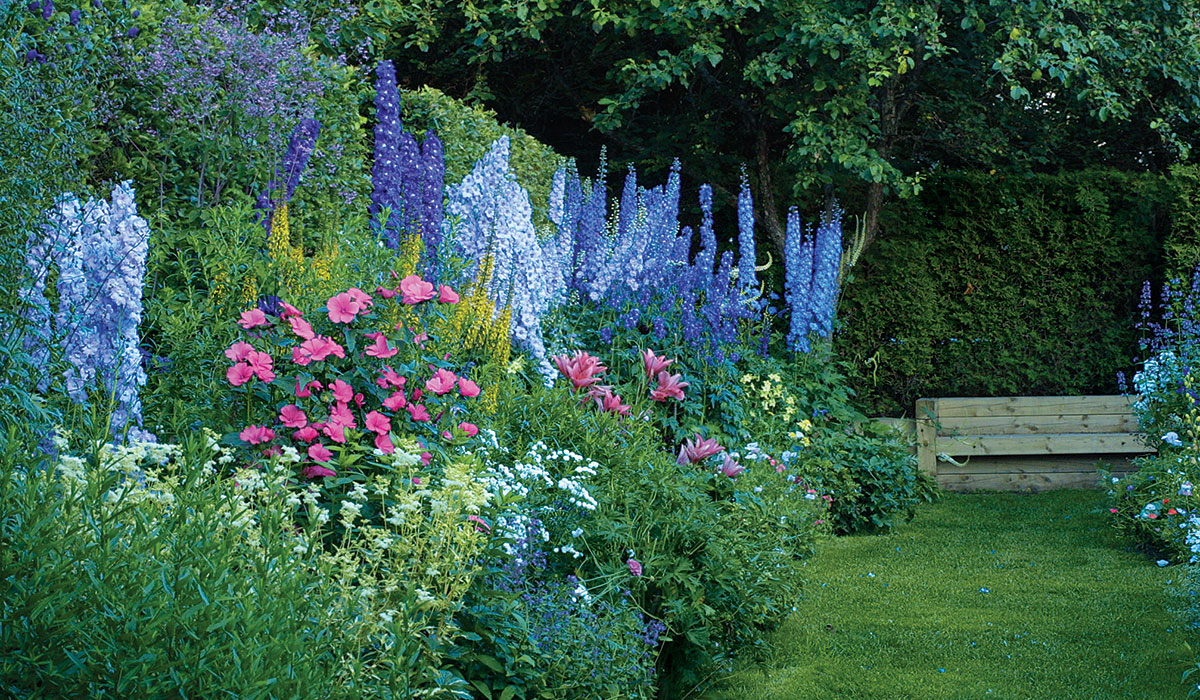 FG: How did you choreograph the journey through these various garden rooms?
FC: I just started out in one direction and kept going until I ran out of space and then I began heading back in another direction. There was no master plan. It just happened. After I worked on one area, I thought about what might be the next phase. I decided to have gardens in different spaces that offer a variety of experiences. For example, formal areas give you a different experience than informal ones. So in this garden, you move from formal rooms to a woodland ravine or to a meadow with a path mown through it, both of which are informal. Another way to combine elements is to have a room that has a formal structure with informal plantings inside it, such as the borders that feature delphiniums and other blooming perennials.
As you walk through this garden, I'd like to think that all your emotions have been tweaked in one way or another.
FG: This garden is stimulating on a sensory level but is also serene. Did you set out to create that kind of experience?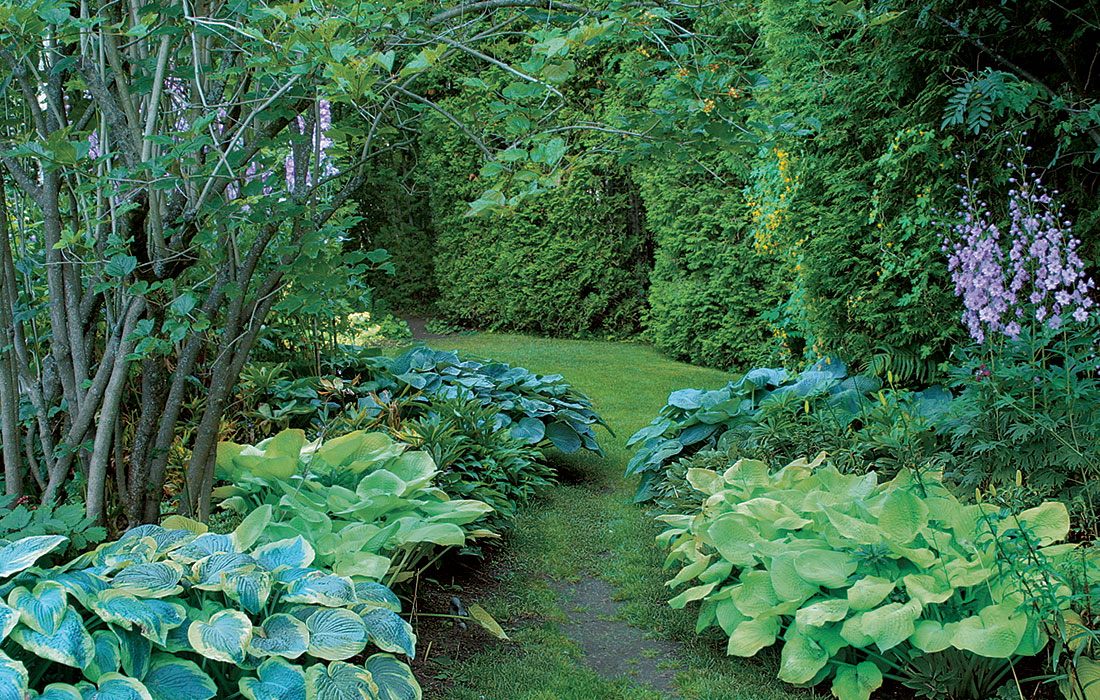 FC: I see gardening as a sensual activity, and a garden itself should be a sensual experience, not only the scents and colors but also the sounds—as you hear the leaves rustle, for example. I always try to have elements that create sensual reactions that get to you subliminally. As you walk through this garden, I'd like to think that all your emotions have been tweaked in one way or another. For example, our rope bridge, though it is completely safe, can instill fear as you cross it. It also provides a wonderful panoramic overview of the jungle of foliage that's underneath it up and down the stream, which can be breathtaking to see from that perspective.
I'm touched when people say they've had an emotional experience here, that they were moved and have remembered people they love or something from their childhood. One of the nicest things that happened was when a visitor to this garden was moved to tears. Another ideal reaction to a garden is to feel that your batteries have been recharged, that you have been totally removed from your normal reality. I also think your intellect should be tweaked. For example, when you come around a corner and, whammo, there's an allée or there's a view or something unexpected, it really gets to you. I think a memorable garden offers intellectual satisfaction in some way. I also think humor and whimsy are important. Gardeners shouldn't take themselves too seriously because we're going to be defeated sooner or later by Mother Nature. So I think a garden should be fun. For me, the sculptures of frogs playing musical instruments extend the sensory experience in a whimsical way.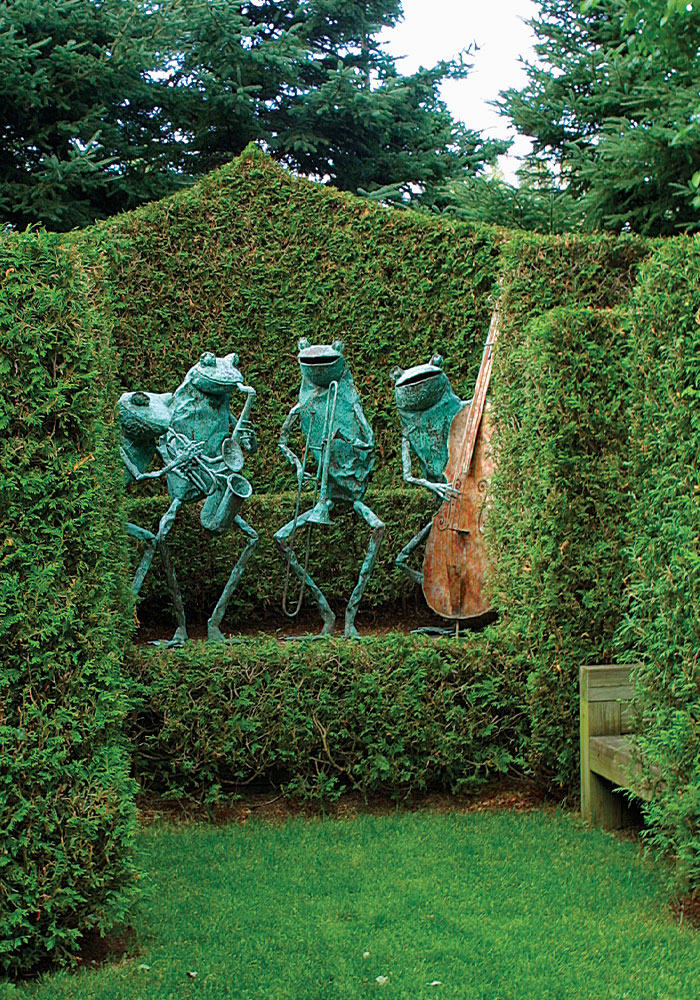 FG: Your garden includes many unexpected elements, or what is known in garden design terms as "follies." What inspired these elements?
FC: I first saw follies in gardens abroad and found them appealing. You may be wandering through a natural area, such as a woodland or a meadow, and suddenly come upon something unexpected. I thought that was a natural thing to do here since we had so much open space. We started with a little folly in a field and then we added a bigger one; we eventually created the whole Japanese teahouse area in our woodland.
FG: What can gardeners learn from visiting public or private gardens?
FC: I think you can learn something from visiting almost any garden, whether from a plant angle or a design idea. Gardeners are plagiarists, and the best gardeners are the best plagiarists; they adapt other people's ideas to their own setting. That's what it's all about.
But Americans are just starting to get into the habit of visiting gardens. We don't have a tradition of visiting gardens as a way of life the way the English do. The English are thoughtful about it. They sit down for a long time and lose themselves, soaking in the experience. It's a peaceful activity and a wonderful change from everyday life. I think it's as important to absorb the garden and its surroundings and ambience as it is to look at the flowers. Most Americans glimpse the flowers and pay less attention to the whole garden setting.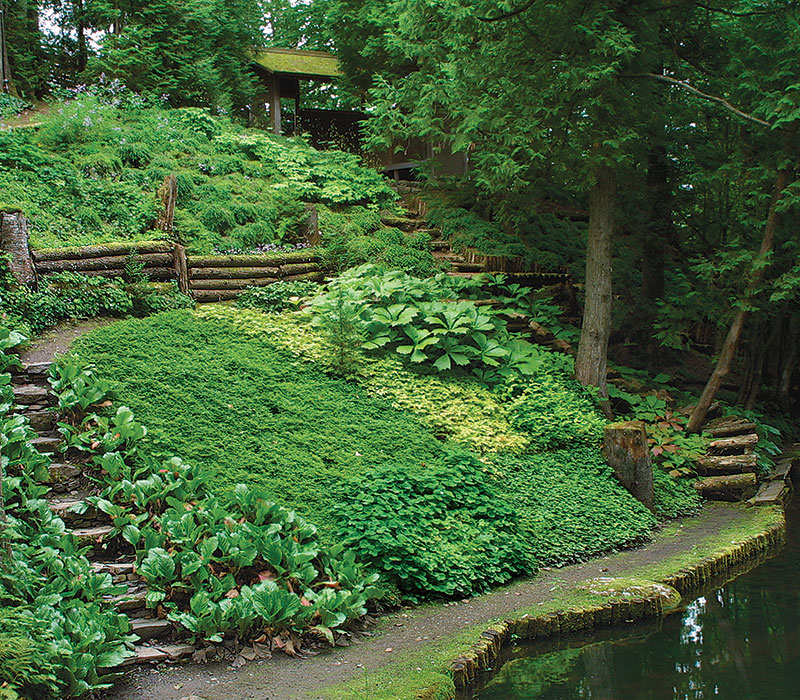 FG: What makes a garden exceptional in your eyes?
FC: I can only talk about my own experience, but I think the measure of a garden is the degree to which it grabs you and haunts you after you've visited it. It can be any number of styles, from formal to naturalistic. I also think the diversity of the experience is what makes it memorable.
I think a garden is a very personal expression, and the best ones reflect the spirit of the persons who created them. They have what's known as a numinous quality—you sense the spirit or presence of someone and that gets right through to your core. That's what makes it haunting.
---
Frank Cabot's tips on making your garden memorable
Listen to your site, and let it inspire you.
Immerse yourself in plants, and get to know how they behave.
Be patient, and expect to make mistakes.
Create sensual experiences.
Include unexpected and whimsical elements.
Allow your garden to reflect your personality.
Visit other gardens, and spend time taking in the experience.
---
Virginia Small is senior editor.
Photos: Virginia Small.
From Fine Gardening #102