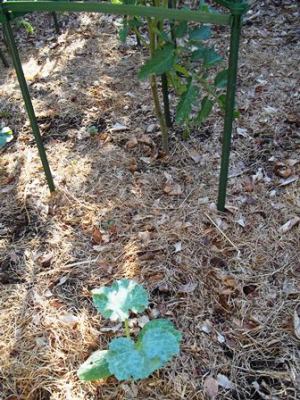 A few summers ago, in the heat of a Colorado July, I had to leave my garden for a business trip to the southwestern part of the state. I fretted about how to keep my vegetable garden in good shape while I was away. I didn't want to arrange for a garden sitter and there wasn't time to hook up a new irrigation system.
Instead, I decided to implement the cheapest and easiest plan possible: I mulched like crazy.
All those bags of dry (untreated) grass and fallen leaves that I had raked from the front yard in spring finally came in handy.
Before I left on my trip, I deeply watered the tomato, pepper, and squash plants. Then I took the dry grass and leaves and heaved great bunches onto the vegetable bed.
I smoothed the mulch to about 4 inches thick, but I was careful not to let the grass touch any plant stems.
Then I took one last look at the garden, just in case it wouldn't look the same when I returned. The mulch was piled high and looked like a fluffy comforter on top of the vegetable bed.
With some of the remaining mulch, I covered the tops of all the containers of plants in the patio garden.
The weather was extremely hot and dry the week I was away and I imagined a vegetable garden filled with wilted plants.
As soon as I returned home, I ran to the garden. I couldn't believe what I saw.
Every plant was green, healthy, and still standing tall. The garden looked as nice as it did the day I left.
That's when I decided that "mulching like crazy" is the easy and inexpensive way to keep plants going in the heat of summer. It's a good way to conserve water, too.
If you decide to add a thick layer of mulch to your vegetable bed, be sure the grass hasn't been treated with any herbicides or pesticides. If you use fresh grass clippings, spread the grass in thin layers so it can dry thoroughly before adding more layers.
Then make a note to save all your grass clippings and autumn leaves for next season.