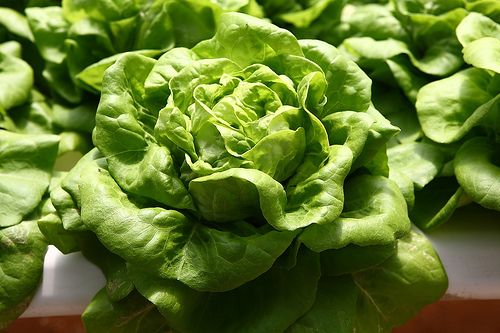 Did you get your lettuce in yet? I planted a "butterhead mix" from The Cooks Garden which consists of Arctic King, Buttercrunch, Matchless, North Pole, and Burpee's Bibb in our cold frame. We're blessed with mild winters, so it's quite possible for us to have lettuce all winter.
But don't let cold winter temperatures deter you from planting some of the cool weather lettuces. They're worth trying in your cold frame, hoop house, floating row cover, or greenhouse. There's plenty of lettuces that thrive in crisp weather. To choose the right varieties for your area, give your local cooperative extension office a call.
I'm especially looking forward to tasting Arctic King because I've never seen it before let alone grown it. It's bred specifically for planting in autumn and growing through the cold months – it doesn't do well in the heat. So, October is my opportunity to give that one a go.
Burpee's Bibb is a gourmet heirloom lettuce that's slow to bolt (what's not to love?). It produces tender heads with a sweet, delicate flavor. Bibb is a must for me. Buttercrunch is a gourmet lettuce with a firm head and crunchy texture. It's also a major leaf producer. While both Bibb and Buttercrunch are cross-overs into the warmer weather, buttercrunch tolerates the heat better than Bibb.
North Pole is a light-green cold weather trooper and resents hot weather. This is certainly a good winter variety to try if you're gardening in a super cold zone. Matchless is also known as Deertongue and has some really cool-looking leaves that resemble…well…deer tongues. It has a buttery texture and is slow to bolt even in warm weather. I'm not sure how well it'll perform through winter in the San Francisco Bay Area, but I'm going to find out.
Any gardeners out there planning on having some home-grown lettuce on the Christmas dinner table? What varieties are you planting and where the heck are you?